How to Pursue an HVAC Career
Mar 25, 2022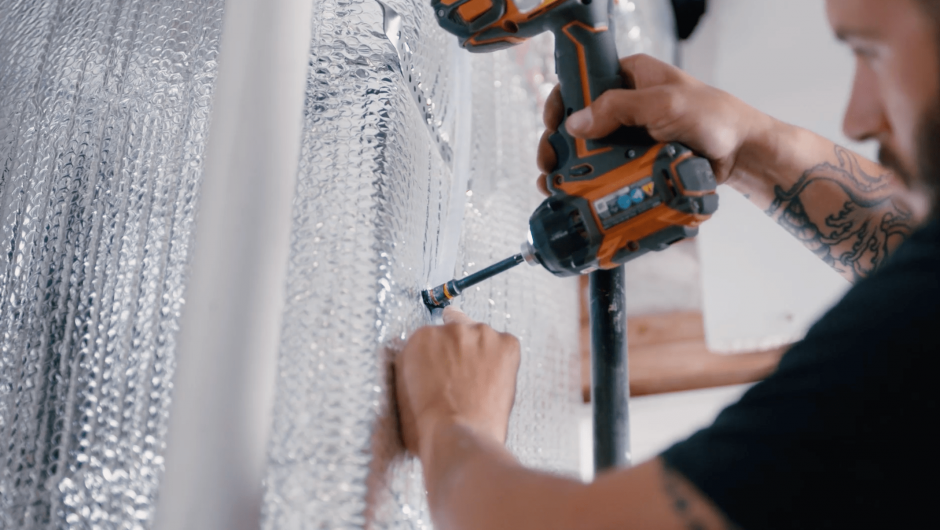 Like the rest of construction, the HVAC industry is booming with a projected value of $35.8 billion by 2030.  A career in HVAC can take a lot of different paths, from working on heating, ventilation, and air conditioning systems to working on solar panels and wind turbines. No matter what track you choose, you'll work in a hands-on environment that requires both specialized technical knowledge and skill, as well as physical stamina. Whether you work on large commercial properties or prefer to work with individual clients in residential areas, HVAC technicians are in high demand. Plus, a surging interest in energy-efficient appliances and resources has paved the way for a variety of unique specializations.
What does a career in HVAC involve?
There are multiple tracts and specializations you can pursue within an HVAC career, depending on your interests. When you're first getting started in an entry-level position, you'll likely perform more generalized services on HVAC systems, such as repairs or installations of residential systems. As your knowledge and experience grows, you can pursue a number of specializations as well. Here is an overview of different types of HVAC jobs to consider.
HVAC technician: As an HVAC tech, you'll be responsible for maintaining heating and cooling systems for either residential or commercial properties. You need to know local building codes as well as the technical functionality of heating and cooling systems, as well as ductwork. You may update thermostats and create zones, as well as work on air purification systems.
HVAC installer: Installers understand both the HVAC installation process as well as maintenance in order to troubleshoot on the job. Their primary responsibility is to install heating systems and air conditioners in homes or commercial buildings. You may also advise clients on how to lower their carbon footprint with more energy-efficient systems.
Refrigeration technician: This career path focuses on installing and repairing refrigeration systems such as coolers, ice machines, and vending machines.
Wind turbine technician: This field has a particularly strong job outlook as the country shifts to renewable energy. As a wind turbine technician, you have to climb wind turbine towers—which are often hundreds of feet tall—to maintain and fix components, collect data, and test systems.
The HVAC industry also has room for growth in terms of management opportunities once you gain enough experience in the field. A project manager helps building companies bid for HVAC installation projects, while a service manager works at an installation company and oversees the team of installers.
What skills do you need to work in HVAC?
Not only do you need to have the technical skills to succeed in the HVAC industry, you also need to exhibit these professional skills:
Detail-oriented. Working in the HVAC field requires attention to detail in order to stay safe while working with electrical components. It also helps you to successfully troubleshoot issues and properly install and repair systems to leave your clients satisfied.
People skills. The actual work of an HVAC technician may be solitary, but you'll need to interact with homeowners and property managers to communicate what's going on with their systems, how long the job will take, and at what price.
Curiosity. No matter what HVAC specialization you choose, curiosity will help you succeed. Ultimately, you'll be a problem solver, which means getting creative in how to identify and fix issues.
Patience. Taking care of people's heating and cooling systems is an important job, but not all fixes are easy ones. Being patient gives you the ability to get the job done well so that people can comfortably live and work.
Ability to work long hours. HVAC techs often have long hours during peak seasons, typically the coldest and hottest months when properly-working HVAC systems are a priority. Being able to manage your time well can help ease your work schedule.
The job outlook for HVAC careers
The construction industry as a whole has a positive job outlook, particularly in the short term where labor shortages are providing an abundance of opportunities. In fact, the Home Builders Institute estimates a need for an additional 2.2 million job openings through 2024. 
HVAC technicians are part of this strong job outlook for a few different reasons. First, new construction requires specialized subcontracts to install the heating, cooling, and refrigeration systems. Additionally, both homeowners and commercial property owners are increasingly recognizing the need for more energy-efficient systems and better air filtering systems.
According to the Bureau of Labor Statistics, HVAC and refrigeration technicians have a projected annual job growth rate of 5% through 2030. The average salary of $50,590. Wind turbine technicians, on the other hand, are one of the fastest-growing careers out there, with an expected growth rate of 68% through 2030. The average salary is $56,230.
How to pursue a career in HVAC
In order to start your HVAC career, you'll need a high school diploma as well as additional completion of a training program. There are typically two paths you can take or a combination of both.
One path is to enroll in an HVAC training program at a trade school or community college. Depending on the program, you could complete the program in two years or less and earn a certificate or associate's degree. 
The second option is to become an apprentice. You'll definitely need hands-on experience no matter which path you pursue, but an apprenticeship allows you to learn HVAC skills on the job. It can take three to five years to complete the program, but you'll be earning money during that time. 
MT Copeland offers video-based online classes that give you a foundation in construction fundamentals with real-world applications. Classes include professionally produced videos taught by practicing craftspeople, and supplementary downloads like quizzes, blueprints, and other materials to help you master the skills.