Advanced Custom Roof Cutting
Learn the fundamentals of custom roof cutting as a professional takes you through an efficient and practical system to use for your next build. You'll cover drawing plan views, calculating dimensions, measuring rafter lengths, layouts, and how to precut all of the roof members so your crew can show up ready to stick frame.
30-day money back guarantee. Access for one year.
Train with a Pro

Spanish Subtitles Available

Mobile Access

29 In-depth Lessons

Certificate of Completion

Practical Resources
Lesson Plan
29 Video Lessons · 4H 36M
1. Introduction

Professional framing carpenter Ryan Smith shares what he loves about custom roof cutting: the planning, precision, and craftsmanship.

2. How a Roof Comes Together

Using a small-scale model of a roof structure, Ryan identifies the key components of a custom stick framed roof: the ridge board, hip and valley rafters, as well as the common rafters and jack rafters.

3. First Steps: Reviewing the Blueprints

Ryan shows how to use blueprints to determine a roof's elevation and pitch (slope), so you can determine what fascias interact with one another and how they relate to setting up the tails.

4. Drawing Tails

Learn to calculate and draw a sectional view of the roof's fascia boards, plane points, and height above plates.

5. Introduction to Plan View

The plan view drawing is the roadmap to the roof, providing measurements and dimensions. Ryan explains how he draws plan views and offers some tips, like using a framing square to ensure accuracy.

6. Drawing the Plan View

Ryan shares the first steps to drawing a plan view, from factoring in fascia to drawing the overhang and calculating rise over run for the plane point.

7. Completing the Plan View

To complete the plan view drawing, Ryan calculates the rise and run of the hip rafters; draws the hips, valleys, and center lines; and connects all the measurements.

8. Back to the Blueprints

Learn how to interpret a floor plan so you can compare them with your plan view's roofing dimensions.

9. Transferring Dimensions

Ryan shows how to transfer information from the floor plan to the roof plan, so you can differentiate dimensions from floor to floor and determine the building's perimeter.

10. The Boss Corner

Discover the boss corner, a corner of the roof's layout Ryan uses to locate rafters and their locations across the roof structure for calculations.

11. Marking Up the Roof Plan

Learn to mark up the roof plan so you can identify inside and outside corners. Plus: Ryan shows how to calculate the run from first-floor to second-floor walls.

12. Common Mistakes

Ryan shares how to correct common mistakes on roof plans, like locating the wrong side of jack rafters when calculating.

13. Common Roof Calculations

Ryan shares the major calculations you'll perform for all roof parts, including the common rafters, main ridge, and gables.

14. Calculation: Common Rafter Major Pitch

Ryan shows how to calculate the common rafter major pitch using the pitch span and height above plate

15. Calculation: Main Ridge and End King Common

Ryan calculates the lengths of the main ridge and the end king common rafters. Plus: Learn how to calculate if an end king common rafter is missing.

16. Finding the Layout

Ryan shares the importance of determining the main ridge's layout. He also shows how to find the layout by making a calculation with the end common rafter and corner lengths.

17. Calculation: Hips

Ryan shows how to calculate the main hip rafter lengths, from determining the run line at the shared center to establishing the height above plate, as well as the other necessary marks needed for layout and then cutting.

18. Calculation: Jack Rafters

Ryan uses the plan view to calculate the lengths of the jack rafters.

19. Calculation: Gables

Ryan calculates the gable lengths by finding the common ridge length, valley rafter, and valley jack measurements.

20. Calculation: Valleys

Ryan shows how to calculate valley rafter lengths like hip rafters.

21. Calculation: Ridge-to-Valley Jacks

Learn to find the ridge-to-valley jack lengths. Plus: How to double-check layout calculations based on the plan view.

22. Introduction to Cutting

Ryan shares essential tools for cutting roof lumber, including a cordless saw, framing squares, square gauges, and more.

23. Cutting: Ridgeboard

Learn to mark ridgeboard measurements with the plan view, make layout lines, then safely cut the ridgeboard.

24. Cutting: Common Rafter

Ryan makes a plumb cut on the common rafter, marks the height above plate, then lays out the tails with square gauges.

25. Cutting: King Common Rafter

Ryan cuts the end king common rafter—first by making the plumb cut, then by marking the length and laying out the tail.

26. Cutting: Hip Rafters

Learn to cut hip rafters, starting with setting the appropriate bevel on the saw, and then making the plumb cut at the ridge and the correct layout and cuts at the tail/plate line.

27. Cutting: Valley Rafters

Ryan shows how to cut valley rafters and make bevel cuts along the spine of the rafter, much like the hip rafter.

28. Cutting: Jack Rafters

Learn how to square the heel stand and make overhang cuts so you can finish cutting the jack rafters.

29. Conclusion

Roof cutting doesn't have to be complicated. Ryan recommends to keep practicing and learn from your mistakes, so you continue improving your skills.
Who it's for: This course was designed for construction professionals interested in advancing their skill sets as they relate to roof cutting for modern custom homes. For those who need to refresh their math skills, we recommend taking our math course prior to starting this training.
Key Topics
Plan views

Rafter pitch

Calculating dimensions

Hips, rafters, and valleys

Laying out tails

Cutting roof members
Overall rating of 7 students
5 out of 5

Joshua S.,

May 26, 2023

Dude is a boss

5 out of 5

Bradley C.,

Feb 20, 2023

Ryan is a true master at his craft! He explains everything in an easy to follow way and is a great teacher.

5 out of 5

Christopher M.,

Dec 20, 2022

D

5 out of 5

Derek R.,

Nov 04, 2022

Great course with a lot of great information. Ryan moves quickly through topics with a lot of information. Be ready and try to keep up. I had to watch a couple segments multiple times to fully...

Read More...

5 out of 5

Nicholas B.,

Sep 20, 2022

The course was quite good and very informative. My only issue is that it becomes very difficult to transfer to metirc while also trying to take on the new information. Maybe you could look at another...

Read More...

5 out of 5

Chris G.,

May 14, 2022

Ryan is such a professional and has an amazing ability to disseminate complicated information effectively. Only constructive criticism I have would have been to add a PDF of the drawings Ryan...

Read More...
Ryan smith
Framing Carpenter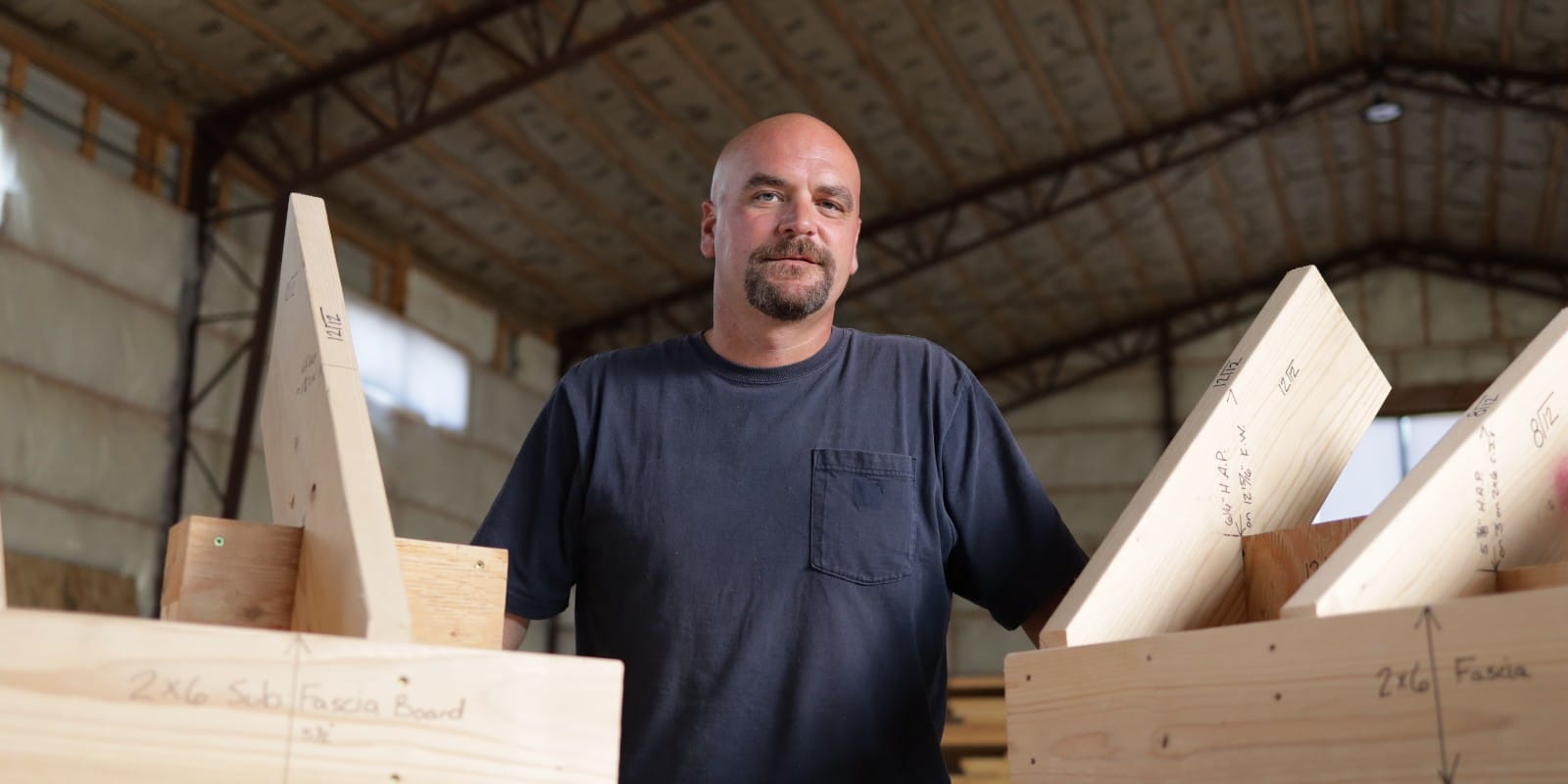 Your Instructor
Ryan Smith is a carpenter specializing in residential construction and roof framing. Upon graduating high school, Ryan was immediately passionate about roof cutting, which led to many late nights listening to lead carpenters explain how the job was done. Ryan gained experience in many areas of construction including siding, roofing, drywall hanging, and trimming houses. Still, his first love was always framing. Over time, Ryan developed his own approach to the craft, which involves cutting roof rafters before a house has been built. Today, he is the sole roof cutter at 7 Construction Inc., a custom framing company based in Buffalo, New York. He believes carpenters' integrity matters more than their skill, as this enables them to bring a level of mastery–and respect–to the work at hand.
Become Job Ready
This course will increase your knowledge for jobs like:
Framing Carpenter
Remodeler
Lead Carpenter
Carpenter Helper
Laborer
Search for these jobs at:
Team Pricing
2-5 Seats
Save $5 per seat
$70 per seat
6-11 Seats
Save $10 per seat
$65 per seat
12-15 Seats
Save $15 per seat
$60 per seat
Add to cart
30-day money back guarantee. Access for one year.
Common Questions
What is MT Copeland?

MT Copeland helps you further your career in the building industry with expert-led online education that will make you a better, smarter tradesperson.

Our training courses give you a foundation in construction fundamentals and trade skills with real-world applications and best practices to help you grow on the job.

What do courses include?

Online courses include professionally produced videos taught by leaders in the trades and supplementary learning material such as quizzes, assessments and downloadable materials to help you acquire new skills. Watch anywhere, always at your own pace. We keep lesson videos short so they're easy to watch after work or on your lunch break. You can finish a course in one sitting, or space it out over a week or two.

How does the 30-day guarantee work?

If you're not happy with a course, let us know within 30 days for a full refund. Our goal is to provide maximum value for your career. If we haven't delivered on that promise, let us know.

Can you learn with MT Copeland outside of the u.s.?

Yes! You can take MT Copeland courses from anywhere in the world. Our courses are online, so if you have access to the Internet, you can watch our training videos. Courses are taught in English, with English captions and Spanish subtitles available.

Where did the name MT Copeland come from?

MT Copeland was named after a legendary educator who promoted the idea that training in a specific trade paired with a knowledge of general business principles opens up a whole new world of career possibilities. We believe in the same powerful combination of skills and knowledge.