Essential Drywall Tools
Learn how to use and maintain essential drywall tools for hanging, taping, and sanding. 

VIEW TEAM PRICING
30-day money back guarantee. Access for one year.
Train with a Pro

Spanish Subtitles Available

Mobile Access

13 In-depth Lessons

Certificate of Completion

Practical Resources
Lesson Plan
13 Video Lessons · 1H 49M
1. Introduction to Drywall Tools

Your instructor and expert drywall contractor, Lydia Crowder, introduces essential drywall tools she'll be working with throughout the course, including hawks and trowels, pans, a variety of knife materials and specialty items, texture materials, and auto taping tools.

2. Evolution of Drywall Tools

Hawks and trowels were the original tools used for drywall and are still used on jobsites today. But finishers also have more modern options, such as drywall pans, knives, and automatic tools like pumps and tapers, which are best used for large commercial jobs.

3. Drywall Hanging Tools

Lydia walks you through the standard drywall hanging tools: fasteners, drywall nails, kickers, razor blades, tape measures, chalk lines, rasps, screwdrivers, circle cutters, pencils, routers, T-squares, drywall shims, a drywall gun, and a tool bag.

4. Knife and Trowel Materials

Lydia compares knives, which are good for avoiding hand fatigue, to trowels, which offer better motion control. She then walks you through a variety of different knife and trowel sizes and materials you might need for a drywall job, and explains how to properly maintain your tools.

5. Speciality Knives and Trowels

Lydia takes you through an array of specialty knives and trowels that are especially useful for specific tasks like ceiling work, unique texturing, evening out large areas, working in tight spaces, and shaping around angles.

6. Semi Automatic Tools

Hand-taping drywall can be time consuming, so Lydia demonstrates various semi automatic tools that can help save you time, including tape wheels, corner rollers, compound tables, angle head attachments, and banjos, which are especially useful for applying both mud and tape simultaneously.

7. Automatic Tools

Automatic tools are a must when you have a lot of drywall footing to cover or are working on a commercial construction site. Learn how to operate and maintain automatic tools such as the automatic taper, boxes for applying mud, and pumps for refilling boxes.

8. Corner Bead Tools

There are many different ways to install corner bead, depending on the material. Learn about various tools that help get the job done, including corner bead rollers, transitions, staples and staple guns, razor blades, bullnose corner stencils, measuring tapes, and snips.

9. Tools for Sanding

Sanding is one of the most crucial steps in drywall finishing. Lydia walks you through the sanding tools you need to achieve various finishing levels and the PPE that will protect you from residue.

10. Mixing Tools

Learn how to use drywall mud tools and mixing tools to achieve the perfect mud consistency. Lydia demonstrates working with mixing drills, buckets, brushes, pan mixers for small amounts of mud, whips, and bucket heaters for working in colder climates.

11. Miscellaneous Drywall Tools

Lydia takes you through the tools that are always handy to have on site, like screwdrivers, multipurpose knives, pliers, line chalk, wrenches, razor blades, task lights, gloves, levels, tool bags, and speed squares.

12. Scaffolding and Stilts

For ceiling work, you have to work on construction stilts, benches, and step-ups. Lydia demonstrates how to operate this apparatus safely. She also reviews scaffolding tools, planks, and ladders.

13. Maintenance and Care

Lydia demonstrates how to care for your tools so they help you consistently produce quality drywall work you can be proud of.
Who it's for: This course is for apprentices, contractors, and even homeowners who want to learn how to use both standard and automatic tools used for drywalling today and how to properly care for them. This course will prepare you to use these tools on the job. No prior drywall experience is required.
Key Topics
Drywall hanging tools

Hawks, knives, and trowels

Semi automatic and automatic drywall tools

Drywall sanding tools

Tools for installing corner bead

Construction stilts
Overall rating of 5 students
5 out of 5

Jonathan D.,

Sep 10, 2023

Lydia did a great job giving a thorough overview of the necessary, and the variety, of tools available for finishing drywall. Going through this course as a second year finisher and new contractor...

Read More...

5 out of 5

Arthur C.,

May 18, 2023

was very knowledgeable and nice knowing about the automatic drywall tools which is a tool i never used before. it was also nice to know when it originated from. and the info on the bullnose tools as...

Read More...

5 out of 5

Aidan G.,

Mar 27, 2023

Great course really enjoyed it. Thanks.

5 out of 5

Michael H.,

Apr 09, 2022

it was very easy to understand and follow

5 out of 5

kenny K.,

Jan 04, 2022

Intro to Drywall
Lydia Crowder
Owner, Trinity Drywall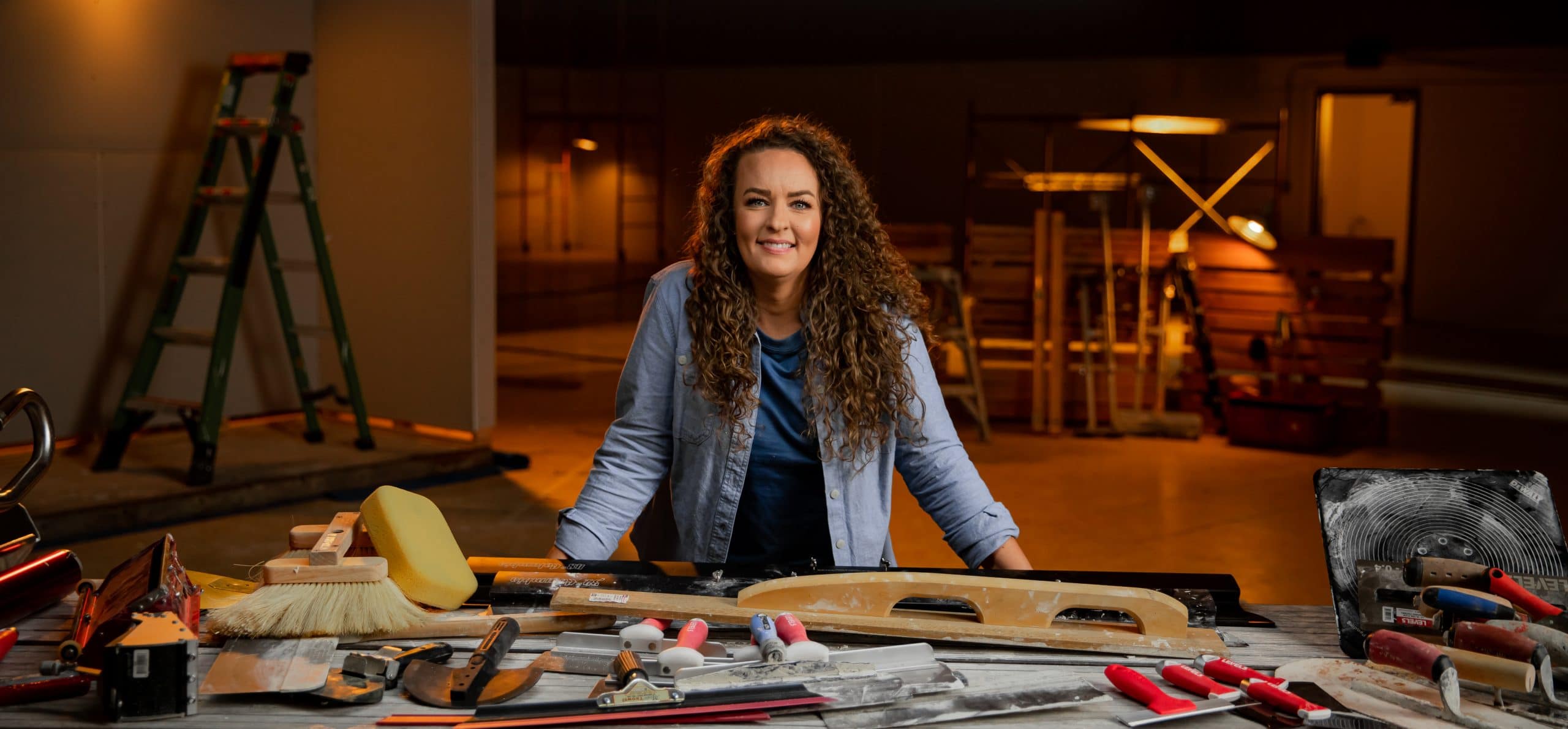 Your Instructor
Lydia Crowder is a second generation drywall finisher. She started helping out her dad with the family business as a kid and quickly grew to love it. Her dad instilled a love for quality, craftsmanship, and sharing knowledge. She has over 18 years of experience in the field and runs Trinity Drywall with her husband Ryan. Together they finish over 500,000 square feet of drywall board a year: that's an average of a house a week. Lydia started sharing drywall tips and tricks on Instagram under the name DrywallShorty and the response was explosive. There is a huge lack of basic knowledge in the industry and Lydia has become a go-to for professionals and DIY-ers alike.
Become Job Ready
This course will increase your knowledge for jobs like:
Drywall Installer
Drywall Hanger
Drywall Finisher
Search for these jobs at:
Team Pricing
2-5 Seats
Save $5 per seat
$70 per seat
6-11 Seats
Save $10 per seat
$65 per seat
12-15 Seats
Save $15 per seat
$60 per seat
Add to cart
30-day money back guarantee. Access for one year.
Common Questions
What is MT Copeland?

MT Copeland helps you further your career in the building industry with expert-led online education that will make you a better, smarter tradesperson.

Our training courses give you a foundation in construction fundamentals and trade skills with real-world applications and best practices to help you grow on the job.

What do courses include?

Online courses include professionally produced videos taught by leaders in the trades and supplementary learning material such as quizzes, assessments and downloadable materials to help you acquire new skills. Watch anywhere, always at your own pace. We keep lesson videos short so they're easy to watch after work or on your lunch break. You can finish a course in one sitting, or space it out over a week or two.

How does the 30-day guarantee work?

If you're not happy with a course, let us know within 30 days for a full refund. Our goal is to provide maximum value for your career. If we haven't delivered on that promise, let us know.

Can you learn with MT Copeland outside of the u.s.?

Yes! You can take MT Copeland courses from anywhere in the world. Our courses are online, so if you have access to the Internet, you can watch our training videos. Courses are taught in English, with English captions and Spanish subtitles available.

Where did the name MT Copeland come from?

MT Copeland was named after a legendary educator who promoted the idea that training in a specific trade paired with a knowledge of general business principles opens up a whole new world of career possibilities. We believe in the same powerful combination of skills and knowledge.