How to Tile a Shower
You'll learn how to tile a shower from a professional contractor: from laying out tile with the appropriate tools, to proper installation methods using both backer board and traditional mud techniques, to waterproofing floors and walls. 
VIEW TEAM PRICING
30-day money back guarantee. Access for one year.
Train with a Pro

Spanish Subtitles Available

Mobile Access

22 In-depth Lessons

Certificate of Completion

Practical Resources
Lesson Plan
22 Video Lessons · 2H 29M
1. Introduction

Adam Esparza, a professional tiler in California, explains different methods of setting tile: using tile backer board, which is speedy and effective, and using the traditional mortar bed (also known as "mud"), which emphasizes craftsmanship and detail.

2. Using Backer Board: How To Use a Story Pole for Tile Layout

Adam lays the ceramic tiles on a story pole—a board that shares dimensions with the wall—so he can take measurements and envision the finished product.

3. Using Backer Board: Floor Tile Layout

Repeating the same story pole method he used for the floor tiles, Adam reviews the layout, then measures and marks the tiles before installation.

4. Using Backer Board: Waterproofing Shower Walls

Learn how to waterproof shower walls by installing foam backer board, cloth, and a crack prevention membrane.

5. Using Backer Board: Waterproofing Shower Floors

Learn how to waterproof shower floors with an uncoupling mat, V-notch trowel, and thinset. Plus: how to mix and apply thinset.

6. Using Backer Board: Final Layout

Before installation, Adam reviews the offset tile layout one last time, then safely cuts the tiles with a water saw.

7. Using Backer Board: How to Install Wall Tiles

Using a laser level, thinset, and notched trowel, Adam installs wall tiles and creates precise grout joints with tile spacers.

8. Using Backer Board: How to Tile Inside Corners

Learn to arrange, measure, and cut tiles for a clean, continuous pattern where two walls meet.

9. Using Backer Board: How to Install Floor Tile

Adam ensures each floor tile receives full and even thinset coverage.

10. Using Backer Board: How To Grout Tile

Adam notes the differences between various types of grout. He shows how to evenly grout tile and wash up for a professional finish.

11. Mortar Bed: Waterproofing Walls

Adam creates a mitered shower niche in the wall framing and installs waterproof paper and bituthene to protect the walls.

12. Mortar Bed: Wall Foundation

Learn how to apply metal lathe to the shower walls, which helps grip the mud and keep the tiles in place.

13. Mortar Bed Wall Scratch Coat

Using a notch trowel and cement mix, Adam mixes and applies the first coat of mud on the foundation, called the "scratch coat."

14. Mortar Bed: Waterproofing Subfloor

Learn to waterproof a subfloor, which involves installing waterproof paper and metal lathe to create a sealed barrier.

15. Mortar Bed: Leveling with Dry Pack

Adam shows how to dry pack the floor: Apply a thick layer of cement and sand over the lathe to create a level bed for the tile.

16. Mortar Bed: Final Wall Coat

Adam mixes and applies the final mud coat to the shower walls. He explains which ratio of sand to lime to cement is best for a final-coat mixture.

17. Mortar Bed: Wall Installation

Learn to install wall tiles from top to bottom using a laser measure, thinset, and trowel.

18. Mortar Bed: Miter Niche Exterior Installation

Learn to install tiles around a mitered shower niche for a seamless pattern.

19. Mortar Bed: Shower Niche Interior Installation

Adam tiles the back interior of the mitered shower niche, measuring, cutting, and placing the tiles in a continuous pattern.

20. Mortar Bed: Shower Niche Side Installation

Learn to install tile inside the mitered niche by using thinset and mud for tightly sealed corners.

21. Mortar Bed: Floor Installation

Adam shows how to tile a mortar bed floor, which includes applying thinset, laying tiles, and cutting the pieces so the layout fits the space perfectly.

22. Conclusion

Patience is key to honing one's craft. Adam shares advice for becoming a professional tiler, and how to follow your passion.
Who it's for: This course was designed for individuals seeking an entry level installer position or working professionals interested in learning how to complete a proper tile installation from start to finish.
Key Topics
Using tile backer board

Installing tile in mortar bed

How to lay out tile

How to tile corners

Tiling a shower niche

Waterproofing tile floors
Overall rating of 9 students
5 out of 5

Denver K.,

Aug 13, 2023

There was a lot of good information on this course especially how to create a story board, mud packing and a lot of good tips on how to set everything properly.

5 out of 5

edgar V.,

Mar 12, 2023

The best

5 out of 5

Jonathan A.,

Mar 04, 2023

It was such an easy course to take on my own time. Being a visual learner, the video ,method of teaching was such a great learning experience for me! The instructor is knowledgeable and explains with...

Read More...

5 out of 5

Joseph L.,

Jan 14, 2023

informative

5 out of 5

Taylor D.,

Jan 10, 2023

Great course! Very informative and great demo.

5 out of 5

Ahmed S.,

Apr 13, 2022

What an awesome course! Anybody who's doing tile work or even just thinking about doing it could definitely learn some really useful tricks about the whole process. I really loved the parts about the...

Read More...

4 out of 5

Devon N.,

Feb 12, 2023

I think the course overall was great. My only issue was with the wording oof a few questions. Particularly adding an all of the above option to a question that asks you to select all answers that...

Read More...

4 out of 5

Christopher M.,

Jan 02, 2023

c

3 out of 5

Jonathan G.,

Feb 20, 2023

The course, while well presented, does not include any information on projections through the tile (e.g. Shower valve), base gradient, or drainage.
Adam Esparza
Tile Contractor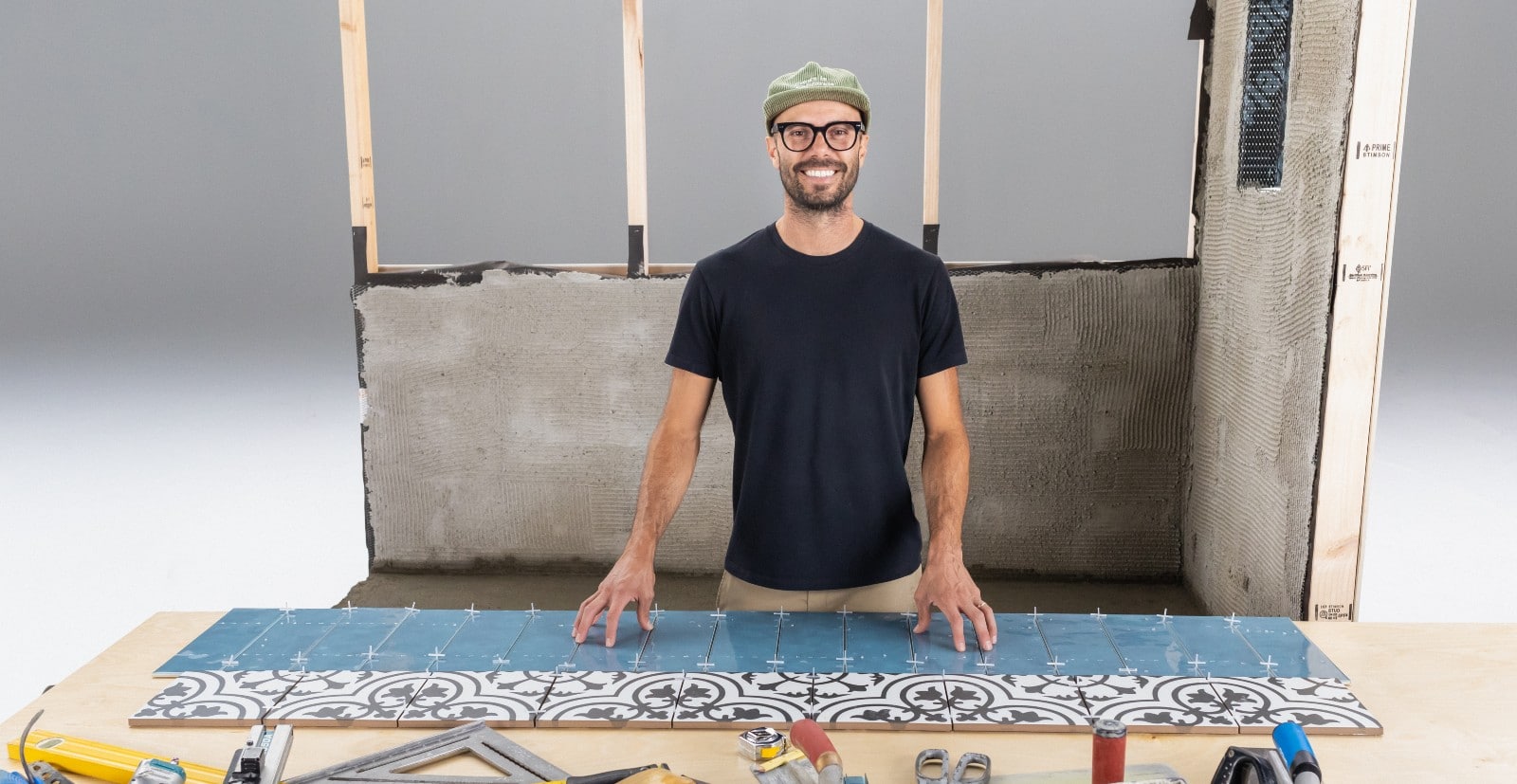 Your Instructor
Growing up with a father who specialized in laying tile with mortar helped Adam Esparza fall in love with the craft early on. As an adult, he quickly realized the corporate world wasn't for him and he set out to learn all he could about tiling. In 2013, Adam launched his small contracting business, ALE Tile, in Orange County, California. Recent projects have included tilework for OQ Farm, a 500-acre farm near Woodstock, Vermont, and the kitchen of a mid-century bungalow in Laguna Beach. Adam reveres the spirit of quality custom craftsmanship, which he hopes to pass onto the next generation of builders. 
Become Job Ready
This course will increase your knowledge for jobs like:
Tile Installer
Tile Setter
Tile Helper
Tile Apprentice
Handyman
Search for these jobs at:
Team Pricing
2-5 Seats
Save $5 per seat
$70 per seat
6-11 Seats
Save $10 per seat
$65 per seat
12-15 Seats
Save $15 per seat
$60 per seat
Add to cart
30-day money back guarantee. Access for one year.
Common Questions
What is MT Copeland?

MT Copeland helps you further your career in the building industry with expert-led online education that will make you a better, smarter tradesperson.

Our training courses give you a foundation in construction fundamentals and trade skills with real-world applications and best practices to help you grow on the job.

What do courses include?

Online courses include professionally produced videos taught by leaders in the trades and supplementary learning material such as quizzes, assessments and downloadable materials to help you acquire new skills. Watch anywhere, always at your own pace. We keep lesson videos short so they're easy to watch after work or on your lunch break. You can finish a course in one sitting, or space it out over a week or two.

How does the 30-day guarantee work?

If you're not happy with a course, let us know within 30 days for a full refund. Our goal is to provide maximum value for your career. If we haven't delivered on that promise, let us know.

Can you learn with MT Copeland outside of the u.s.?

Yes! You can take MT Copeland courses from anywhere in the world. Our courses are online, so if you have access to the Internet, you can watch our training videos. Courses are taught in English, with English captions and Spanish subtitles available.

Where did the name MT Copeland come from?

MT Copeland was named after a legendary educator who promoted the idea that training in a specific trade paired with a knowledge of general business principles opens up a whole new world of career possibilities. We believe in the same powerful combination of skills and knowledge.