Introduction to Drywall
Learn drywall composition, finishing level requirements, and common materials used to achieve quality drywall results. 
VIEW TEAM PRICING
30-day money back guarantee. Access for one year.
Train with a Pro

Spanish Subtitles Available

Mobile Access

In-depth Lessons

Certificate of Completion

Practical Resources
Lesson Plan
Video Lessons · 55M
1. Introduction to Drywall

Meet your instructor Lydia Crowder, expert drywall contractor and business owner, as she discusses the transformative effect drywall can have on a space.

2. History of Gypsum Board

Drywall is made from gypsum, an ancient and multipurpose compound found in everything from Greek temples to modern toothpaste. Learn about drywall's rise to prominence and why it's such a great material to use in a home.

3. Sizes and Types of Drywall

Lydia walks you through common drywall thicknesses, and where to use each. Plus, learn about special types of drywall like prefinished and mold resistant.

4. Joints and Jargon: Commonly Used Drywall Terms

Drywall lingo is anything but boring. Learn about flats, butts, bastards, inside angles, outside angles, off angles, drywall shins, "No-Coat," and belly bands.

5. Drywall Finishing Levels

Lydia walks you through levels 1 through 5 of drywall finishing, and what quality should be expected at each finishing level.

6. Introduction to Drywall Compounds

Drywall finishing calls for different kinds of compounds or muds. Learn about hot mud, air-drying muds, box mud vs. bucket mud, when to use mesh tape and paper tape, and how to mix your mud to the proper consistency.

7. Air-Dry Compounds: Taping Mud

Lydia explains the difference between all-purpose and lightweight taping compounds, and which to choose for your drywall project and skill type.

8. Air-Dry Compounds: Coating Mud

Lydia walks you through two different kinds of coating muds used for topping and coating—Plus 3 and UltraLightweight—and how to work with each.

9. Air-Dry Compounds: Texture Mud

Mud textures run the gamut, from orange peel to popcorn. Here Lydia explains the properties of two basic textures, All Purpose-Lite and CertainTeed Spray Texture.

10. Drywall Tape: Mesh and Paper

Lydia compares and contrasts the most commonly used drywall tapes: mesh tape and paper tape.

11. Drywall Tape: Composite Corner Pieces

Using specialty tape, Lydia shows how to drywall inside corners and framing that aren't ninety degrees.

12. Corner Bead

To finish outside corners, you have to use corner bead. Lydia walks you through different corner bead materials: metal, paper faced metal, no-coat corner bead, and vinyl.

13. Corner Bead: Three-Way Corners, Trim, and Specialty Pieces

Lydia demonstrates various specialty pieces that can be used for corner bead to suit your style preferences and trim specifications, including bullnose, square edge, chamfer, and architectural beads.

14. Wrap Up

Lydia reviews drywall materials and finishing levels, and offers tips for continuing to hone your drywall skills.
Who it's for: This course is for apprentices, contractors, and even homeowners looking to get a strong foundation of the craft and feel prepared to pivot into this area of the trades. No prior drywall experience is required.
Key Topics
Drywall finishing levels

Types of drywall

Mud and tape

Drywall corners

Mesh tape and paper tape

Joint compound
Overall rating of 11 students
5 out of 5

Jonathan D.,

Jun 12, 2023

Lydia's introduction is informative for the newbies and provides necessary reminders for the old-timers. Really enjoying going down the drywall rabbit hole!

5 out of 5

Arthur C.,

May 08, 2023

very informative. i love all the knowledge so far. and i learned new things

5 out of 5

Scott V.,

Apr 26, 2023

Interesting

5 out of 5

José Trinidad A.,

Jan 25, 2023

Great course!

5 out of 5

Ben J.,

Dec 16, 2022

I finally understand the different grade levels of drywall finish. Its hillarious what a mystery that is, everyone has their own idea of what these grades are. According to the test, these drywall...

Read More...

5 out of 5

Dylan M.,

Nov 28, 2022

Easy to follow along and very useful.

5 out of 5

Kala B.,

Nov 11, 2022

Thanks for the information, Lydia...can't wait to continue the course.

5 out of 5

somona L.,

Sep 20, 2022

Great

5 out of 5

Nibaruta L.,

Jul 03, 2022

good lecture instructor knew material and how to teach it that was easy to fallow and understand it.

5 out of 5

Keron W.,

Apr 11, 2022

It was very informative and easy to understand all the procedures. And very interesting also!!!

5 out of 5

Carol M.,

Aug 19, 2021

I learned so much. Have been doing drywall for years, and now I know better!
Lydia Crowder
Owner, Trinity Drywall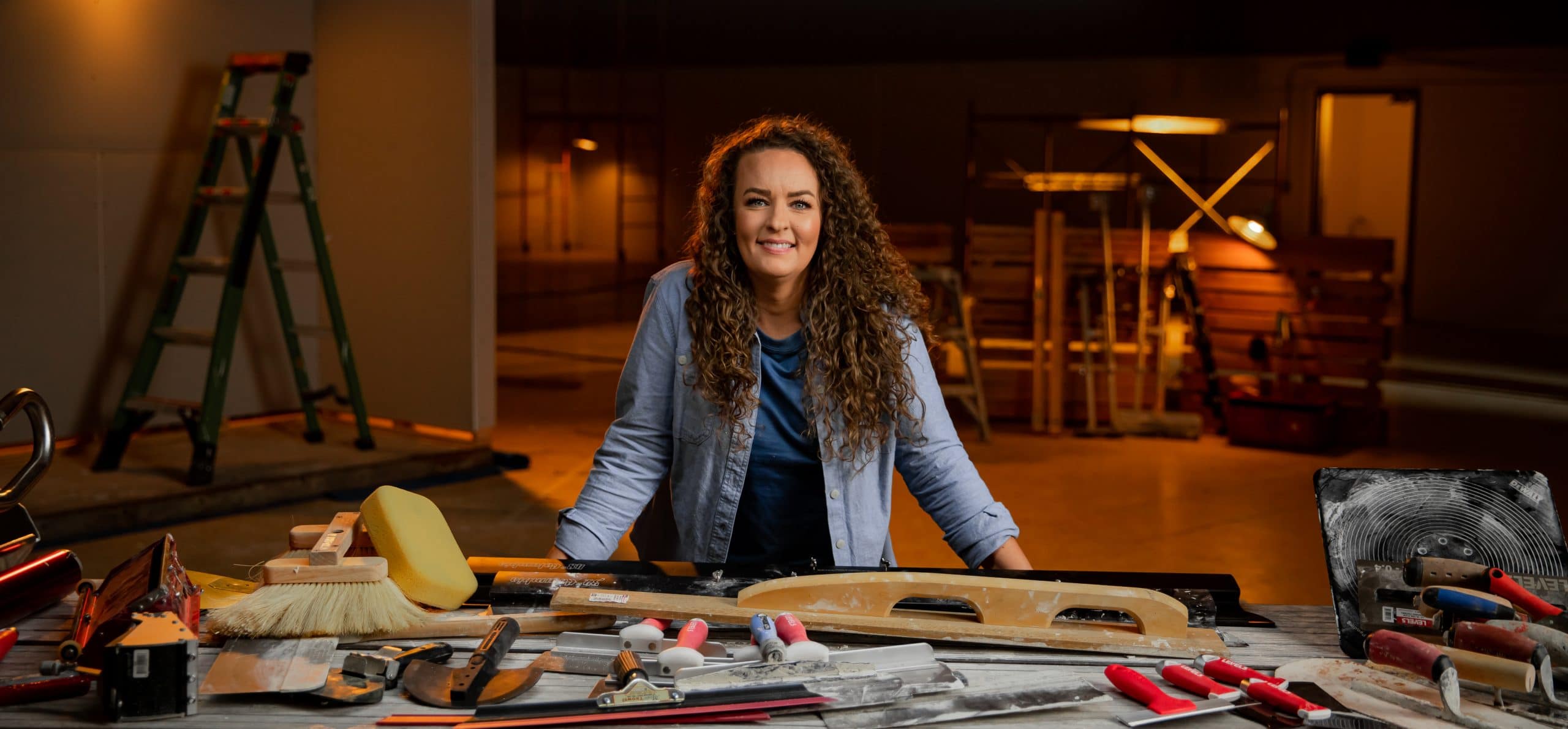 Your Instructor
Lydia Crowder is a second generation drywall finisher. She started helping out her dad with the family business as a kid and quickly grew to love it. Her dad instilled a love for quality, craftsmanship, and sharing knowledge. She has over 18 years of experience in the field and runs Trinity Drywall with her husband Ryan. Together they finish over 500,000 square feet of drywall board a year: that's an average of a house a week. Lydia started sharing drywall tips and tricks on Instagram under the name DrywallShorty and the response was explosive. There is a huge lack of basic knowledge in the industry and Lydia has become a go-to for professionals and DIY-ers alike.
Become Job Ready
This course will increase your knowledge for jobs like:
Drywall Installer
Drywall Hanger
Drywall Finisher
Search for these jobs at:
Team Pricing
2-5 Seats
Save $5 per seat
$70 per seat
6-11 Seats
Save $10 per seat
$65 per seat
12-15 Seats
Save $15 per seat
$60 per seat
Add to cart
30-day money back guarantee. Access for one year.
Common Questions
What is MT Copeland?

MT Copeland helps you further your career in the building industry with expert-led online education that will make you a better, smarter tradesperson.

Our training courses give you a foundation in construction fundamentals and trade skills with real-world applications and best practices to help you grow on the job.

What do courses include?

Online courses include professionally produced videos taught by leaders in the trades and supplementary learning material such as quizzes, assessments and downloadable materials to help you acquire new skills. Watch anywhere, always at your own pace. We keep lesson videos short so they're easy to watch after work or on your lunch break. You can finish a course in one sitting, or space it out over a week or two.

How does the 30-day guarantee work?

If you're not happy with a course, let us know within 30 days for a full refund. Our goal is to provide maximum value for your career. If we haven't delivered on that promise, let us know.

Can you learn with MT Copeland outside of the u.s.?

Yes! You can take MT Copeland courses from anywhere in the world. Our courses are online, so if you have access to the Internet, you can watch our training videos. Courses are taught in English, with English captions and Spanish subtitles available.

Where did the name MT Copeland come from?

MT Copeland was named after a legendary educator who promoted the idea that training in a specific trade paired with a knowledge of general business principles opens up a whole new world of career possibilities. We believe in the same powerful combination of skills and knowledge.