Layout, Floor and Wall Framing
Learn the basic principles and methods of floor and wall framing in construction, from which tools are essential for a framing job to common applications for sheet goods and key systems used to build walls.
VIEW TEAM PRICING
30-day money back guarantee. Access for one year.
Train with a Pro

Spanish Subtitles Available

Mobile Access

18 In-depth Lessons

Certificate of Completion

Practical Resources
Lesson Plan
18 Video Lessons · 2H
1. Introduction to Framing

Sarah Smith is executive director of Sawhorse Revolution, a Seattle nonprofit empowering disadvantaged high school students through carpentry and design. Sarah shares what you'll learn in her course, from wall frame construction to common tools.

2. Dimensional Lumber for Framing

Sarah describes several types of dimensional lumber used in wood framing, noting key measurements and terminology.

3. Sheet Goods for Exterior Framing

There are two types of engineered wood products for wood frame construction: CDX and OSB. Learn their properties, common applications, and how they're best used.

4. Fasteners

Sarah shares the types of fasteners commonly used in wood framing, including sixteen-penny nails, galvanized nails, and joist hanger screws.

5. Personal Protective Equipment

Keeping yourself safe is essential on any project. Learn what PPE is useful for wood frame construction, from ear protection to respirators.

6. Hand Tools

Sarah covers three types of hand tools: tools for nail manipulation, measuring, and marking. Plus: miscellaneous tools like chisels, saws, and plumb bobs.

7. Pneumatic Tools

Pneumatic tools are powered by compressed air. Sarah shares how they're used and her thoughts on maintenance.

8. Cutting Tools

Sarah reveals the most common cutting tools you'll find on a framing site, like the circular saw, sawzall, oscillating tool, and power planer.

9. Drills and Drivers

Drills and drivers fasten and manipulate lumber. Learn essential drill and driver terminology and how to choose fasteners for tools.

10. Tool Belt

Sarah shares which tools to stash in your toolbelt: the hammer loop, torpedo level, and cat's paw.

11. Principles of Framing

There are three principles of quality framing: planning ahead; supporting and connecting the structures; and ensuring plumb, level, square, and straight structures.

12. Terminology and Getting Started

Learn which members comprise wall frames and floor frames: studs, footings, joists, and more.

13. Layout Marks and 16 On-Center

Sarah shares essential layout marking tools, then shows how to measure and mark a piece of lumber so it's "sixteen on-center," meaning every 16 inches aligns with the center of the stud.

14. Floor Framing

Sarah describes the floor-framing process, which entails leveling skids, installing floor joists, and making exterior rim joists flush.

15. Squaring Floors

Sarah shares two ways to check for square floors: the 3-4-5 triangle method and measuring for even corners.

16. Assembling: Walls

Sarah shows how to assemble wall layouts by measuring and marking the lumber before installation.

17. Tipping Up Walls

Learn about tipping up walls, from marking measurements with chalk lines to clearly communicating.

18. Squaring and Bracing Walls

Sarah shares ways to check for square and plumb walls and how braces hold walls in place.
Who it's for: This course is designed to cover the fundamental aspects of floor and wall framing to help construction workers gain the basic skills and knowledge required to build efficiently on a jobsite.
Key Topics
Layout

House framing

Tools for framing

Floor framing

Wall framing

Types of lumber
Overall rating of 26 students
5 out of 5

Akeem O.,

Aug 21, 2023

Framing

5 out of 5

JOSE G.,

Jul 24, 2023

GOOD

5 out of 5

Dylan M.,

Jul 22, 2023

EXCELLENT

5 out of 5

Ketul S.,

Jul 14, 2023

Wish you could cover roof framing

5 out of 5

Blake L.,

Jun 16, 2023

Helpful hints and tricks for basic framing

5 out of 5

Andy C.,

May 19, 2023

good stuff

5 out of 5

Benjamin J.,

May 17, 2023

It was very well done.

5 out of 5

Ronnie L.,

May 13, 2023

She did a great job with all the basics of tools and wall and framing layouts.

5 out of 5

Patrick C.,

May 11, 2023

Framing

5 out of 5

Warren P.,

May 08, 2023

Great Course!

5 out of 5

Ricardo M.,

May 05, 2023

Excellent

5 out of 5

Gilly C.,

May 02, 2023

A little challenging but i learned alot

5 out of 5

Martin M.,

Apr 27, 2023

good

5 out of 5

Roberto P.,

Apr 24, 2023

I love the communication and delivery of the training.

5 out of 5

Briant B.,

Apr 18, 2023

It was a great learning experience to get to know more about framing.

5 out of 5

Lidzy P.,

Jan 16, 2023

all the basic stuff a really good foundation would recommend to anyone starting in the carpentry trade

5 out of 5

Sita K.,

Oct 30, 2022

Easy to Understand

5 out of 5

somona L.,

May 21, 2022

Great

5 out of 5

Chris R.,

Feb 09, 2022

Good intro to some framing basics

5 out of 5

Syed A.,

Feb 05, 2022

Like the course it covers Important aspect of framing and basic terminologies

4 out of 5

Dean S.,

Aug 22, 2023

Very helpful but could have gone into more detail made us of illustrations

4 out of 5

Jonathan K.,

Aug 08, 2023

lots of knowledge , instructor was clear in easy to understand , if I had to say one thing missing in the course would be some sort of downloadable plans or document to be able to review and stud ....

Read More...

4 out of 5

Zachary L.,

May 02, 2023

There were certain aspects of the final quiz that were not covered in the videos. One example being the 3-4-5 method.

4 out of 5

Riley Z.,

Apr 10, 2023

learnt lots

4 out of 5

Kevin C.,

Feb 17, 2023

Good knowledge
Sarah Smith
Carpentry and Design Educator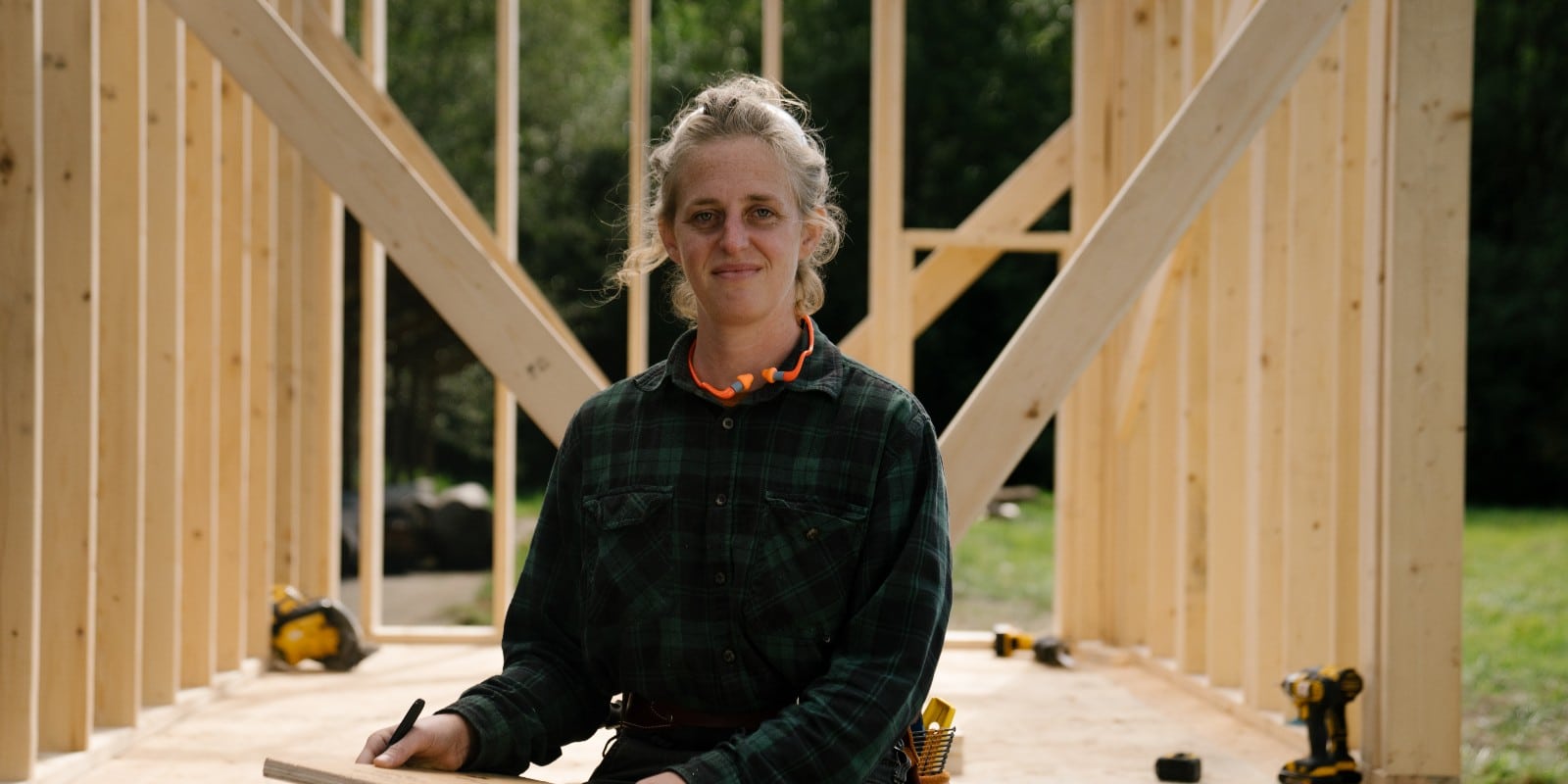 Your Instructor
Sarah Smith is the executive director of Sawhorse Revolution, a Seattle nonprofit that aims to empower disadvantaged teens through building. Since helping to launch the nonprofit in 2010, Sarah has seen Sawhorse Revolution build everything from over a dozen cheerful tiny homes to a 16' diameter, octagonal tree house hoisted high off the forest floor. In 2021, Sawhorse Revolution's work on Estelita's Library, a serene community space that doubles as a bookstore and library, was featured in Dwell. "At the core of our work," she told the outlet, "is the idea that youth can and should have a hand in shaping their own neighborhoods." When she's not busy building, Sarah can be found traveling, visiting friends and family, and working on her cast for fly fishing.
Become Job Ready
This course will increase your knowledge for jobs like:
Carpenter
Apprentice Carpenter
Laborer
Framer
Remodeler
For more information on these roles, visit our career page.
Search for these jobs at:
Team Pricing
2-5 Seats
Save $5 per seat
$70 per seat
6-11 Seats
Save $10 per seat
$65 per seat
12-15 Seats
Save $15 per seat
$60 per seat
Add to cart
30-day money back guarantee. Access for one year.
Common Questions
What is MT Copeland?

MT Copeland helps you further your career in the building industry with expert-led online education that will make you a better, smarter tradesperson.

Our training courses give you a foundation in construction fundamentals and trade skills with real-world applications and best practices to help you grow on the job.

What do courses include?

Online courses include professionally produced videos taught by leaders in the trades and supplementary learning material such as quizzes, assessments and downloadable materials to help you acquire new skills. Watch anywhere, always at your own pace. We keep lesson videos short so they're easy to watch after work or on your lunch break. You can finish a course in one sitting, or space it out over a week or two.

How does the 30-day guarantee work?

If you're not happy with a course, let us know within 30 days for a full refund. Our goal is to provide maximum value for your career. If we haven't delivered on that promise, let us know.

Can you learn with MT Copeland outside of the u.s.?

Yes! You can take MT Copeland courses from anywhere in the world. Our courses are online, so if you have access to the Internet, you can watch our training videos. Courses are taught in English, with English captions and Spanish subtitles available.

Where did the name MT Copeland come from?

MT Copeland was named after a legendary educator who promoted the idea that training in a specific trade paired with a knowledge of general business principles opens up a whole new world of career possibilities. We believe in the same powerful combination of skills and knowledge.