Plumbing Basics: Cutting, Joining, and Forming Pipe
Mary-Anne Bowcott, a professional plumber and owner of Westcom Plumbing and Gas Ltd, teaches you about plumbing fittings and installations, pipe assembly, and how to operate several essential pieces of plumbing equipment safely and effectively.
30-day money back guarantee. Access for one year.
Train with a Pro

Spanish Subtitles Available

Mobile Access

27 In-depth Lessons

Certificate of Completion

Practical Resources
Lesson Plan
27 Video Lessons · 4H 30M
1. Introduction

Your instructor, Mary-Anne Bowcott, shares her story of rising through the ranks in construction and plumbing, and overcoming gender discrimination and adversity to open Westcom Plumbing and Gas Ltd.

2. Common Terminology

Learn the terminology commonly used in plumbing, from the most used systems in plumbing applications to the specialized fittings that connect one pipe to the next.

3. Copper Tubing

Mary-Anne reviews the five types of copper and what they're each used for in plumbing. Then, she walks you through several different tools and methods for cutting, preparing and joining copper pipe and fittings.

4. Soldering

Soldering is a method of joining pipes together with a fitting, then melting a filler, known as the solder, with a torch. Mary-Anne takes you through prepping the pipe, fitting it, and using a specific tip on the torch to melt the solder.

5. Brazing

Brazing is similar to soldering, only it occurs at a higher temperature and the process takes longer. Mary-Anne shows you how to clean your copper pipes, fit them together, and use a torch and brazing rod to join the pipes.

6. Pressed Gas

Pressed gas systems eliminate the need to solder, don't require heat, and take far less time to join fittings and pipes together. Learn how to create a permanent fitting using a pressed gas fitting and a press tool.

7. Copper Bending and Compression

Mary-Anne demonstrates how to bend a piece of copper tubing to ninety degrees using a tubing bender. Also, learn how to fit a compression nut, coupling, and ferrule onto a fitting and use wrenches to compress the ferrule to the copper pipe.

8. ABS, PVC, and CPVC

Mary-Anne reviews three common types of pipe — ABS, PVC and CPVC — and explains their typical uses and the various fittings they're compatible with. Then, she walks through a basic installation with PVC and fittings using a pipe reamer, primer, and glue.

9. Gas Venting

There are many different gas venting styles, applications and brands. Mary-Anne demonstrates how to work with some common gas venting types for residential and commercial use, including C-vent, B-vent, Dura vent, and System 636.

10. Pex Pipe

Learn about various kinds of pex pipe, like Uponor and blue, red, and white pex piping. Then, Mary-Anne walks you through two basic pex pipe installations: one with blue pex piping and another with Uponor.

11. SharkBite

SharkBite fittings have push-type connections. Learn how to install a SharkBite fitting onto copper tubing, and how to take it apart in two different ways: with a disconnecting clip and with a crescent wrench.

12. Gastite

To work with Gastite and install their products, you need to be a certified Gastite installer, trained and certified by Gastite. Mary-Anne shares tips for working with this stainless steel tubing, the differences between overground and underground Gastite, and how to cut and install a fitting onto both.

13. Braided Supplies

Braided supplies are made of braided stainless steel with plastic tubing inside. Learn how to connect two different types of braided supplies — an extension and a lav supply— when using a compression fitting.

14. Hangers

There are hundreds of hangers to choose from. In this lesson, Mary-Anne reviews some of the more commonly used hangers: strappings, unistrut, springs, rings, and also demonstrates the various clamps and fasteners that fit with each of them.

15. Piping Tests

There are several different ways to test piping, depending on what kind of system you're testing. Mary-Anne demonstrates how to use a Hydrostatic pump to test water, how to use various test balls to test drainage, and how to use a leak detect solution on pipes to test gas.

16. Steel Piping and Cast Iron Assembly

Mary-Anne walks you through various assemblies of steel piping and cast iron with different types of fittings, like zip couplings, MJ clamps, and Cremco fittings. Then, she demonstrates proper wrench use and gives wrench tips and tricks for working with steel piping.

17. Snap Cutters

Manual snap cutters come in two forms: ratcheting and scissor snaps. In this lesson, Mary-Anne demonstrates how to safely cut a piece of cast iron pipe using scissor snaps.

18. Threading Pipe

Mary-Anne explains the various parts of a threader, including the tubing cutter, dies and reamer, and how they work together to thread pipe. Then, she walks you though how to cut and thread a pipe using a pipe wrench, Teflon, pipe joint compound, and the threader.

19. Jackhammer

When you need to repair a pipe, automatic tools can help you quickly access piping systems, especially when they're under concrete or behind wood. Learn how to load a jackhammer, as well as Mary-Anne's techniques for getting into tricky places, like drilling horizontally.

20. Hammer Drill

Hammer drills are mainly used for putting fasteners into concrete, but can also be used for chipping tile or and masonry drilling. Learn how to operate the hammer drill and how to use a lead smackey drill bit.

21. Super Hawg

Hawg drills are used for drilling holes in wood construction. Mary-Anne reviews various parts and drill bits used with a super hawg, including the chuck key, pilot bit, hole saw, and Milkwaukee bits, and then shows how to use the Super Hawg on a piece of wood.

22. Impact Driver

The impact driver is a handy cordless tool used to drive in fasteners, screws, and bolts. Learn how to change the torque setting on an impact driver, how to attach an extension, and how to screw in a number of different screw sizes.

23. Cordless Drill

The cordless drill doesn't have as much torque as an impact driver, but is compatible with all of the same drill bits if you need to interchange the two. Learn how to attach drill bits to a cordless drill, and how to operate the drill safely.

24. Band Saw

Mary-Anne shows you how to use one of her favorite tools: a portable band saw, which can cut plastic pipe, metal pipe, ready rod, and cast iron. Learn how to load the saw with a blade and operate the safety, then use the band saw on a piece of three-quarter steel.

25. One-Handed Reciprocating Saw

A Hackzall is a one-handed reciprocating saw; it operates the same way as a Sawzall, a reciprocating saw that requires two hands. Mary-Anne shows you different blades to use to cut various materials, and demonstrates how to use a Hackzall without bending your blade, a common mistake people make.

26. Circular Saw

Learn how to operate a cordless circular saw, how to change the cutting depth, and how to prevent kickbacks and ensure proper safety protocol while cutting wood.

27. Grinder

Learn how to use a grinder: a wheeled saw that can cut and bevel pipe, among many things. In this lesson, Mary-Anne teaches you how to attach a zip disk to the grinder to cut metal, and also how to bevel a piece of PVC—two basic skills for plumbing work you'll use again and again.
Who it's for: This course is designed for construction professionals and entry-level plumbers interested in learning about the fundamentals of this specialty trade, the various tools, materials, and fixtures involved, and the proper installation techniques used on the job today.
Key Topics
Types of pipe

Types of fittings

Soldering

Brazing

Plumbing hand tools

Working with Gastite products
Mary-Anne Bowcott
Residential and Commercial Plumber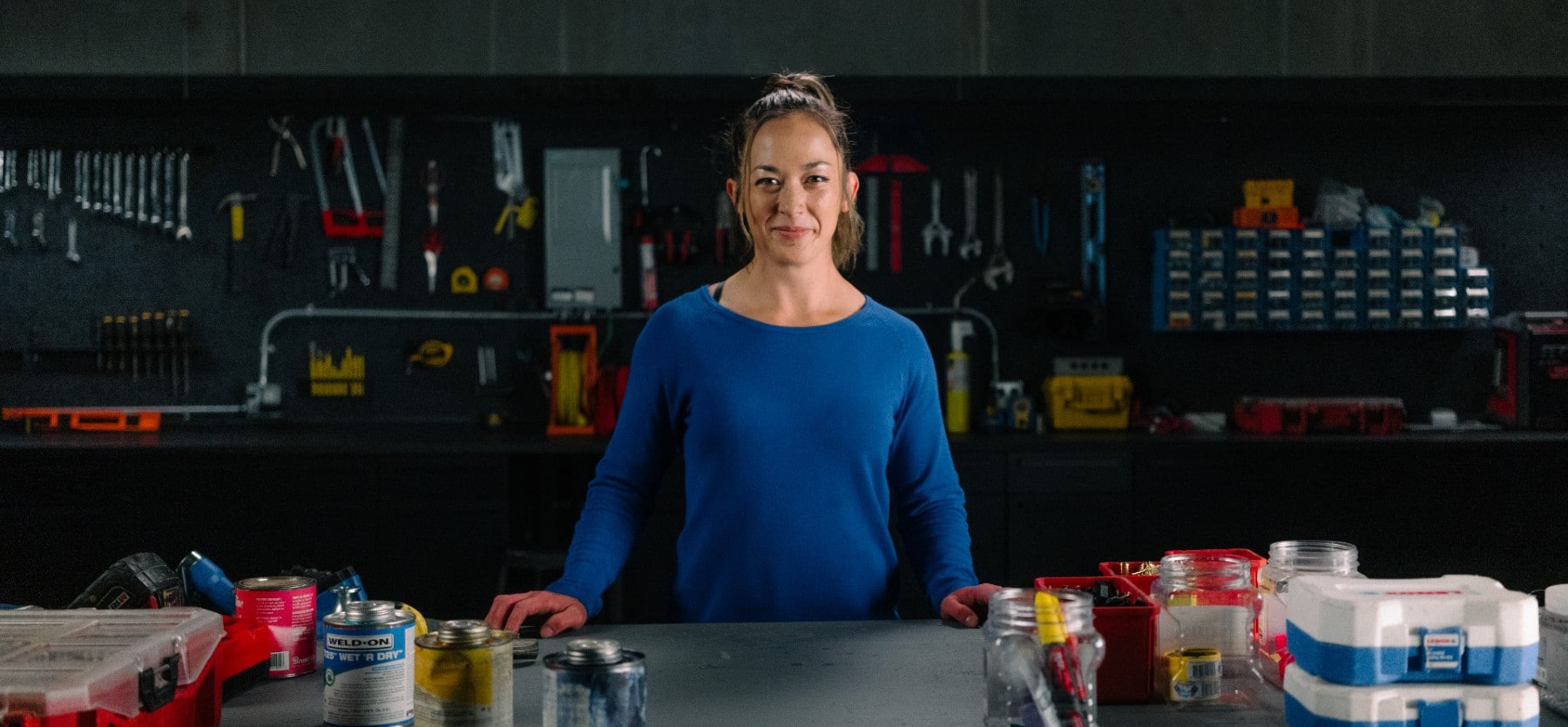 Your Instructor
Mary-Anne Bowcott is a residential and commercial plumber, certified gas fitter, and owner of Westcom Plumbing and Gas Ltd. She received the 2016 and 2018 Sooke Region Chamber of Commerce Trades and Skilled Labour Excellence Award and the British Columbia Construction Industry Leadership Award in 2018. She was named Canadian Construction Association's Person of the Year in 2019. A champion of women in the building trades, Mary-Anne mentors tradeswomen to help promote positive change within the industry. When she's not running her business or tackling plumbing and roofing projects, you can find her rock climbing, exploring the outdoors, surfing, or crushing a CrossFit workout.
Become Job Ready
This course will increase your knowledge for jobs like:
Plumber Apprentice
Plumber Helper
Plumber Assistant
Search for these jobs at:
Team Pricing
2-5 Seats
Save $5 per seat
$70 per seat
6-11 Seats
Save $10 per seat
$65 per seat
12-15 Seats
Save $15 per seat
$60 per seat
Add to cart
30-day money back guarantee. Access for one year.
Common Questions
What is MT Copeland?

MT Copeland helps you further your career in the building industry with expert-led online education that will make you a better, smarter tradesperson.

Our training courses give you a foundation in construction fundamentals and trade skills with real-world applications and best practices to help you grow on the job.

What do courses include?

Online courses include professionally produced videos taught by leaders in the trades and supplementary learning material such as quizzes, assessments and downloadable materials to help you acquire new skills. Watch anywhere, always at your own pace. We keep lesson videos short so they're easy to watch after work or on your lunch break. You can finish a course in one sitting, or space it out over a week or two.

How does the 30-day guarantee work?

If you're not happy with a course, let us know within 30 days for a full refund. Our goal is to provide maximum value for your career. If we haven't delivered on that promise, let us know.

Can you learn with MT Copeland outside of the u.s.?

Yes! You can take MT Copeland courses from anywhere in the world. Our courses are online, so if you have access to the Internet, you can watch our training videos. Courses are taught in English, with English captions and Spanish subtitles available.

Where did the name MT Copeland come from?

MT Copeland was named after a legendary educator who promoted the idea that training in a specific trade paired with a knowledge of general business principles opens up a whole new world of career possibilities. We believe in the same powerful combination of skills and knowledge.