Working with Drywall
Learn the fundamentals of mixing compounds, hanging drywall, taping and installing corner bead, and how to successfully contribute to a project as a drywall contractor. 
VIEW TEAM PRICING
30-day money back guarantee. Access for one year.
Train with a Pro

Spanish Subtitles Available

Mobile Access

In-depth Lessons

Certificate of Completion

Practical Resources
Lesson Plan
Video Lessons · 2H 37M
1. Drywall Basics

Successful drywall installation requires mastery of the basics. Your instructor Lydia Crowder explains the necessities that go into properly setting up a drywall job, such as securing the right materials, getting on the same page with the general contractor, and advocating for yourself if you're self-employed.

2. How to Bid a Drywall Job

Estimating the drywall footing and costs — is your first step to securing a drywall job. Lydia explains several methods for compiling a bid: using the site plans, going onsite and measuring yourself, or submitting the construction plans to your drywall supplier and having them determine your footing for you.

3. Prep: Pre-Drywall Inspections

Before installation can begin, you'll need to work through a pre-drywall inspection checklist. Lydia reviews security measures like screw inspections, liability insurance, and bringing necessary electrical equipment.

4. Prep: Communication and Workflow

As a self-employed contractor, communication with the other builders is essential. Lydia walks you through common situations that may arise on the jobsite, like working with painters and carpenters, and even the proper protocol for bringing your dog to work.

5. Hanging Drywall: Overview

Learn the basics of hanging drywall like staggering joints, hanging bolts, and how to work thoroughly and tidily to set the finisher up for success.

6. Hanging Drywall: Screw Pops and Pre-V Butt Joints

Lydia shows how to fix screw pops. Also, learn how to pre-v butt joints using a razor blade.

7. Hanging Drywall: Things To Avoid

To avoid mistakes, it's essential to take your time when cutting and routering can lights and electrical boxes, minimizing butt joints and breaking flats over boxes. Also, Lydia gives drywall tips like ensuring the router is set correctly at the back of the electrical box when cutting drywall for outlets.

8. Preparing to Tape

Before taping, Lydia checks the screws for clicking and resets them with a screwdriver, angles edges on butt joints using a razor blade, and looks for gaps or spaces in the drywall that need to be pre-filled.

9. Taping a Flat

Lydia demonstrates proper pan scooping technique and recommends using a rounded bottom pan for better grip. Also, learn how to tape a flat from butt to flat to angle, ensuring everything is neatly sealed.

10. Spotting Screws

Lydia shows how to spot screws with mud using fire tape, and how to correct shiner screws and clicks with a screwdriver so each screw is properly filled.

11. Taping Angles and Inside Corners

Learn how to hand tape a three-way angle, which is an inside corner where three sides meet. Here, Lydia works with angle mud and gives drywall mudding tips: the thinner the consistency, the better.

12. Installing Corner Bead

Lydia installs various corner bead materials: paper-faced metal, vinyl, metal, and paper-faced composite.

13. Drywall Tools: Hawk & Trowel, Pan & Knife

Lydia compares and contrasts using a pan and knife, which she prefers for everyday drywall tasks, to using a hawk and trowel, which are effective when spreading larger amounts of mud, creating texture, and working with plaster.

14. Mixing Hot Mud

Lydia shows how to mix Easy 5, a hot mud that sets quickly and is ideal for filling butt joints. Also, learn about the benefits of Easy Sand 45, which is good for large jobs as it takes longer to set and gives you ample time to prep your walls and ceilings.

15. Mixing Compounds

Lydia demonstrates mixing Plus 3 with a drill and whip, and how to use water to achieve the right mud consistency.

16. Basic Box: Taping Butt Joint

Lydia walks you through applying mud, hand-taping with paper tape, and working outward from the center of the tape with your knife to complete the task of taping the butt joint.

17. Basic Box: Taping a Flat

Lydia demonstrates applying mud, placing the paper tape from corner to corner, and how to re-mud and tape if you run into blistering on the walls.

18. Working on Stilts

Ceiling work calls for drywall stilts. Lydia explains how to set your stilt height with wingnuts and shows you proper stilt fitting and walking techniques to use them safely.

19. Basic Box: High Angles

Lydia applies mud to the ceilings and walls, then guides her paper tape along the angle where the two meet. She advises spotting the ceiling screws while you're on drywall stilts, so you don't have to go up and down all day.

20. Basic Box: Low Angles

Learn how to apply mud and tape to a vertical angle, smooth out wrinkles in the tape using your knife, and ensure all the tape from various flats and butt joints are smooth and enveloped together.
Who it's for: This course is for apprentices, contractors, and even homeowners who need a deep understanding of the basics of drywall, step by step. Students will walk away with a knowledge of drywall basics and how to apply them on the job. No prior drywall experience is required.
Key Topics
How to bid a drywall job

Drywall inspections

Hanging drywall

Taping a flat

Mixing joint compounds

How to drywall corners
Overall rating of 3 students
5 out of 5

Aidan G.,

Mar 27, 2023

Of course with wonderful information

5 out of 5

somona L.,

Oct 09, 2022

Great

5 out of 5

Michael H.,

Apr 09, 2022

Very informative easy to understand
Lydia Crowder
Owner, Trinity Drywall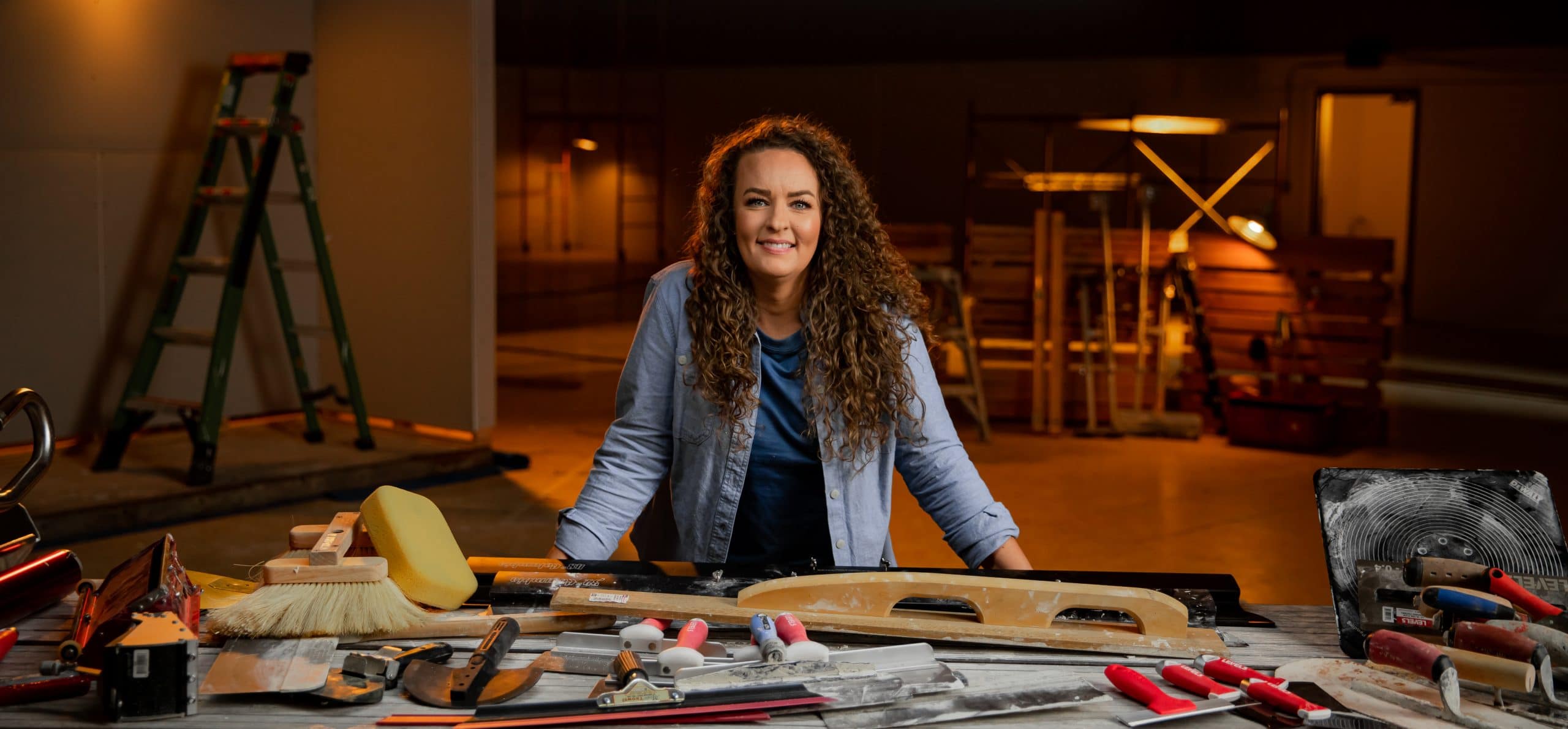 Your Instructor
Lydia Crowder is a second generation drywall finisher. She started helping out her dad with the family business as a kid and quickly grew to love it. Her dad instilled a love for quality, craftsmanship, and sharing knowledge. She has over 18 years of experience in the field and runs Trinity Drywall with her husband Ryan. Together they finish over 500,000 square feet of drywall board a year: that's an average of a house a week. Lydia started sharing drywall tips and tricks on Instagram under the name DrywallShorty and the response was explosive. There is a huge lack of basic knowledge in the industry and Lydia has become a go-to for professionals and DIY-ers alike.
Become Job Ready
This course will increase your knowledge for jobs like:
Drywall Installer
Drywall Hanger
Drywall Finisher
Search for these jobs at:
Team Pricing
2-5 Seats
Save $5 per seat
$70 per seat
6-11 Seats
Save $10 per seat
$65 per seat
12-15 Seats
Save $15 per seat
$60 per seat
Add to cart
30-day money back guarantee. Access for one year.
Common Questions
What is MT Copeland?

MT Copeland helps you further your career in the building industry with expert-led online education that will make you a better, smarter tradesperson.

Our training courses give you a foundation in construction fundamentals and trade skills with real-world applications and best practices to help you grow on the job.

What do courses include?

Online courses include professionally produced videos taught by leaders in the trades and supplementary learning material such as quizzes, assessments and downloadable materials to help you acquire new skills. Watch anywhere, always at your own pace. We keep lesson videos short so they're easy to watch after work or on your lunch break. You can finish a course in one sitting, or space it out over a week or two.

How does the 30-day guarantee work?

If you're not happy with a course, let us know within 30 days for a full refund. Our goal is to provide maximum value for your career. If we haven't delivered on that promise, let us know.

Can you learn with MT Copeland outside of the u.s.?

Yes! You can take MT Copeland courses from anywhere in the world. Our courses are online, so if you have access to the Internet, you can watch our training videos. Courses are taught in English, with English captions and Spanish subtitles available.

Where did the name MT Copeland come from?

MT Copeland was named after a legendary educator who promoted the idea that training in a specific trade paired with a knowledge of general business principles opens up a whole new world of career possibilities. We believe in the same powerful combination of skills and knowledge.