How House Framing Works
Learn about the structural elements behind construction framing: load paths, internal forces, external forces, why these factors make a house stand strong, and how they apply to almost anything you build.
VIEW TEAM PRICING
30-day money back guarantee. Access for one year.
Train with a Pro

Spanish Subtitles Available

Mobile Access

11 In-depth Lessons

Certificate of Completion

Practical Resources
Lesson Plan
11 Video Lessons · 1H 12M
1. Introduction

Your instructor, Jordan Smith, is a professional builder and president and owner of the design-build firm Smith House. Jordan shares what he loves about framing: It's the perfect mix of physics and craftsmanship.

2. External Forces

Jordan reviews the three external forces that a building encounters—dead loads, live loads, and environmental loads—and how each of these forces physically interacts with a structure.

3. Internal Forces

There are five types of internal forces: tension, compression, shear, bending moment, and torsion. Learn how these forces act on a structure, and which common construction materials are associated with each type of force.

4. Assemblies

Walls are an essential construction assembly that go into framing. Jordan takes you through the ways in which walls are reinforced with cross bracing, shiplap, and sheathing, and how they resist the external forces of compression, tension, and shear.

5. Bending Moments

Jordan reviews how bending moments impact various framing structures, like door frames and windows. Also, learn how door frames and windows brace against bending moments using studs and beams.

6. Resisting Torsional Forces

Jordan discusses the fundamental framing elements that resist torsional force, such as bracing in the foundation, beam to post applications, and wall to roof applications. He also reviews how jack studs help areas with large gaps of space—for example, how garage doors resist torsional forces.

7. Trusses

Trusses are triangular structures that utilize tension and shear to create stable, strong framing. Learn how trusses are applied to roofing, ceilings, and beams.

8. Roofs and Windows

Jordan uses a framing structure model to identify key components like the rafters, headers, beams, and studs. Then, he tracks the load paths throughout the roof and windows, marking the areas experiencing compression and tension to show how the structure resists external forces.

9. Front of the House

Jordan walks you through the front of the model and explains how the load paths move through the front door, garage door, sole plates and top plates in the walls.

10. Interiors

Jordan takes you inside the model to show how load paths move through the cathedral ceiling, ceiling joists, and load-bearing walls. He also explains the structural differences between a load bearing and non-load-bearing wall, and how to identify either one in a home.

11. Conclusion

Ultimately, framing should be durable, functional, and beautiful. Jordan reviews that knowing why a structure is built is just as important as knowing how it's built, and will help you become a better construction professional.
Who it's for: This course is designed for those new to the trades or beginner-level framers looking to gain a strong foundation in the basic fundamentals of how construction framing works when building a house.
Key Topics
Forces & stresses

Loads & load paths

Trusses

Roofs & windows

Assemblies

Identifying load-bearing walls
Overall rating of 46 students
5 out of 5

Kevin G.,

Sep 05, 2023

It was a lot of help and was a great tool for naming out details that I did not know

5 out of 5

Dean S.,

Aug 23, 2023

Very useful course that uses real life models to make the material understandable and intuitive

5 out of 5

Jonathan K.,

Aug 18, 2023

Excellent course lots of knowledge made very clear and easy to understand

5 out of 5

Justin O.,

Jul 20, 2023

Great learning!

5 out of 5

JOSE G.,

Jul 19, 2023

excellent

5 out of 5

Ketul S.,

Jul 14, 2023

Mechanics crash course in an hour

5 out of 5

Pete M.,

Jun 11, 2023

Great to learn new things

5 out of 5

Ann B.,

Jun 11, 2023

Appreciated how easy he made engineering concepts to understand.

5 out of 5

Luis C.,

Jun 11, 2023

Great job in making the content understandable and engaging. Love the examples

5 out of 5

Dan M.,

May 11, 2023

Loved the visuals. Helped me grasp all of the concepts and forces in framing.

5 out of 5

Jonathan A.,

May 02, 2023

The instructor in this course explained how house framing works in a way a child could understand. We learned not only where the members of a structure go but also why they go where they go.

5 out of 5

Dylan H.,

Apr 24, 2023

enjoyed it

5 out of 5

Ryan S.,

Apr 19, 2023

Fantastic visuals, and explanations during the video. A topic was discussed, and shown to us visually. Loved it, worked fantastic for my learning style. Thank you, I am looking forward to the other...

Read More...

5 out of 5

leonel M.,

Apr 03, 2023

good explanation

5 out of 5

Ronnie L.,

Mar 18, 2023

Very clear cut foundational training on the the forces and structural members of a home.

5 out of 5

Tennyson T.,

Feb 25, 2023

Great for beginners or even for those that have done a bit of building but need to better equipped and familiar with the definitions. Really enjoyed the part about weight and forces are transferred.

5 out of 5

`David L.,

Feb 20, 2023

Great Intro to Framing, all of the basics are covered

5 out of 5

Stephen Z.,

Feb 07, 2023

terms need to be consistent

5 out of 5

Jacob S.,

Feb 06, 2023

Easy to learn

5 out of 5

Luseane R.,

Jan 21, 2023

Great teacher and teaching style. Visuals very helpful and "tinker toys" were great.

5 out of 5

Logan G.,

Jan 19, 2023

Framing

5 out of 5

Brad D.,

Dec 22, 2022

I've always been curious about framing. I work along with two other contractors and we share work together. This keeps us busy all the time. We each have different strengths that add to the...

Read More...

5 out of 5

hector F.,

Nov 27, 2022

Clear and easy explanation of all the basic framing elements

5 out of 5

Jared V.,

Nov 21, 2022

Interesting course! Why don't you give the right answers to the quiz after you take it though? (an explanation on why your answer was wrong would be helpful too)

5 out of 5

harry B.,

Nov 13, 2022

Thanks

5 out of 5

Harol S.,

Nov 05, 2022

Great!

5 out of 5

amit H.,

Oct 23, 2022

lots of important knowlege

5 out of 5

Noah D.,

Aug 16, 2022

I enjoyed the course very much. It was easy to follow, understand and navigate throughout when needed.

5 out of 5

JORGE L R.,

Aug 11, 2022

Excellant speech pattern execellant explanations

5 out of 5

Alexander N.,

Apr 18, 2022

Great course!!

5 out of 5

Kolby G.,

Apr 02, 2022

Great

5 out of 5

guillermo C.,

Mar 22, 2022

Great course

5 out of 5

Terry G.,

Feb 10, 2022

great information

5 out of 5

Cole T.,

Feb 03, 2022

Well done! I was always curious why and how they are built the way they are. Great information.

5 out of 5

Michael F.,

Feb 02, 2022

Very informative

5 out of 5

Catherine I.,

Jan 24, 2022

Very Informative

5 out of 5

Ben K.,

Jan 15, 2022

Good course on load distribution. Another class on how to properly layout and cut rafters would be helpful.

5 out of 5

Michael R.,

Jan 07, 2022

Jordan is very clear and easy to understand. He explained everything very well.

5 out of 5

Sakul S.,

Jan 01, 2022

Great

5 out of 5

Syed A.,

Dec 18, 2021

Good explanation

5 out of 5

Nephi C.,

Dec 10, 2021

Loved this. We'll done, good information

5 out of 5

Jose S.,

Nov 16, 2021

Great job in putting together this training session.

5 out of 5

Aaron M.,

Oct 30, 2021

This is a good quick course that can be expounded upon later for new employees. Or for guys who just don't fully understand the why in framing.

4 out of 5

Info T.,

Feb 03, 2022

Simple and easy to watch.

3 out of 5

Eric M.,

Aug 28, 2023

Knowledgeable teacher and good presentation. Subject matter stayed more surface level than I had anticipated. I had hoped there would be explanations for pitch requirements, how a valley or hip is...

Read More...
Jordan Smith
CEO of Smith House Company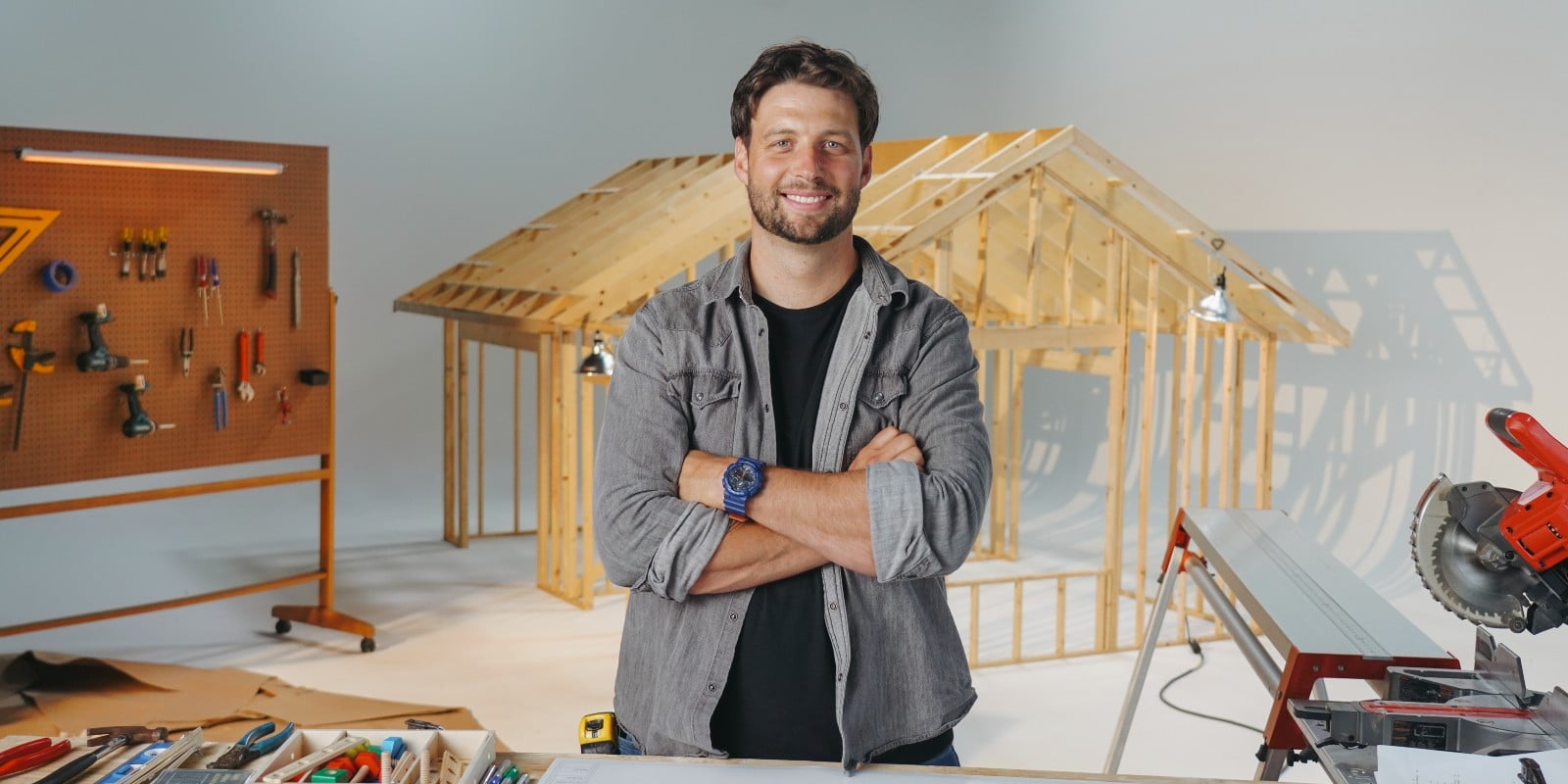 Your Instructor
Jordan Smith is the CEO and Founder of Smith House Company, a design+build firm based in Austin, Texas. He learned to build and weld while working on the farm with his grandad, and after earning a degree in Welding and Materials Engineering, he spent the next 10 years working in the heavy construction building everything from robots to ships to offshore oil rigs before transitioning to residential construction. After spending a couple of years working with industry leading builders in Austin, Jordan and his wife Veronica struck out on their own to form Smith House Co.

Smith House Co. strives to build more beautiful, functional and resilient spaces which are self sustaining and harmonize with their natural surroundings.
Become Job Ready
This course will increase your knowledge for jobs like:
Carpenter
Finish Carpenter
Remodeler
Remodel Carpenter
Finisher
For more information on these roles, visit our career page.
Search for these jobs at:
Team Pricing
2-5 Seats
Save $5 per seat
$70 per seat
6-11 Seats
Save $10 per seat
$65 per seat
12-15 Seats
Save $15 per seat
$60 per seat
Add to cart
30-day money back guarantee. Access for one year.
Common Questions
What is MT Copeland?

MT Copeland helps you further your career in the building industry with expert-led online education that will make you a better, smarter tradesperson.

Our training courses give you a foundation in construction fundamentals and trade skills with real-world applications and best practices to help you grow on the job.

What do courses include?

Online courses include professionally produced videos taught by leaders in the trades and supplementary learning material such as quizzes, assessments and downloadable materials to help you acquire new skills. Watch anywhere, always at your own pace. We keep lesson videos short so they're easy to watch after work or on your lunch break. You can finish a course in one sitting, or space it out over a week or two.

How does the 30-day guarantee work?

If you're not happy with a course, let us know within 30 days for a full refund. Our goal is to provide maximum value for your career. If we haven't delivered on that promise, let us know.

Can you learn with MT Copeland outside of the u.s.?

Yes! You can take MT Copeland courses from anywhere in the world. Our courses are online, so if you have access to the Internet, you can watch our training videos. Courses are taught in English, with English captions and Spanish subtitles available.

Where did the name MT Copeland come from?

MT Copeland was named after a legendary educator who promoted the idea that training in a specific trade paired with a knowledge of general business principles opens up a whole new world of career possibilities. We believe in the same powerful combination of skills and knowledge.