How to Build a Freestanding Deck
Learn how to properly design, frame, and build a code-compliant freestanding deck, and take these skills onsite from start to finished product with expert builder and craftsman Mike Guertin.
30-day money back guarantee. Access for one year.
Train with a Pro

Spanish Subtitles Available

Mobile Access

37 In-depth Lessons

Certificate of Completion

Practical Resources
Lesson Plan
37 Video Lessons · 6H 30M
1. Introduction to Building a Deck

Craftsman and construction trades trainer Mike Guertin walks you through the skills and design approaches that deck-building entails, including excavation, footings, framing, decking and finishing.

2. Planning the Deck

Mike describes his process for turning the homeowners' ideas into a set of building plans, a material list and an equipment list so when the crew gets to the jobsite they can start building without delay.

3. Deck Finishes Determine the Framing Plan

The decking and fascia details have to be thought through during plan development to come up with the deck framing dimensions. See how Mike plans the decking layout and fascia to make a materials list.

4. Deck Framing Methods

Not all decks are framed the same way. Learn about the four common deck framing methods, the factors that influence the choice between one approach and another, and why Mike recommended the freestanding flush beam method for this deck project.

5. Planning: Deck Joist Span

Learn how to determine the joist span of rim-beam style deck joists that are supported by joist hangers.

6. Planning: Deck Code

Mike introduces the International Residential Code (IRC) and the different versions used by states and counties around the US. Learn how the deck section of the IRC has expanded over 15 years and why that can be useful to deck builders. During the course, he'll reference the 2021 IRC.

7. Planning: Loads and the Deck Joist Span Table

Learn what the three gravity loads decks need to be designed for, how the deck joist span table is arranged, and how to select a joist size based on a joist span.

8. Planning: Deck Plan Development and Sizing Deck Beams

Mike explains why including as much information and detail on the deck plans helps building officials understand your design and the field crew build the deck accurately. Learn how to use the deck beam span tables in the IRC to size a deck beam and locate the footings.

9. Planning: Sizing Deck Footings

Learn two methods to determine the size of your concrete deck footings: the IRC footing tables and by doing a load calculation. Along the way you'll see how to measure the tributary area that loads a footing and how to measure the load-bearing capacity of the soil.

10. Deck Framing Plan Review

Mike takes you onsite to visualize how each component of a deck frame, the decking, and the finishes have to be considered when refining the deck design so that everything translates smoothly from paper to ground.

11. Deck Framing Options: Ledger Support and Free Standing

When building a deck, you have two basic framing options: ledger supported decks and freestanding decks. Learn the construction differences between them as well as the challenges and advantages of each approach so you can determine which is the right choice for your project.

12. Deck Footing Positions

Deck footings secure the frame of your deck into the ground. Learn how to take precise measurements and mark the positions for your footings following the deck plan.

13. Footing Forms and Checking Grade

Mike explains the round footing forms used to support the deck and the site-built rectangular forms used under the stair boxes. Then he shows how to use a rotary laser and story pole to check the existing soil grade to roughly size the footing form heights.

14. Measuring Soil Capacity, Setting Footing Forms, Mixing and Placing Concrete

Mike shows how to use the rotary laser to set screws indicating the top level of the concrete in each form. Learn how to measure soil bearing capacity - a measurement used to calculate footing size; a trick to mark a square line around a round footing form before cutting; and how to mix concrete for the right consistency before placing it in the footing forms.

15. Post Base Hardware and Anchors

Post base hardware connects the posts to the deck footings. Mike shows different styles of post bases and the anchor hardware that can be used to connect them to the concrete footings.

16. Anchoring Post Bases and Prepping Beneath the Deck

Once the concrete has set and the forms removed, you'll anchor the post bases to the deck footings. See how to precisely locate the post bases and use a rotary hammer to drill for the expansion anchors. Mike will also prep the earth beneath the deck to block weeds from growing through the gaps between deck boards.

17. Measuring the Post Height

How tall do your posts have to be to reach from post base to the bottom of the beam? Learn how to use a rotary laser, receiver and measuring stick to accurately determine the post lengths so the beams will be level.

18. Installing Beam Posts

Learn about the different fasteners you can use to secure metal hardware to the framing like the post bases to the wood posts, and tips for installing them properly. Mike explains the building code requirement for treating field cuts in pressure-treated lumber and the products you can use.

19. Beam Assembly

Learn how to select lumber to assemble a multi ply beam to support the deck joists. See how to fasten the beam plys so it complies with building code requirements and how to ensure the beam plys stay tight together.

20. Post Cap Hardware

Post cap hardware is used to connect the deck posts to beams. See some examples of different types of post caps and learn what to consider when choosing between them.

21. Joist Layout on the Beam

Mike explains common deck joist spacing dimensions and how your choice of deck boards and decking direction influences the spacing. Learn how to mark the joist layout on the beam.

22. Joist Hangers, Hardware Corrosion and Lumber Crowns

Mike explains the differences between the two styles of joist hangers used for building a deck and where each is used. Learn where corrosion is more likely to occur and what you can do to improve the lifespan of deck hardware. And see how to crown deck joists for an even looking deck surface.

23. Setting Deck Joists

Mike walks you through setting your joists into the beams and shares hardware tips, like how the right joist length can make the process especially simple.

24. Squaring the Deck Frame

Mike demonstrates two methods to check and adjust the deck frame square: using a good old fashioned measuring tape, and calculating with the Pythagorean theorem using a construction calculator.

25. Lateral Bracing and Joist Hanger Functions

Learn how to install temporary and permanent bracing to stabilize your deck frame. Mike explains important joist hanger functions and installation details that ensure the hangers do their job.

26. Deck Stairs and Capping Joists

Building wide deck stairs requires precision. See how Mike frames stairs using stacked boxes and how he determines the height of the stair boxes, lays out the runners, and assembles the parts. Learn how capping joists and beams can improve deck frame durability.

27. Guards and Hand Rails

Mike walks you through hand and guard rail uses and when the building code requires them to be installed on a deck. Learn how to apply the building code's height measurement test to determine when a guard is required.

28. Fastening the Stair Boxes

Learn how to fasten the stair boxes to the deck framing and to each other while adjusting the alignment so they're straight and equally spaced. And see how Mike anchors the stair framing to the footings.

29. Load Paths

There are three forces to consider when determining how to build a deck frame: gravity, uplift, and lateral. Mike walks you through each force, and how you can build safely and securely with each in mind.

30. Tributary Area for Rim Beam Deck

Mike demystifies the concept of the tributary area, and shows how to properly measure it. Tributary area is used to determine the size of your deck footings.

31. Tributary Area for Cantilever Deck

Learn how to measure the tributary area for a footing supporting a deck with a cantilever beyond the beam.

32. Joist Span for Rim Beam Deck

Mike describes how to measure the joist span on a rim beam style deck.

33. Joist Span for Cantilever Deck

Mike describes how to measure the joist span on a deck where the joists cantilever over a beam.

34. Beam Span

Mike describes how to measure the beam span when designing a deck frame.

35. Blocking and Preparing for Finishes

Mike walks you through the final step of preparation, installing blocking for the fascia boards.

36. Fascia Installation and Pressure-Treated Lumber

Learn how to install the fascia boards and riser boards which trim out the perimeter of the deck. And Mike explains the different levels of pressure-treated lumber treatment used for framing a deck.

37. Decking Installation

Mike describes the decking manufacturer's profiles and how he selected the material for use as fascia boards and deck boards. Learn how to plan the decking lengths to minimize waste and stagger the butt joints. See how the hidden fastener system works for this unique decking work.
Who it's for: This course is designed for first-time deck builders, contractors, and even seasoned trade professionals who want to learn better techniques for their work.
Key Topics
How to build a deck

Deck building code

Choosing decking material

Deck joist spacing

How to build deck stairs

How to frame a deck
Overall rating of 9 students
5 out of 5

Jonathan K.,

Jul 26, 2023

excellent coarse ! very knowledgeable individual cover so much useful information through out the course and makes it easy to learn.

5 out of 5

LENIN L.,

May 17, 2023

I recently took the course, and I must say that it was a helpful and detailed learning experience. The course exceeded my expectations, providing me with a wealth of knowledge to apply in my future...

Read More...

5 out of 5

Daniele B.,

May 07, 2023

The question about where the Soil Bearing Capacity (SBC) should be measured was not asked well. It is confusing when it says 'at the very bottom of the footing hole', this is correct in that it...

Read More...

5 out of 5

Jason L.,

Oct 05, 2022

Great

5 out of 5

Peter F.,

Jul 23, 2022

I questioned the cost. And if it was better than what I already had access to in so many books, videos and articles (the majority of them are Mike's). Yes. So convenient to have it all unfold before...

Read More...

5 out of 5

Jeremiah W.,

May 02, 2022

I've been in the trades for nearly twenty years as a traditional wood floor installer and finisher and a capable carpenter. As I approached installing a new freestanding deck for my own home, I...

Read More...

5 out of 5

Laurie N.,

Apr 12, 2022

I love the quality of the videos, the instructors delivery and the step by step approach with a follow up question after each stage. As a diy person I found the few beginning lessons a little harder...

Read More...

5 out of 5

Adam W.,

Apr 03, 2022

Knowledgable instructor, good general material on the process of planning and building a free-standing deck.

5 out of 5

robert T.,

Sep 02, 2021

Great info of loads!
Mike Guertin
Builder/Remodeler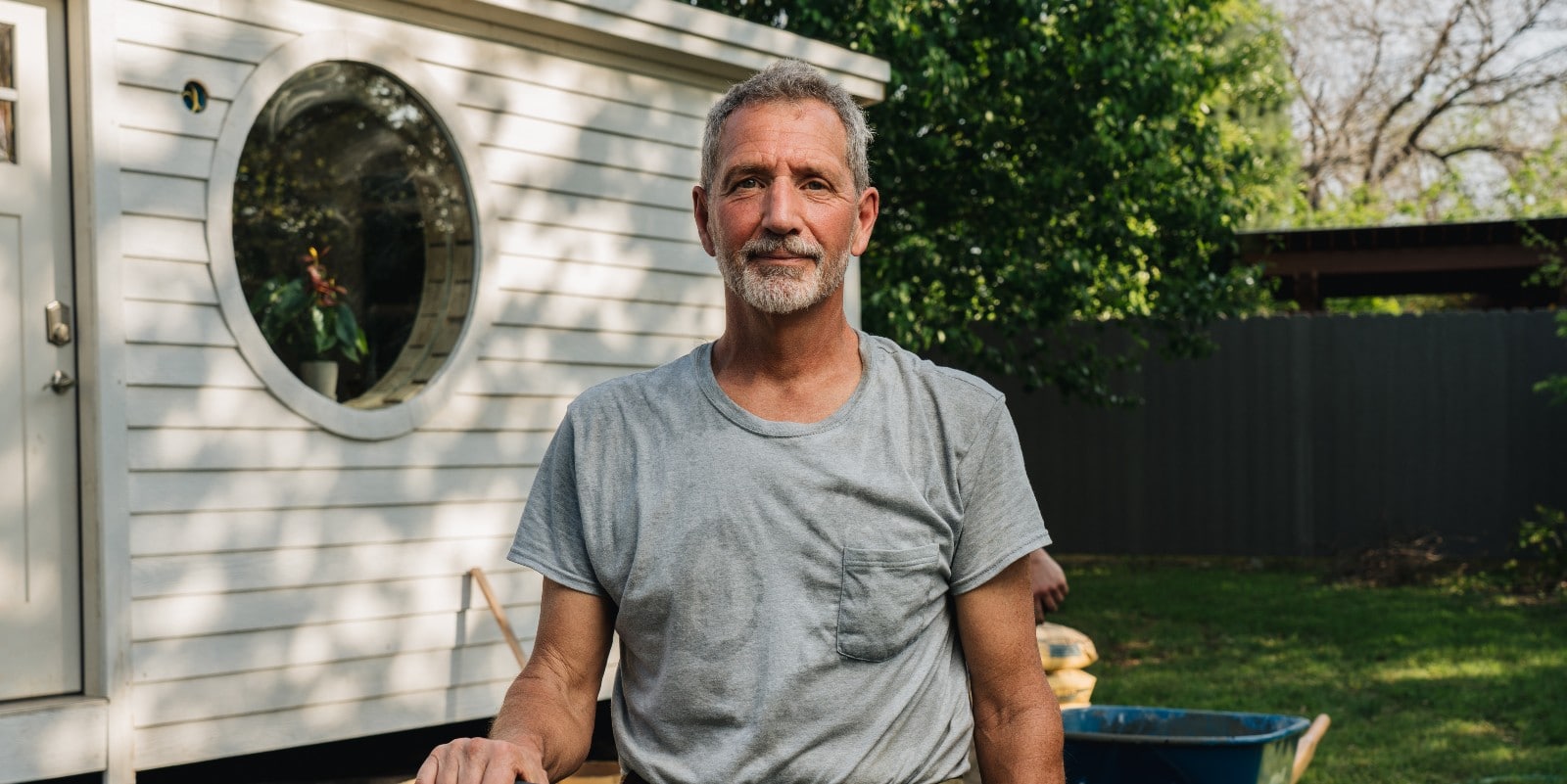 Your Instructor
The only thing Mike Guertin likes better than building new homes is remodeling old ones. After 40+ years tackling every facet of residential construction from excavation and foundations to interior finish work and tile setting, he's still challenged every day to find more-efficient ways to build better. Mike worked on his first deck build when he was 15 and fortunately it was less than a foot off the ground so no one got hurt when it fell apart several years later. Now he takes deck building a little more seriously - but only a little bit.
Become Job Ready
This course will increase your knowledge for jobs like:
Carpenter
Apprentice Carpenter
Construction Laborer
Carpenter Assistant
Carpenter Helper
Remodeler
For more information on these roles, visit our career page.
Search for these jobs at:
Team Pricing
2-5 Seats
Save $5 per seat
$70 per seat
6-11 Seats
Save $10 per seat
$65 per seat
12-15 Seats
Save $15 per seat
$60 per seat
Add to cart
30-day money back guarantee. Access for one year.
Common Questions
What is MT Copeland?

MT Copeland helps you further your career in the building industry with expert-led online education that will make you a better, smarter tradesperson.

Our training courses give you a foundation in construction fundamentals and trade skills with real-world applications and best practices to help you grow on the job.

What do courses include?

Online courses include professionally produced videos taught by leaders in the trades and supplementary learning material such as quizzes, assessments and downloadable materials to help you acquire new skills. Watch anywhere, always at your own pace. We keep lesson videos short so they're easy to watch after work or on your lunch break. You can finish a course in one sitting, or space it out over a week or two.

How does the 30-day guarantee work?

If you're not happy with a course, let us know within 30 days for a full refund. Our goal is to provide maximum value for your career. If we haven't delivered on that promise, let us know.

Can you learn with MT Copeland outside of the u.s.?

Yes! You can take MT Copeland courses from anywhere in the world. Our courses are online, so if you have access to the Internet, you can watch our training videos. Courses are taught in English, with English captions and Spanish subtitles available.

Where did the name MT Copeland come from?

MT Copeland was named after a legendary educator who promoted the idea that training in a specific trade paired with a knowledge of general business principles opens up a whole new world of career possibilities. We believe in the same powerful combination of skills and knowledge.