How to Build Shaker Cabinets
Learn how to build a face frame and shaker doors for a cabinet box.
VIEW TEAM PRICING
30-day money back guarantee. Access for one year.
Train with a Pro

Spanish Subtitles Available

Mobile Access

18 In-depth Lessons

Certificate of Completion

Practical Resources
Lesson Plan
18 Video Lessons · 2H 59M
1. Introduction to Face Frame Cabinets and Shaker Doors

Ken DeCost introduces you to the course and talks through what you'll learn: how to build a face frame cabinet and how to make shaker cabinet doors.

2. Calculating Dimensions to Size Your Cabinet Parts

Looking closely at the drawings for the cabinet, Ken teaches you how to calculate dimensions for rails, stiles, and more. He also shares some tips for leaving gaps in the panels.

3. Determining How Much Material You Need

Now that you have your measurements, it's time to calculate how much lumber you need. Ken walks you through how to find lumber quantities.

4. Milling vs. Selecting Lumber

Ken prefers to use rough-sawn lumber and mill it in the shop. In this lesson he explains why, and how to choose lumber of your own.

5. Making Your First Cuts

Where on a board you make your cuts impacts the shape of the working piece. Learn how to inspect your boards, make the right sized rough cuts, and fix common problems.

6. Correcting Material Defects With a Jointer

Learn Ken's approach to fixing defects like bowing and curving using a woodworking jointer.

7. Ripping Door Stock and Face Frames

Here's where the cabinet pieces really start to take shape. Ken shows you his technique for ripping door stock and face frame pieces.

8. Dressing Boards on a Jointer

The fine tuning continues. Learn how to use a jointer to make sure your lumber is perfectly flat and square.

9. Milling to Thickness on a Planer

Now that everything is squared up, it's time to bring your boards to final dimensions (with a little bit of play for sanding, of course).

10. Cutting Cabinet Doors

Ken shows you how to cut parts for a 5 piece shaker door.

11. Door Joinery

Ken offers an in-depth look at how to shape your door pieces so they will fit together beautifully.

12. Adding the Bead to Your Face Frame Stock

A bead will give your face frame a simple, elegant aesthetic. Here, Ken shows you how to add a bead to the perimeter of your face frame.

13. Cutting Jack Miters Into Face Frames

A jack miter is half miter and half butt joint. Learn how to set up your saw, cut a few test pieces, and cut the perfect jack miter.

14. Assembling Face Frames

It's time to put your face frame cabinet together. Ken teaches you how to sand, add pocket screws, assemble, and glue your face frames.

15. Miter Folded Face Frame

Learn to cut, prep, and glue the miter fold portion of your face frame so that it's ready for final assembly.

16. Prepping Door Panels for Assembly

Ken teaches you how to cut your door panels, then prime and sand all of the door pieces in preparation for assembly.

17. Assembling Shaker Cabinet Doors

Learn to add spacers and glue your doors together, then clamp them properly so they stay straight while they dry.

18. Trimming and Fitting Your Doors

To finish your face frame cabinet, you just need to trim your side panels and doors, then fit them into the face frame. In this lesson, Ken shows you how.
Who it's for: This course is for experienced carpenters or millwork professionals. This course assumes you already know how to build a cabinet box.
Key Topics
Calculate dimensions and select lumber

Read cut lists and frame pieces to size

Learn how to cut jack miters

Miter wrap and fold techniques

Add beads to a face frame

Door prep assembly and finishing
Overall rating of 1 students
4 out of 5

Christopher K.,

Sep 11, 2022

The course was well done and informative. I only gave 4 stars because it would have been nice to go over fastening face frames to boxes and completing the cabinet build. Felt like the course was...

Read More...
Ken Decost
Director of Millwork at NS Builders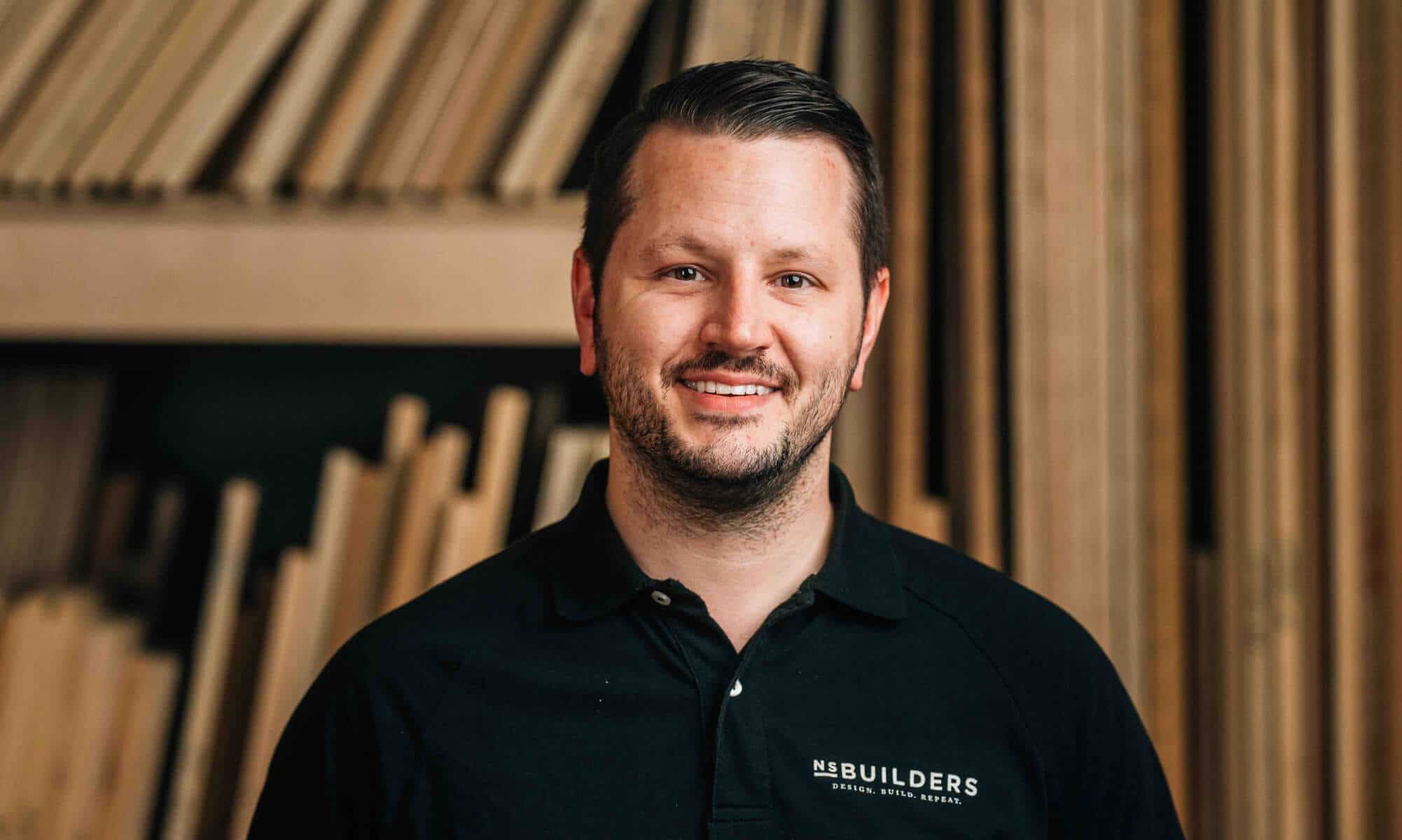 Your Instructor
Ken DeCost is a cabinet maker based in Boston, MA. Growing up in a family of tradesmen, Ken began to develop his carpentry skills from a young age. Over the last ten years he has honed his expertise in high end cabinet making. In 2017, he became the Director of Millwork for custom home builder, NS Builders. Here he has assembled a skilled team that aligns to his level of high standards and excellence. From traditional to ultra modern, complex curved work to hand stitched veneering, he continues to push the limits of perfection and craftsmanship.
Become Job Ready
This course will increase your knowledge for jobs like:
Cabinet Maker
Cabinet Installer
Cabinet Finisher
Carpenter
Millwork Installer
For more information on these roles, visit our career page.
Search for these jobs at:
Team Pricing
2-5 Seats
Save $5 per seat
$70 per seat
6-11 Seats
Save $10 per seat
$65 per seat
12-15 Seats
Save $15 per seat
$60 per seat
Add to cart
30-day money back guarantee. Access for one year.
Common Questions
What is MT Copeland?

MT Copeland helps you further your career in the building industry with expert-led online education that will make you a better, smarter tradesperson.

Our training courses give you a foundation in construction fundamentals and trade skills with real-world applications and best practices to help you grow on the job.

What do courses include?

Online courses include professionally produced videos taught by leaders in the trades and supplementary learning material such as quizzes, assessments and downloadable materials to help you acquire new skills. Watch anywhere, always at your own pace. We keep lesson videos short so they're easy to watch after work or on your lunch break. You can finish a course in one sitting, or space it out over a week or two.

How does the 30-day guarantee work?

If you're not happy with a course, let us know within 30 days for a full refund. Our goal is to provide maximum value for your career. If we haven't delivered on that promise, let us know.

Can you learn with MT Copeland outside of the u.s.?

Yes! You can take MT Copeland courses from anywhere in the world. Our courses are online, so if you have access to the Internet, you can watch our training videos. Courses are taught in English, with English captions and Spanish subtitles available.

Where did the name MT Copeland come from?

MT Copeland was named after a legendary educator who promoted the idea that training in a specific trade paired with a knowledge of general business principles opens up a whole new world of career possibilities. We believe in the same powerful combination of skills and knowledge.