Introduction to Power Tools
Discover a variety of power tools used in general, residential, and light commercial construction today. Learn the basic functions, how to safely operate them, and which accessories will help you and your team get the job done right.
VIEW TEAM PRICING
30-day money back guarantee. Access for one year.
Train with a Pro

Spanish Subtitles Available

Mobile Access

24 In-depth Lessons

Certificate of Completion

Practical Resources
Lesson Plan
24 Video Lessons · 4H 53M
1. Introduction

Jordan Smith is a professional builder and the owner of Smith House, a design-build firm in Austin, Texas. In this course, he shares the history of power tools and basic power tool terminology, noting how to select tools by power volume and charging preference.

2. Types of Motors and Power Sources

Jordan introduces two power systems: brushed motors (reliable, inexpensive, heavy) and brushless motors (lighter, powerful, more expensive). You'll learn why brushed motors work best for heavy machinery and why brushless motors are ideal for hand tools.

3. Common Power Tools: Drills

Jordan explains how drills work. Plus: using a hammer drill with a concrete drill bit.

4. Common Power Tools: Impact Drivers

They may look similar, but impact drivers and drills differ when it comes to energy transfers and fastening power. Jordan breaks down the anatomy of the driver and shows how to attach drill bits.

5. Drill Bits

Discover everything from paddle to auger bits. Jordan explains which work best for particular jobs and shows proper attachment and use.

6. Fasteners

Jordan covers a range of fasteners, from Phillips heads to star bits. Find out which bits and impact drivers work best with certain fasteners.

7. Common Power Tools: Nailer

Learn all about nailers, one of the most common power tools. Jordan explains the differences between pneumatic and battery-powered nailers and shows how to safely use framing and trim nailers.

8. Powder-Actuated Tools

Powder-actuated tools drive fasteners into concrete and steel. Here, Jordan explains how they work and how to properly load and fire one.

9. Circular Saw: How It Works

Learn about how circular saws work and why Jordan prefers cordless saws over corded saws.

10. Circular Saw: The Blade

Learn how blade teeth affect a cut. Jordan shares which circular saw blades he prefers and how to select a blade for a project.

11. Circular Saw: Avoiding Kickback

Always be cautious of kickback when using a saw. Jordan explains how it happens and which techniques can help you safely avoid it.

12. Circular Saw

Jordan shows how to change the blade on a circular saw, explaining how each part functions.

13. Circular Saw: Safely Cutting Dimensional Lumber

Jordan lists the essential safety equipment he uses when working with saws. He shows how to make clean, quick cuts with a framing saw.

14. Circular Saw: Ripping Sheet Goods

Learn to use a circular saw on non-dimensional lumber. Jordan shows how to properly measure, mark, and cut the wood with precision.

15. Table Saw: How It Works

Jordan breaks down the anatomy of the table saw. You'll learn to set table saw height, change the saw angle, and use a fence accessory.

16. Table Saw: Prepping Your Saw

Prep your saw by using dust extractors, attaching the blade properly, and clearing debris before it's switched on.

17. Table Saw: Making Cuts

Make precise cuts with a push stick, miter gauge, and fence attachment.

18. Miter Saw: How It Works

Learn all about the miter, which slices in a controlled, up-and-down motion.

19. Miter Saw: Making Cuts

Jordan demonstrates various cuts: 90-degree crosscuts, bevel cuts, and miter cuts.

20. Miter Saw: Changing the Blade

Learn to safely change the blade and set the saw back to zero. Jordan explains the difference between loose and tight saws.

21. Reciprocating Saw

Reciprocating saws are mainly used for demolition. They can cut through nails, studs, and metal. Learn about various types of reciprocating blades, how to change them, and how a reciprocating saw works.

22. Oscillating Tool

Oscillating tools make precise cuts for demolition, framing, trim carpentry, and more. Jordan explains how they work, lists various blades, and demonstrates cuts.

23. Jigsaw

Jigsaws are ideal for making curved cuts, especially in finish carpentry. Jordan breaks down the anatomy of a jigsaw, reviews useful features, and demonstrates an S-shaped cut in a piece of wood.

24. Closing

Power tools are always evolving, but some basic tools are essential in construction. Jordan stresses the importance of knowing just what they are, how they work, and how to safely use them with care.
Who it's for: This course is designed for those beginning a new career in the trades looking to learn about the most common types of power tools, proper safety procedures, and techniques to use when working with various tools on a construction jobsite.
Key Topics
Power tools

How to use a circular saw

How to use a table saw

How to use a Miter saw

How to use a jigsaw

How to use an impact driver
Overall rating of 13 students
5 out of 5

scott K.,

Aug 23, 2023

loved this course

5 out of 5

Abby C.,

Jul 09, 2023

Thanks for the detailed look at each of these tools

5 out of 5

David B.,

Jun 12, 2023

Great course, very digestible, and extremely knowledgeable teacher!

5 out of 5

Aida C.,

Jun 12, 2023

Definitely a page turner. working with saws, we need to pay more attention for safety and for making better cuts.

5 out of 5

Gavin K.,

May 08, 2023

Lessons were delivered with the effortlessness of a deeply experienced pro as well as at an ideal depth and breadth

5 out of 5

Michael K.,

May 08, 2023

Very thorough

5 out of 5

Sita K.,

Dec 11, 2022

Jordan is articulate and knowledgable.

5 out of 5

Ricardo R.,

Aug 29, 2022

Very clear and detailed explanation of tools we have at work , the tricks of how to use them, the why we use them a certain way and how all those new features that manufacturers are coming up with...

Read More...

5 out of 5

Stephen B.,

Aug 04, 2022

These videos had alot of information.

5 out of 5

michael M.,

Jul 21, 2022

Jordan shows you how to be more productive by mastering power tools in construction. He not only shows you how to use the tool, but why you will use the tool. A must watch for beginners in the...

Read More...

4 out of 5

DAVID B.,

May 12, 2023

Informative

4 out of 5

Rich D.,

May 03, 2022

Good information

3 out of 5

Rick T.,

Jun 01, 2022

This is a good source of general information on power tools for the novice woodworker. It would be helpful to have some better demonstrations regarding the mechanics of the tools, to better describe...

Read More...
Jordan Smith
CEO of Smith House Company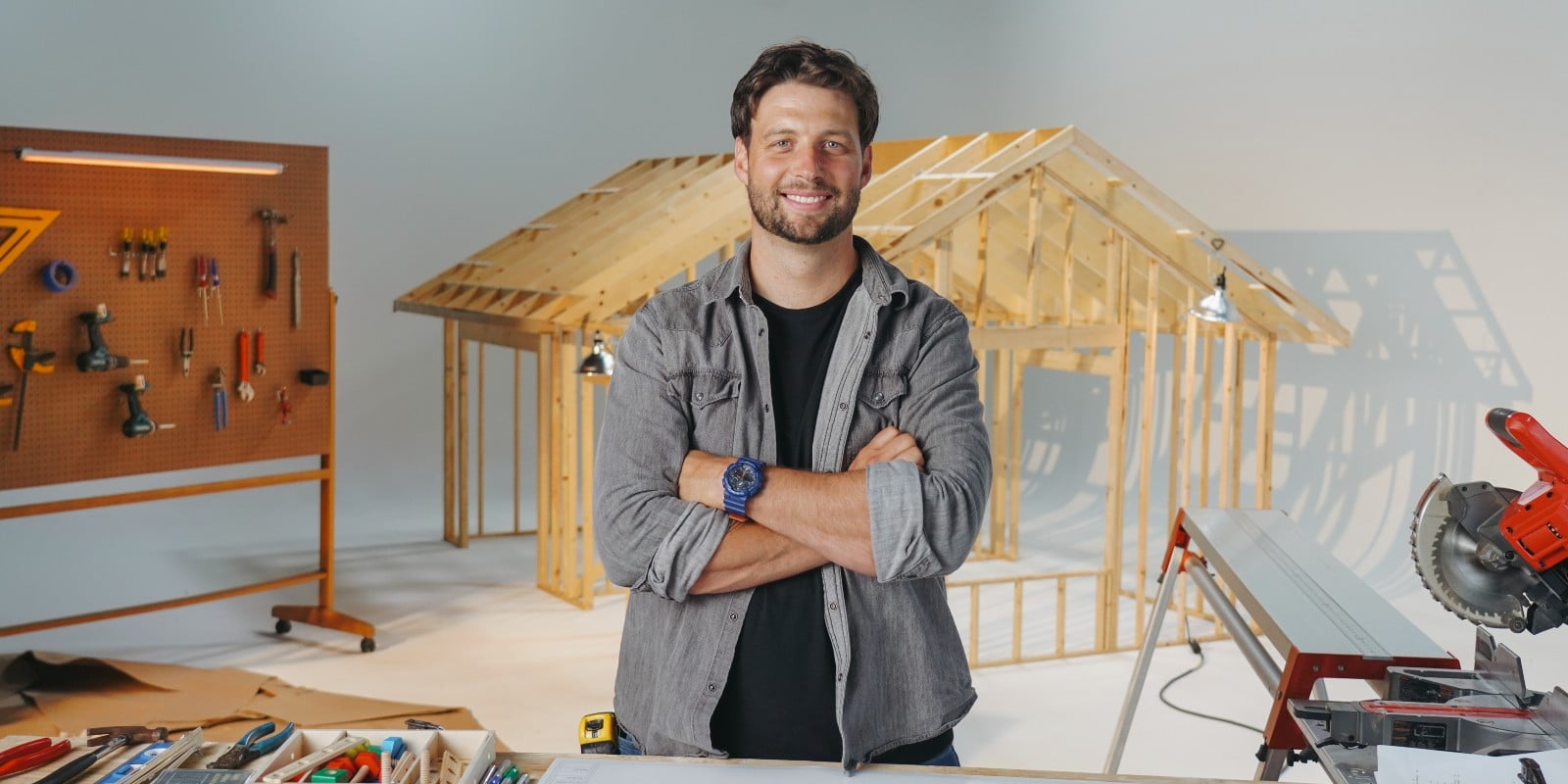 Your Instructor
Jordan Smith is the CEO and Founder of Smith House Company, a design+build firm based in Austin, Texas. He learned to build and weld while working on the farm with his grandad, and after earning a degree in Welding and Materials Engineering, he spent the next 10 years working in the heavy construction building everything from robots to ships to offshore oil rigs before transitioning to residential construction. After spending a couple of years working with industry leading builders in Austin, Jordan and his wife Veronica struck out on their own to form Smith House Co.

Smith House Co. strives to build more beautiful, functional and resilient spaces which are self sustaining and harmonize with their natural surroundings.
Become Job Ready
This course will increase your knowledge for jobs like:
Carpenter
Apprentice Carpenter
Construction Laborer
Carpenter's Assistant
Carpenter Helper
Remodeler
For more information on these roles, visit our career page.
Search for these jobs at:
Team Pricing
2-5 Seats
Save $5 per seat
$70 per seat
6-11 Seats
Save $10 per seat
$65 per seat
12-15 Seats
Save $15 per seat
$60 per seat
Add to cart
30-day money back guarantee. Access for one year.
Common Questions
What is MT Copeland?

MT Copeland helps you further your career in the building industry with expert-led online education that will make you a better, smarter tradesperson.

Our training courses give you a foundation in construction fundamentals and trade skills with real-world applications and best practices to help you grow on the job.

What do courses include?

Online courses include professionally produced videos taught by leaders in the trades and supplementary learning material such as quizzes, assessments and downloadable materials to help you acquire new skills. Watch anywhere, always at your own pace. We keep lesson videos short so they're easy to watch after work or on your lunch break. You can finish a course in one sitting, or space it out over a week or two.

How does the 30-day guarantee work?

If you're not happy with a course, let us know within 30 days for a full refund. Our goal is to provide maximum value for your career. If we haven't delivered on that promise, let us know.

Can you learn with MT Copeland outside of the u.s.?

Yes! You can take MT Copeland courses from anywhere in the world. Our courses are online, so if you have access to the Internet, you can watch our training videos. Courses are taught in English, with English captions and Spanish subtitles available.

Where did the name MT Copeland come from?

MT Copeland was named after a legendary educator who promoted the idea that training in a specific trade paired with a knowledge of general business principles opens up a whole new world of career possibilities. We believe in the same powerful combination of skills and knowledge.