10 Essential Tips for Power Tool Safety
Jan 31, 2022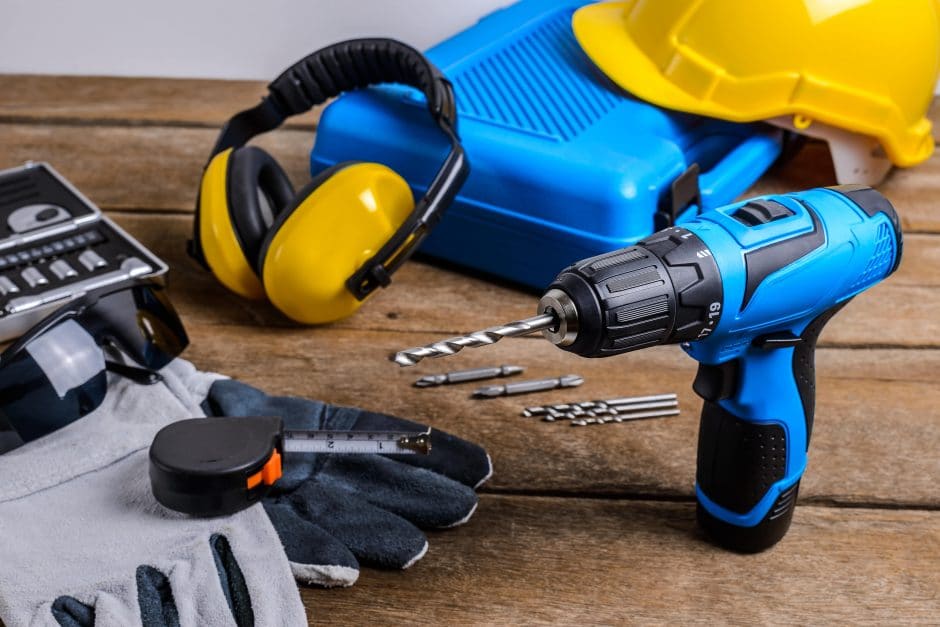 Power tools are the easiest and most efficient way for DIYers and pros to accomplish most jobs. When used correctly, they're safer and more accurate than hand tools. When used without the proper safety techniques, however, power tools can be very dangerous. The following essential tips for power tool safety will help you stay safe while operating these efficient, accurate, and powerful tools.
What is a power tool?
A power tool is any tool that utilizes a fuel source in addition to manual labor. This definition would include tools that plug into the wall, tools that run on batteries, and tools that run on liquid or compressed gas. Technically, tools that run on compressed air are pneumatic, but the rules in this guide will still apply.
Some popular power tools include:
Power drill drivers
Circular saws
Miter saws
Table saws
Reciprocating saws
Impact drivers and wrenches
Air compressors and the tools they power
Sanders
Angle grinders
In general, all of these tools can be very safe when used properly. Some even have additional safety guards and features to keep the user safe. In addition to those features, the following safety tips will help keep yourself and others safe from harm while accomplishing a variety of tasks.
12 Essential tips for power tool safety
Do your best to learn and put the following tips into practice. Ultimately, any tool, regardless of the size or power source, is capable of hurting someone, so it's important to be as safe as possible when using them.
1. Always wear the appropriate safety gear
It's always important to wear some type of safety gear when working with power tools. Usually, a pair of safety glasses is the minimum. It might also be important to wear a dust mask and hearing protection, depending on the task. Also, don't wear loose-fitting clothing as it could tangle in the tool and cause injury.
2. Read the instructions in the user manual
There is no better guide to using a particular tool safely than the instructions in the user manual. This guide will explain how to maintain, lubricate, and change accessories, operate the tool, and even point out some unsafe methods. It might not be riveting content, but it's always a must-read.
3. Always carry a tool by the grip
Anytime you're transporting a tool, you should be carrying it by the grip. Carrying a tool by the cord or hose can cause damage, and it can lessen its lifespan. Loose cords or damaged hoses can be dangerous. Be sure to keep fingers off the switch button while carrying a plugged-in tool.
4. Maintain tools with care
As with any tool, maintaining your power tools correctly is important. They need to be relatively clean, and the safety devices should work properly. The grips should be clean of oil and sharp edges on blades should be covered with guards and removed completely during storage.
5. Inspect tools before use
Maintenance is important, but when it comes to staying safe, each tool should undergo a quick inspection before use. Users should check the safety features, cords, hoses, blades, bearings, and overall condition of the tool. Damaged tools should not see use—replace them or take them to a repair shop.
6. Never remove or alter the safety guards
The safety guards covering blades on circular saws, miters saws, or table saws are there to prevent the user from accidentally touching a spinning blade, so they need to stay in place. Also, avoid accidental starting by keeping the two-stage safety triggers functional.
7. Work on stable surfaces
Using a power tool on an unstable surface is a recipe for disaster. Trying to cut lumber while balancing on a sawhorse or cutting pipes as they lay across a bucket can result in getting hurt. Use a portable workbench or a stand meant specifically for the tool.