Crown Moulding 101: Materials, Types, Installation
Feb 03, 2021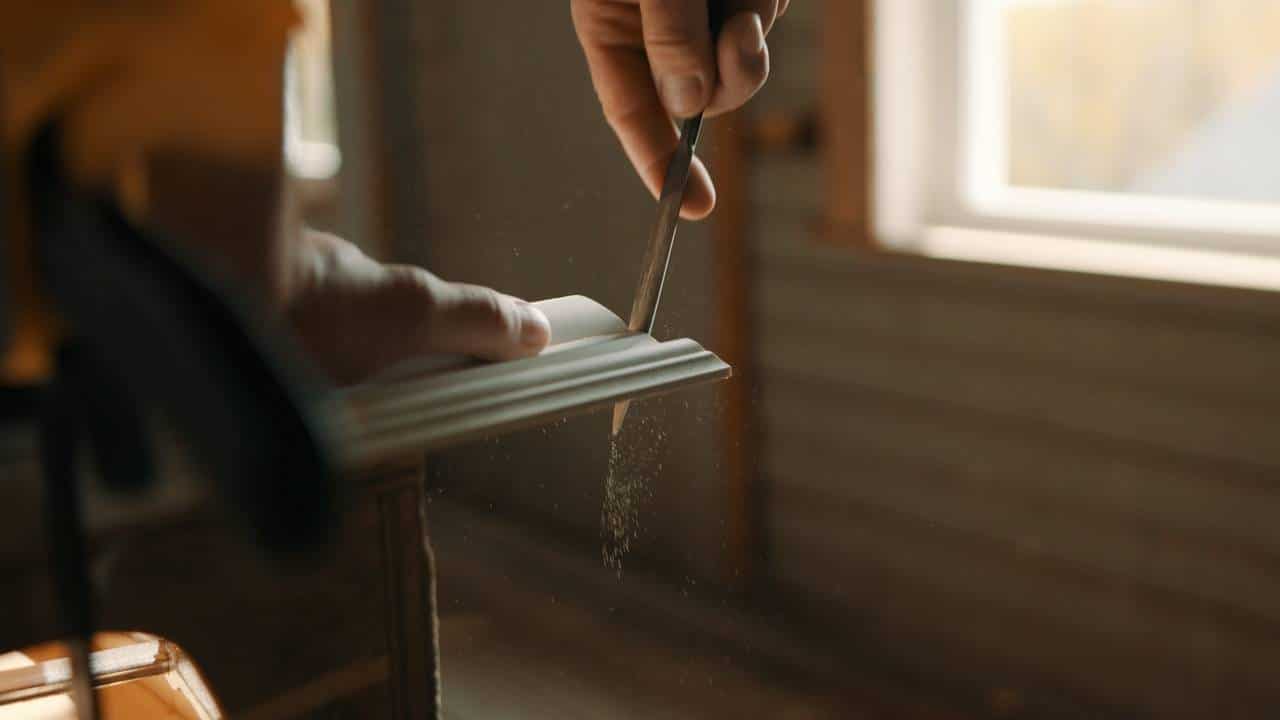 "Aesthetic and functionality are tied together when it comes to moulding." -Aaron Butt
Moulding is the general term for the type of trim used to cover transitions from various surfaces, like walls to ceilings, and around windows and door frames. Crown moulding is typically installed at ceiling height to disguise where the wall meets the ceiling. Adding crown moulding to a powder room, living room, or any interior space is a simple home improvement that can serve both practical and aesthetic purposes while adding elegance and value to a home.
What is crown moulding?
Crown moulding is a type of trim style that dates back to Greek and Roman column design. Wall crowns were used in temples to join an interior wall to the ceiling, usually at an angle. Functionally, crown moulding finishes the space where the wall meets the ceiling.The angle of crown moulding disguises imperfections and hides gaps and flaws that develop as the walls shift over time.
Crown moulding is also a design element that will increase a home's value and visual appeal. Ornate designs draw the eye up, giving the illusion of added height and distracting from blemishes. Even simple designs can help create aesthetic consistency from room to room and unify the look of the home. Crown moulding can also be used to add visual interest to bookshelves or cabinets, or to hide wires.
7 Common crown moulding materials

Wood and plaster are the most traditional materials for crown moulding and still widely used today, especially in restoration projects. Contemporary materials usually mimic the style and texture of wood and plaster. These types of crown moulding can be much easier to install and more budget friendly.
Wood. Wood crown moulding is the most classic type of crown moulding. It is made with many different types of wood, and comes in various designs and finishes. It can also be custom-milled with elaborate designs. moulding made from softwood can be painted to match existing colors, while hardwoods, like oak and walnut, stain well and can be cut beautifully. Wood stands up to the everyday wear and tear of knicks and cuts but can expand and shrink with the weather.
Plaster. Used for more ornate and elaborate trim designs and high ceilings, plaster is a heavy material and usually custom-molded. It is strong but susceptible to cracking. It is most commonly used to join plaster walls and ceiling together, and because of its custom nature, installation is best left to professionals.
Medium-density fiberboard (MDF). A less expensive alternative to solid wood, MDF is a type of engineered wood made by putting sawdust and resin under high pressure to create a composite wood. It is easily painted and available in a thin veneer that can be stained. MDF's flexibility to match cabinetry or flooring— combined with its strength—make it a great option for living rooms and dining rooms alike.
Polyurethane (PU and PUR). Polyurethane is a composite material that combines the rigidity of plastic with the flexibility of rubber. Low maintenance and more resistant to insects, mold, mildew, liquids, rotting, and tearing, polyurethane is perfect for bathrooms, powder rooms, and other rooms with higher exposure to moisture.
PVC (polyvinyl chloride). PVC is a thermoplastic material very similar to polyurethane. It has all the benefits of polyurethane and is another super lightweight, moisture resilient material that is easy to cut and install. PVC comes in fewer design options than customizable wood or plaster.
Flex. Flex is a rubber moulding that, like its name suggests, is very flexible. It is mainly used in curved rooms or structures. It is very workable but not very durable, making it susceptible to tears and cuts when not treated carefully. The rubber sheen of flex can also be hard to disguise and may need a coat of primer and paint.
Polystyrene. Polystyrene is a foam-based and budget friendly crown moulding material. Polystyrene is similar to PVC and polyurethane in its ease of cutting and installing, but is brittle in nature and may take several coats of paint to get a refined finish.
Popular types of crown moulding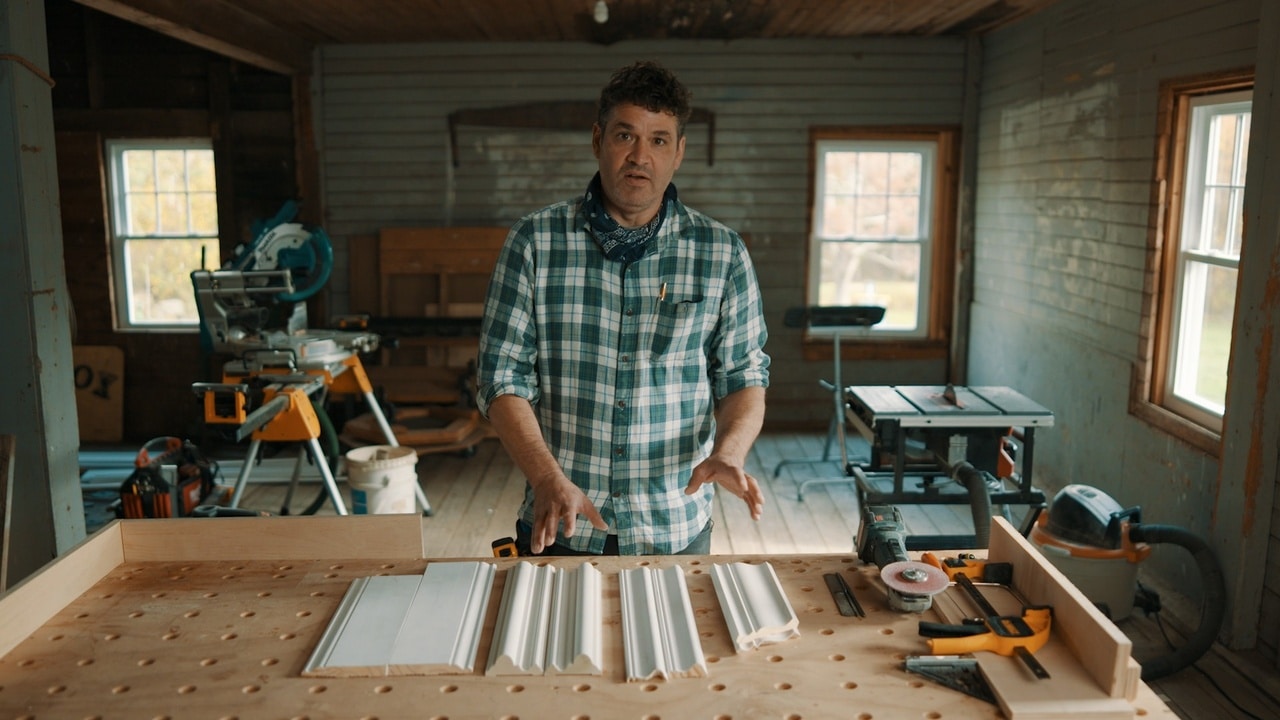 There are endless elaborate and customizable styles of crown moulding that can add more drama or style to a home, but the classics are easy to find and will always work. These include styles like Greco Roman, Victorian, Colonial, and Contemporary crown moulding.
Popular detailed crown moulding styles:
Dentil moulding: A decorative band of closely placed rectangular blocks.
Acanthus: A Greco Roman classic with a leafy look.
Beaded: Decorative woodworking in a beaded shape that can be single or stacked.
Ovolo: A classic egg shaped design.
Installing crown moulding
Depending on the style and material, installing crown moulding can be one of the more budget friendly ways to improve the architectural design of a home. Coping crown moulding is a project that is achievable for any aspiring carpenter or carpentry enthusiast. Here are a few considerations for undertaking a crown moulding project:
Materials. Materials range in price, from very affordable to expensive, as well as ease of install. Polystyrene, PVC, and Polyurethane crown mouldings are straightforward installs that most DIYers can accomplish. Wood moulding installation and cutting requires finish carpentry skills and specialty cuts. MDF requires many of the same techniques of installing as solid wood but its softer nature means it needs to be handled properly or runs the risk of being chipped or dented.
Equipment. You'll need to be comfortable using a miter or coping saw, rasp, and a few other specialty tools.
Precision. Measurements and fits must be exact. Small errors may be hidden with some caulk and paint, but imprecise cuts will require the purchase of more trim.
Time. Professionals can install crown moulding in about 1-2 hours per room.
MT Copeland offers video-based online classes that give you a foundation in construction fundamentals with real-world applications, like coping crown moulding. Classes include professionally produced videos taught by practicing craftspeople, and supplementary downloads like quizzes, blueprints, and other materials to help you master the skills.