Deck Railing Ideas, Styles, Materials, and Code Requirements
Nov 09, 2021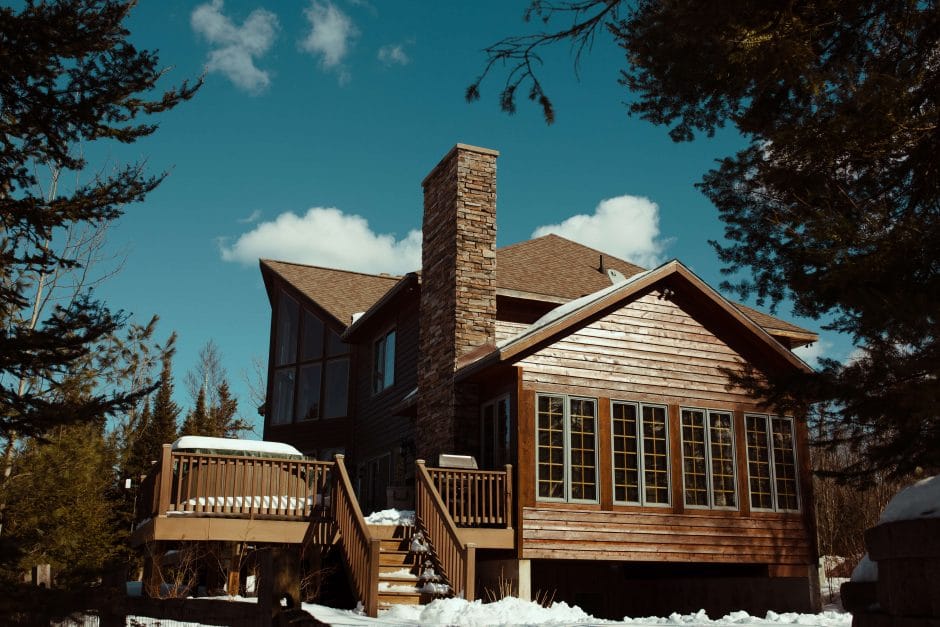 Decks can enhance the outdoor living aspect of a residence, as many Americans discovered in the darkest days of the pandemic. At a time when people were cloistered inside their homes, decks provided a way to engage safely outdoors and created a much-needed space for families working and learning from home. The popularity of decks will likely stay strong, as consulting firm Principia expects all decking to grow 5.5% through 2023.
Deck railings perform an important function—to prevent occupants from falling off a deck—and are governed by building codes. They are required for decks measuring 30 inches or more above grade. Beyond their safety function, deck railings and porch railings add character to all decks, even those that are less than 30 inches above grade. As one of a deck's most visible features, they also influence its style in a major way.
When assisting a homeowner with selecting deck railings, you'll want to consider the types of materials, styles of posts, and the shape of the deck.
Materials for building deck railings
Conventional deck railings are composed of vertical posts with structural horizontal top rails and bottom rails that support thinner vertical infill called balusters. Deck railings come in wood and composite, as well as aluminum, vinyl, and glass. Mixed materials are common, and non-wood options (such as glass) may still use wood for posts and other structural elements. Pandemic-driven lumber shortages have pushed prices higher, making composites a popular option, says Consumer Reports.
Take a closer look at materials commonly used in deck railing projects.
Pressure-treated deck railings: Perhaps the most common (and cheapest) option for deck railings, wood is also among the most versatile. Width of railings varies, and many wooden railings can be customized for visual interest.
Premium wood railings. This category includes red cedar, redwood, ipe, garapa, black walnut, teak, mahogany, and other naturally decay-resistant wood.
Metal deck railings. Steel and stainless steel guard systems include all the elements (posts, top rail, bottom rail and balusters).Versatile aluminum is popular for balusters connected to wood posts and handrails.
Steel cable railings: Steel cable railings have a sleek, modern look and are anchored with tensioning devices at their corners to maintain proper tension. Experts recommend cleaning them every three to six months with car wash.
Glass deck railings. Glass railing, or a series of panels held with aluminum supports and posts, can be costly, but maintains a view. Choose safety glass and be sure to install glass panels properly. Tinted glass may be more noticeable, but requires little upkeep beyond the occasional wash and may also be safer for birds.
Vinyl deck railings. These low-maintenance rails coordinate with a house's siding. Some railing kits have vinyl post housings that overlay wooden posts; all can be pressure washed with soapy water and are resistant to rot and rust.
Composite deck railings. Not every composite decking company makes railings, though some, like Azec and Fiberon, sell decks and railings. Composite balustrades can be chosen to match or contrast with decking, and are usually cheaper to maintain despite their higher upfront cost.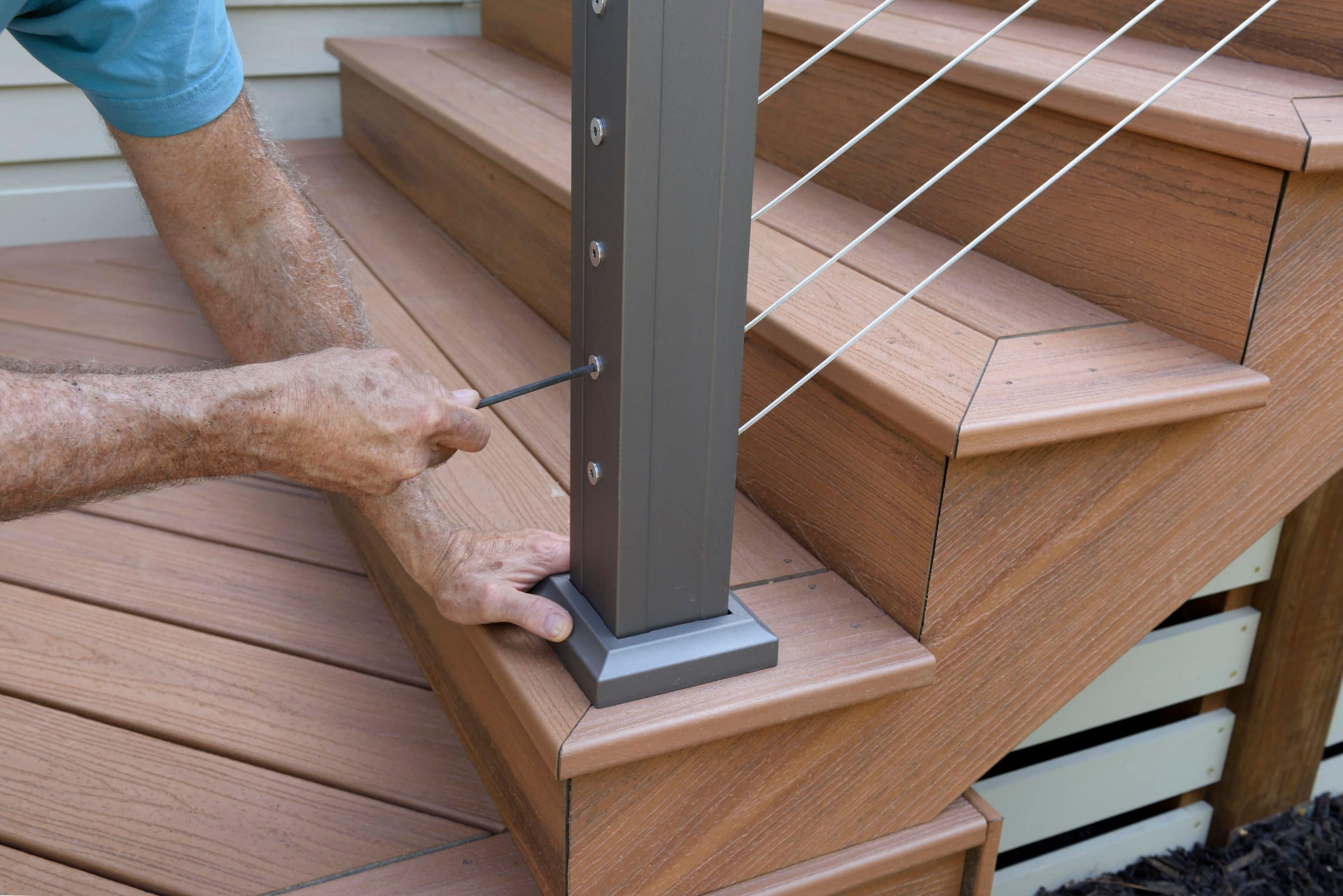 Elements of deck style
When it comes to style, some choices are dictated by material, while others come down to price. Remember, it's always a good idea to select your deck rail designs early, as they can be difficult or expensive to change later on.
Orientation of deck railing infill: Will the deck railing infill be vertical or horizontal? Vertical railing infills have a traditional look, whereas horizontal infills appear more modern. Steel cables are a popular horizontal infill type, but the tension must be carefully maintained so the cables don't slacken and become a safety hazard. Thicker infills provide more privacy, while thinner, code-compliant railings preserve a view.
Multi-functionality: Some features are built into railings, like those that pull double duty as the back of a bench. Another unique deck railing idea is a "cocktail rail," whose balustrade is wide enough for holding a drink. Consult the local code requirements to make sure this is allowed.
Deck shapes: Rectangles are a classic deck shape, but your design idea doesn't have to be limited to them. Many modern decks feature round or angular sections, and classic squared-off decks are often easiest to build. Making a deck shape slightly smaller or simpler can also help reduce costs.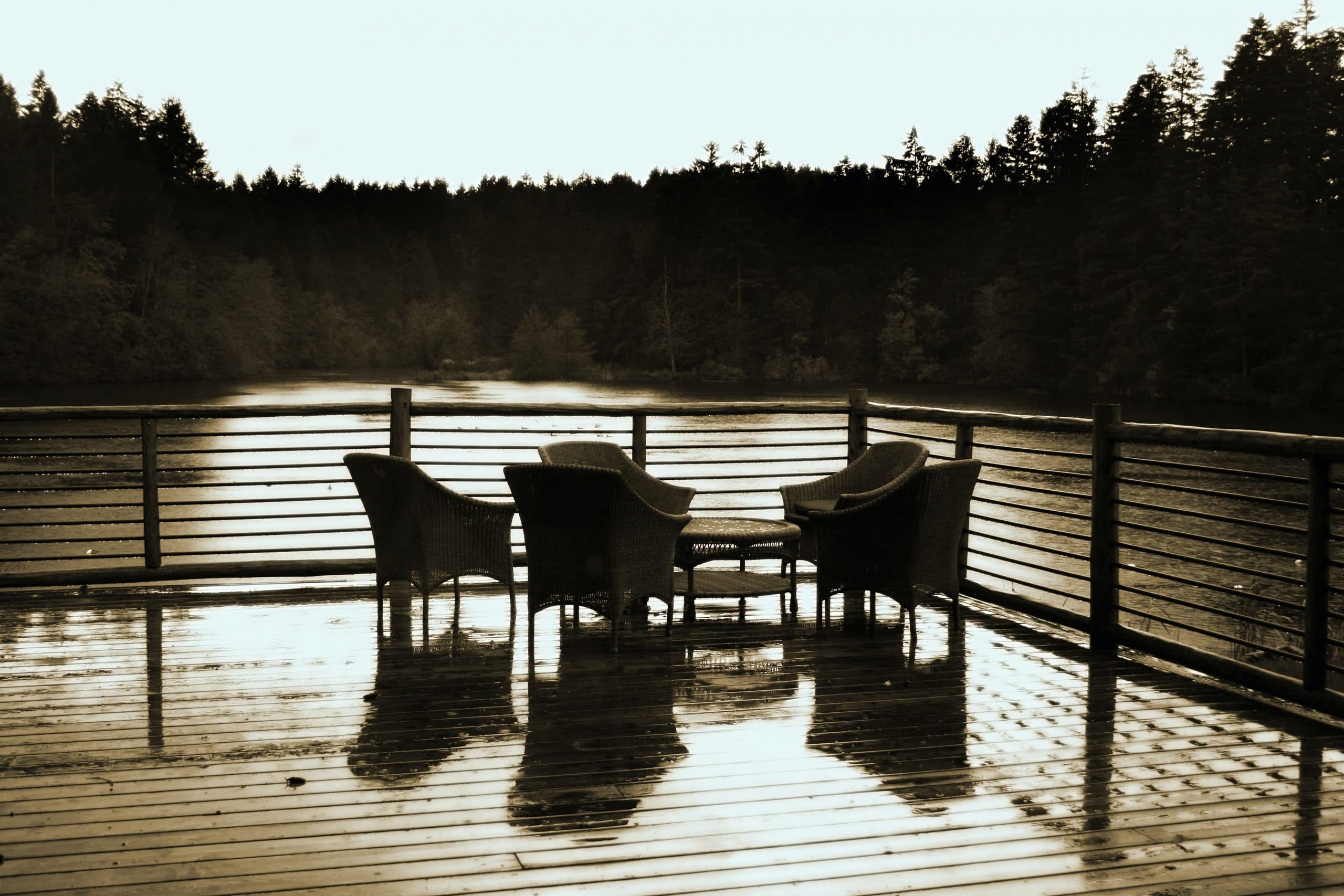 Keep building codes in mind
In the US, the space between balusters cannot exceed 4 inches, to protect small children from falling through the cracks or getting stuck. A one-square-foot area must also be able to resist 50 pounds of pressure. The space between the bottom rail and surface of the deck must be less than 4 inches.