PVC vs. ABS Pipes: What's the Difference?
Dec 06, 2021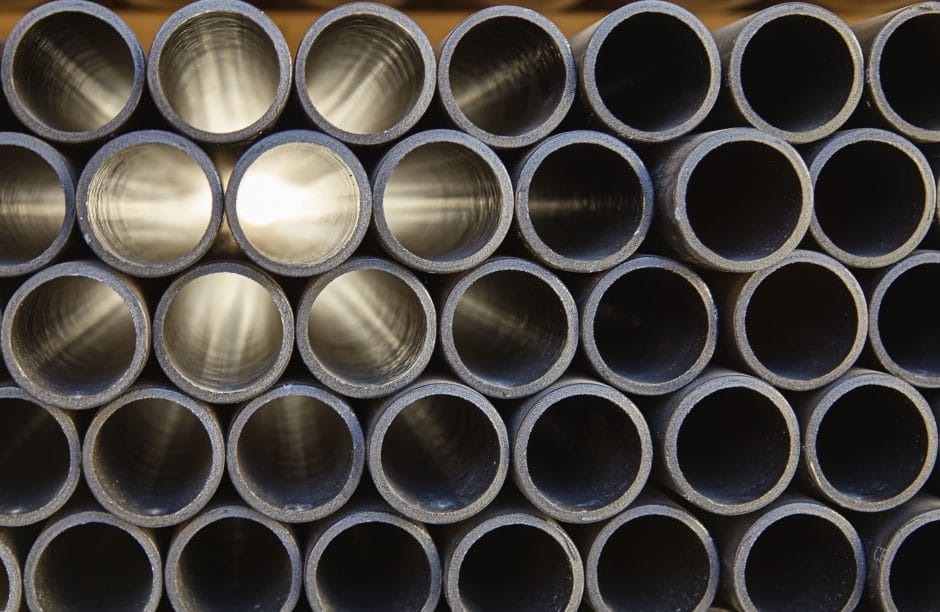 When choosing a plastic pipe for your plumbing system, you have several choices: PVC, CPVC, and ABS. All have similar uses and can work both indoors and outdoors. PVC and ABS are interchangeable in most cases. The only difference is ABS has BPA and is subject to degradation in direct sunlight. To help you select the best material for your job, here's a comparison of PVC and ABS pipe.
What is PVC?
PVC plastic pipe, or polyvinyl chloride, generally comes in white or gray. It can be used for both indoor and outdoor plumbing, usually as a drain pipe or vent pipe. It has sound-dampening qualities that make it perfect for indoor plumbing. PVC is a chemically resistant, strong, and lightweight plastic pipe that is durable, non-toxic, and cheap. Builders and plumbers typically use PVC pipe indoors for drain, waste, or vent piping and electricians also use it to insulate electrical wiring.
What is ABS?
ABS, or acrylonitrile butadiene styrene, is a plastic pipe that generally comes in black. It can be used for indoor or outdoor plumbing, generally as a drain, waste, or vent pipe as well as sewer pipe and electrical wire insulation. ABS is a strong, rigid pipe that works great underground and in extremely cold temperatures. ABS pipe should not be installed where it is subject to sun exposure, as the light can degrade the plastic.
Differences between PVC and ABS
ABS contains BPA. ABS pipe contains BPA, which makes the pipe more durable. BPA has been linked to cancer, although the Food and Drug Administration has said that current levels found in foods are safe.
Color. PVC pipe is usually white or gray while ABS pipe is black.
Connection process. PVC requires two steps to make a connection: a purple primer and a cement. The primer must be applied and dry completely before applying cement. ABS only requires one step to make a connection: a special cement that doesn't need to dry before connecting the pipe.
Flexibility and strength. ABS is a stronger pipe, but PVC is more flexible, and muffles sound better making it great for indoor plumping.
How to join PVC and ABS pipe
Joining PVC pipe is a two-step process. First, a purple primer is applied to the end of the pipe. It must dry completely before the next step can be taken. The next task is applying a special cement over the primer. Then the pipes are joined together.
Joining ABS pipe is a one-step process. A cement, called Y2 or Y4, is applied to the end of the pipe, and the pipes are connected.
PVC and ABS are not usually joined together. In fact, in some areas, it's against the plumbing code to join these two types of pipes. If it's allowed, a special fitting helps make the connection. This is a rubber transition coupling that goes between the two pipes and a stainless-steel clamp that goes over the fitting. The two pipes are connected to the ends of the coupling, then the stainless-steel clamp is applied to hold the fitting in place.
How to choose between PVC and ABS
The first step is to check local building codes. Some codes specify where PVC and ABS piping can be used. If there is no code requirement, you can choose whichever one you prefer.
ABS pipe is quicker to install because it only takes one step to connect the pipes together. It's a durable pipe perfect for underground sewer runs or fixture drains. Do not install it where it is subject to direct sunlight, as the light will break down the plastic.
PVC piping is great for indoor drain, waste, and vent piping. It's quieter, so it's not as likely to transfer water noise as ABS. It can be used outdoors and underground as well.
In many cases, the choice between ABS and PVC is a matter of preference. Both are good pipes for drains, waste, and vents.

MT Copeland offers video-based online classes that give you a foundation in construction fundamentals with real-world applications, like plumbing basics. Classes include professionally produced videos taught by practicing craftspeople, and supplementary downloads like quizzes, blueprints, and other materials to help you master the skills.