PVC vs. CPVC Pipes: What's the Difference?
Dec 06, 2021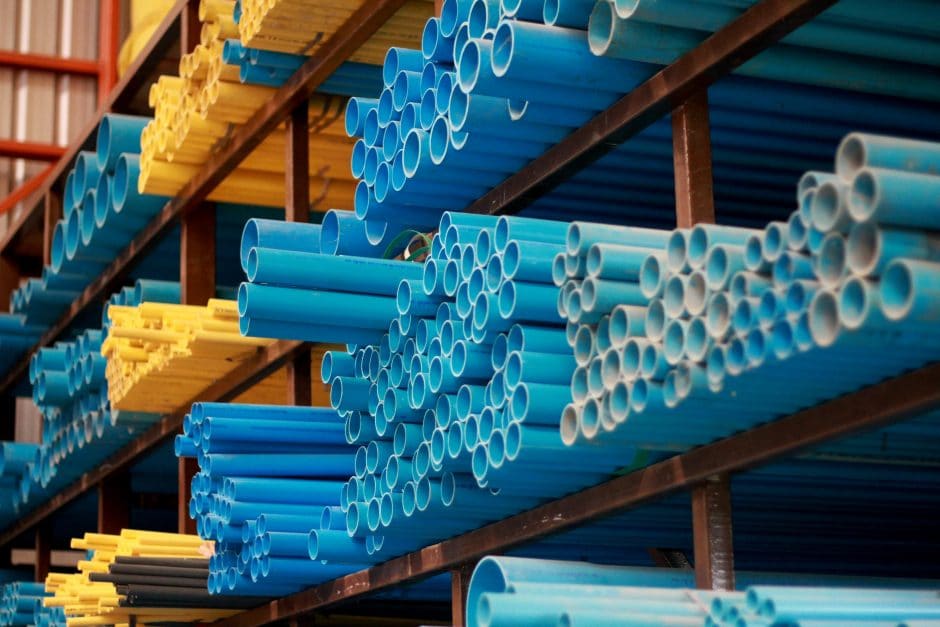 PVC and CPVC or two types of plastic pipe that are used for similar purposes. In some cases, the two pipes are interchangeable, but in others, one clearly stands above the other. Both can be used for interior and exterior water supply plumbing, drain piping, and vent piping. Choosing between the two is often a matter of cost and the nature of the fluid running through them. CPVC is better for hot liquids, from 140°F to 200°F, and it's a bit more durable. PVC is better for liquids below 140°F and can be run either underground or in a crawl space or basement.
Learn the differences between PVC and CPVC and when to use them.
What is PVC pipe?
PVC, or polyvinyl chloride, is a manmade plastic that can be formed into pipes. It's available in two pipe wall thicknesses: schedule 40 and schedule 80. It resists oxidation and degradation and is a very durable water pipe material. PVC has been known to last more than 50 years without issues.
PVC piping is available in nominal sizes, based on the interior diameter of the pipe. It comes in white or dark gray and can be rigid or flexible. Rigid PVC may also be called uPVC. The flexible variety is often used when installing electrical cable to protect the wiring.
It can be used for a variety of piping needs, including potable water, gas lines, drain lines, cold water, sprinkler systems for irrigating lawns, and exterior drainage.
The main limitation of PVC is that it cannot be used to carry liquids above 140 degrees Fahrenheit because the pipe and fittings will start to break down. It also cannot be used in areas with freezing temperatures, as the plastic may crack. Be careful when heating the pipe, as the plastic gives off toxic fumes. For this reason, you'll need to wear a respirator.
What is CPVC pipe?
CPVC, or chlorinated polyvinyl chloride, is similar to PVC piping. The additional chlorine in the plastic improves its fire retardancy and structural integrity. It is resistant to degradation and oxidation, like PVC, and comes in schedule 40 and schedule 80 wall thicknesses.
CPVC is available in both nominal and copper tube sizes. Nominal sizes are based on the interior diameter of the pipe, and copper tube sizes are based on the exterior diameter of the pipe. CPVC is more flexible than PVC pipe, so it requires support every 3 feet when hanging. It comes in light gray, yellow, and cream colors.
CPVC can be used for potable water, gas, drain lines, hot or cold water, chemicals, and fire sprinkler systems.
CPVC water pipes can be used for liquids up to 200 degrees Fahrenheit, but cannot withstand freezing temperatures. This is why it's more often used for carrying hot water, which should not be above 140°F in a home. CPVC is more expensive than PVC piping, and like PVC, creates toxic fumes when heated.
Similarities between PVC and CPVC
Both come in schedule 40 and schedule 80 pipe wall thicknesses
Both come in 10- and 20-foot links
Both are chemically resistant
Both are durable and impact-resistant
Both are safe for use with potable water when certified by ANSI/NSF 61
Both cost less than copper and other metal pipes
Differences between PVC and CPVC
PVC can handle temperatures up to 140 degrees Fahrenheit before starting to break down; CPVC can handle temperatures up to 200 degrees Fahrenheit.
CPVC costs more than PVC.
The added chlorine in CPVC makes it more durable than PVC.
Each type requires different specific kinds of cement to make connections. PVC solvent cements must meet ASTM D2564 specifications, while CPVC solvent cements must meet ASTM F493 specifications. Since PVC and CPVC pipes use different types of cement, they are not interchangeable, and you cannot connect PVC and CPVC piping.
How to choose between PVC and CPVC pipes
To choose between CPVC and PVC piping, first determine the qualities of the liquid that will run through the pipe. If it's below 140°F, PVC can be used. If it's between 140 degrees Fahrenehit and 200 degrees Fahrenheit, CPVC is the best choice. If chemicals run through the pipe, the best choice is CPVC.
Since both types of pipe can be used for similar purposes, there isn't much difference between them other than cost. CPVC is slightly more expensive than PVC piping. Both are durable and flexible when needed and can be used indoors or outdoors. They can both carry drinking water as well as waste and drain effluents.
MT Copeland offers video-based online classes that give you a foundation in construction fundamentals with real-world applications, like plumbing basics. Classes include professionally produced videos taught by practicing craftspeople, and supplementary downloads like quizzes, blueprints, and other materials to help you master the skills.