The Builder's Guide to Architectural Drawings
Jul 15, 2020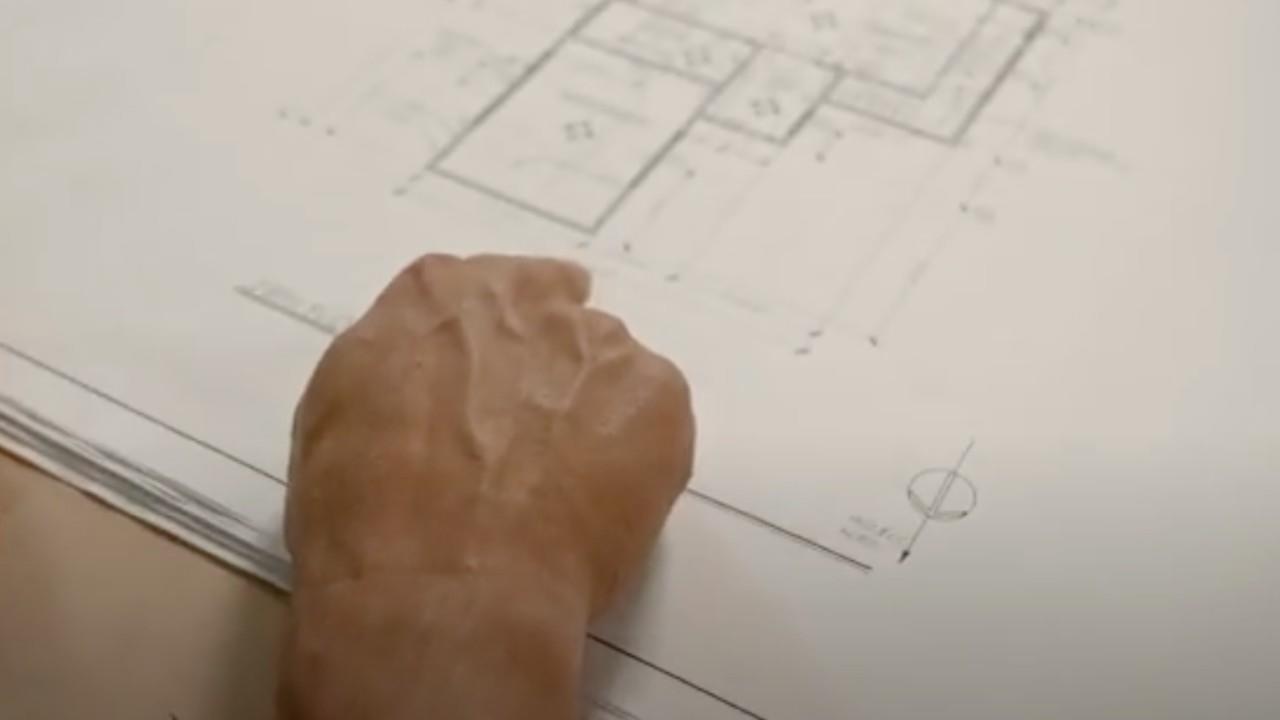 An architectural drawing is the technical rendering of a house or other structure that is both an illustration of what the final home will look like and also a tool used by engineers, contractors, designers, and builders to execute the construction.
Architects use these drawings to develop their design idea into a proposal and to communicate design concepts. The drawings will reflect the overall appearance—internal and external—of the home, how it is oriented on a building site, and the layout of its living areas. Some of the drawings are more conceptual, to communicate the look and feel of the house, and some are technical, used specifically to direct how the building is constructed.
The architecture plan is the initial set of design schematics on which engineers rely to provide the basis for their mapping of the mechanical, electrical, and plumbing (MEP) systems for the house. In a set of blueprints, you will find the architectural drawings first, including details and elevations, followed by the structural drawings created by all the engineers involved. Used together, the set of drawings comprises the blueprint package.
Builders, contractors and trades use the architectural drawings to create a building that satisfies the architectural intent, structural performance, and occupant experience required.
Architects have been making detailed technical drawings for structures for centuries, beginning with hand-drawn plans using compass, ruler, and French curve template. Today, many architects use sophisticated software to create computer-aided designs. These digital solutions allow architects to cut down on formerly labor-intensive processes by automatically syncing to team members' plans. Importantly for builders, they no longer need to manually roll out reams of paper to manage their blueprint packages.
What are the different types of architectural drawings?

Site plan
The site plan functions as a readable map of a building site, communicating the details of how the structure will be oriented on the lot. This diagram shows the plot of land and its property lines, along with its landscape features, structural elements, setbacks, driveways, utility poles and power lines, fencing, and on-site structures.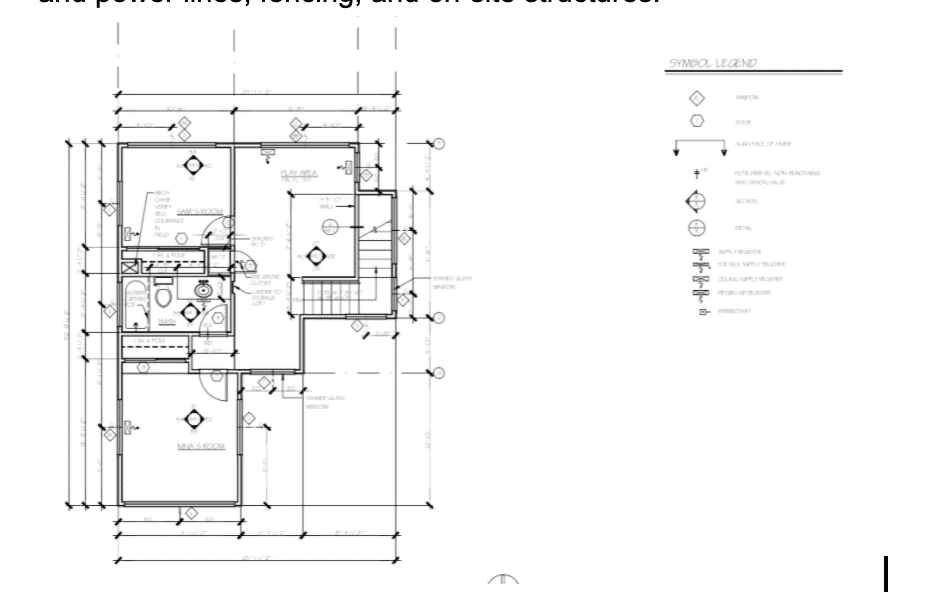 Floor plan
Imagine a view of a home sliced horizontally about five feet from the ground and looking down from above. This is the way a floor plan is drawn, and it is designed to give you a detailed idea of the layout of each floor of the house. It includes features such as walls, doors, windows, and even furniture, all represented by symbols that are drawn to scale.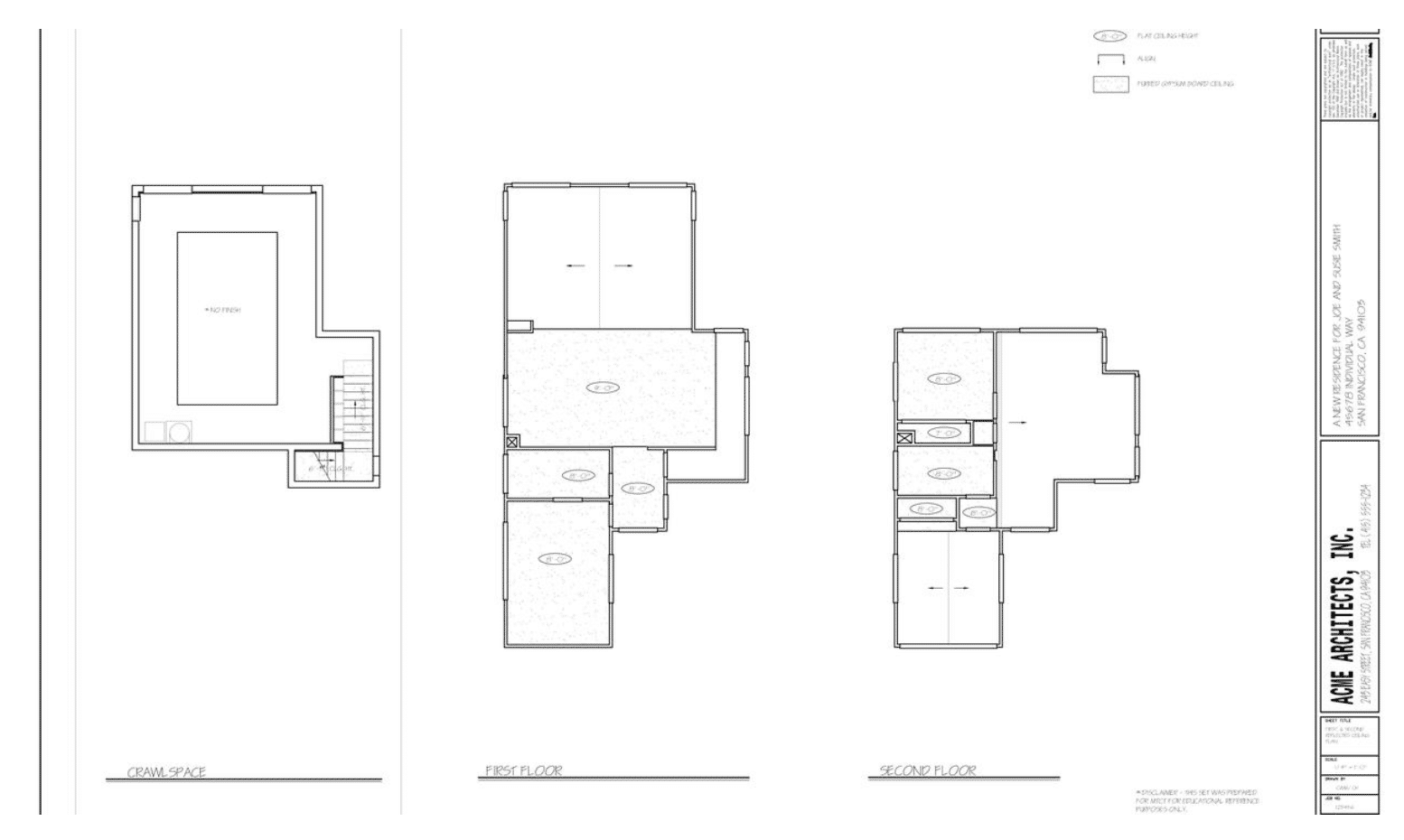 Reflected ceiling plan (RCP)
The RCP is a print that shows you the dimensions, materials, and other key information about the ceiling of each of the rooms represented on your blueprint. It takes its name from the idea that you are looking down at the ceiling as though there were a mirror on the floor reflecting the ceiling's plan back to you. (Note that this type of drawing isn't always included in the blueprints package.)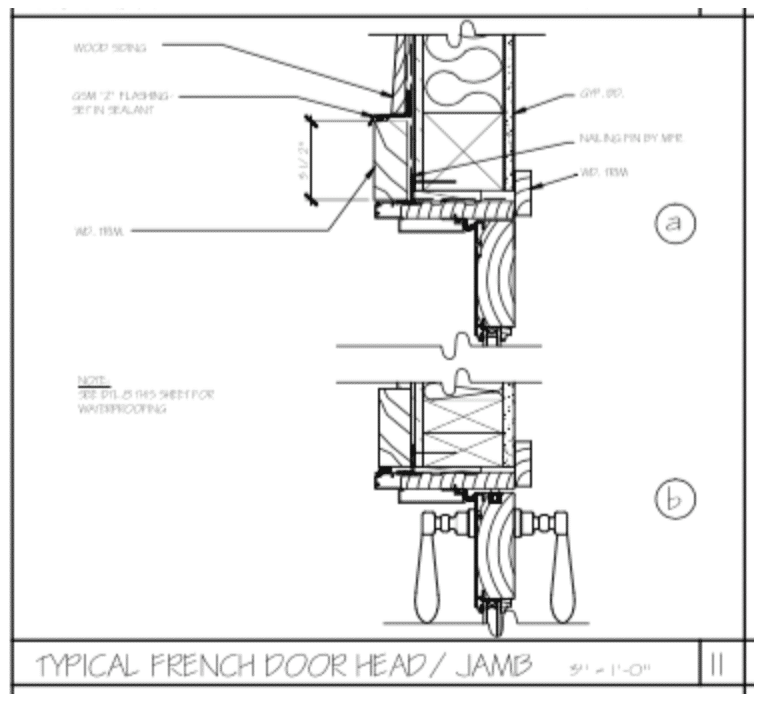 Detail drawings
Special details of a house are included in drawings whose small features are magnified so that a builder can see how to construct these elements. Structural connections, window openings, and wall junctions might all be included in supplemental detail drawings.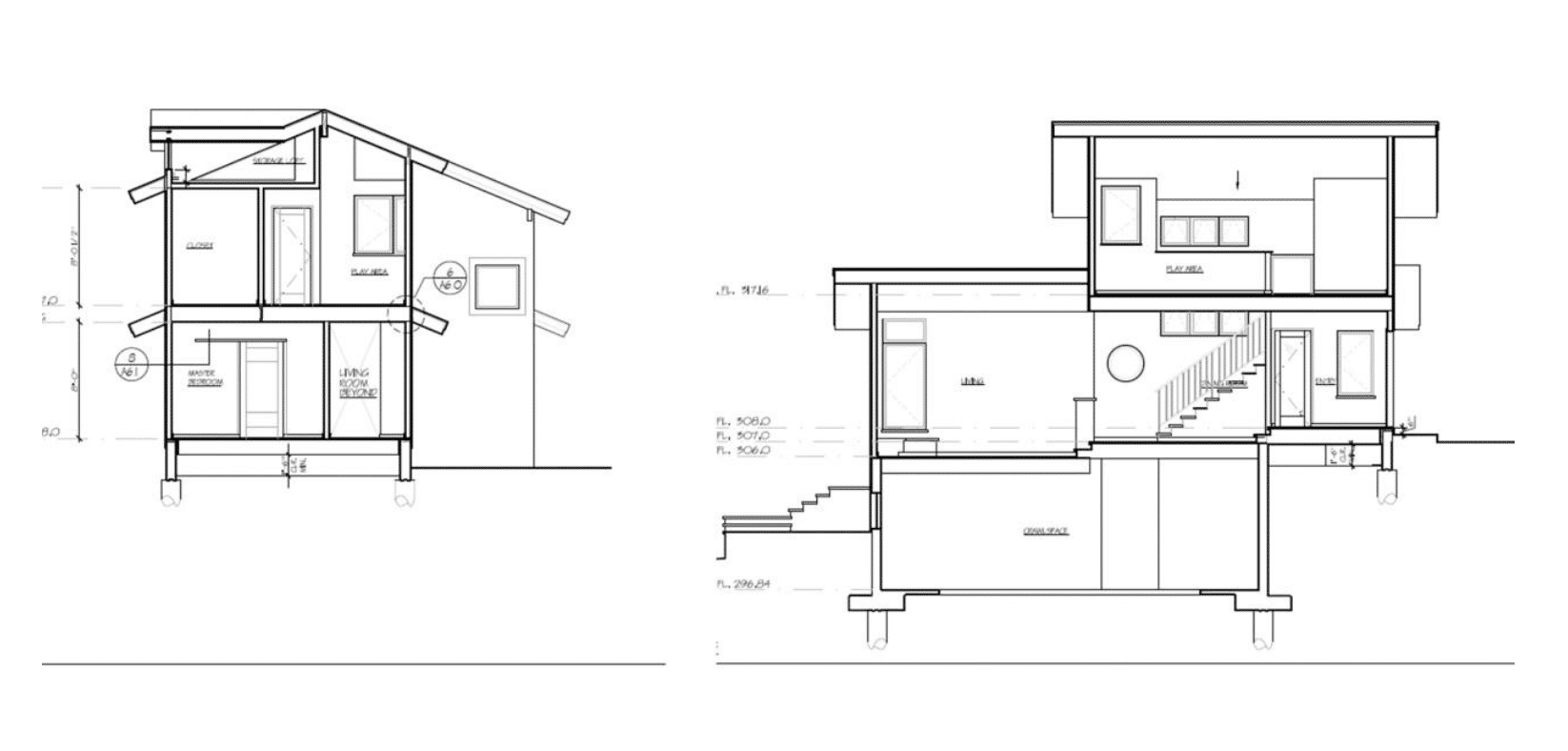 Elevations and sections
Elevations show the vertical layout of the building, and there is usually one elevation drawing for each face of the building. An exterior elevation shows you what a house like if you're standing front, next to, or behind it. An interior elevation shows the same thing, only from inside the house. Section drawings show what the building would look if you were to make a vertical cut through a particular part of a building to show a cross section of the structure, and how the spaces inside fit together vertically.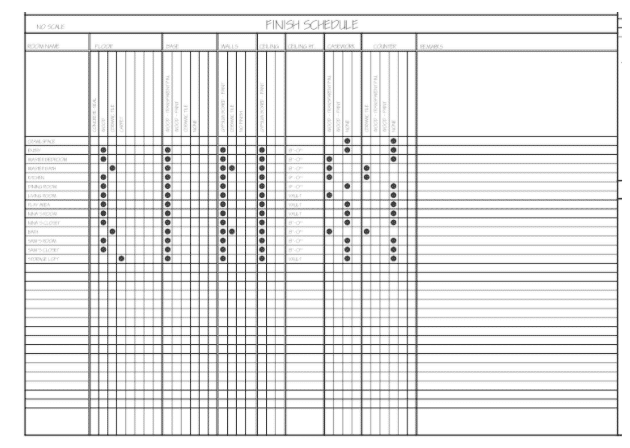 Schedules
These documents show a listing of materials and products necessary for the structure, and the order of installation. Typical schedules include doors and windows and room finish schedules.
The ability to read and understand architectural drawings in an essential skill for those working in the building trades. Learn everything you need to know about reading all of the components of a blueprint package in MT Copeland's online class, taught by professional builder and craftsman Jordan Smith.
How to read architectural drawings
Scale
In order to fit all the information about a layer of a building onto a page, construction drawings and architectural drawings are drawn so that a small increment of measurement represents a larger increment. This means that the plans are drawn "to scale."
Scales vary in complexity, from the simple (1 inch = 1 foot) to the complex (3/16 inch = 1 foot). The symbols are also drawn to scale so you will get an accurate idea of how elements of a room are configured in the space.
The scale is always shown on the same page as the drawing, either under the title or below an individual drawing. Scales can vary throughout a set of architectural prints, so check each page and use an architectural scale, or scaled ruler, to make sure you're reading the print accurately. If you don't own one already, it's an essential tool of the trade for architects, engineers, and builders that you will want to buy now.
Abbreviations and acronyms
The number of details that must be included in a complete set of blueprints is so large that architects reduce the information on the drawings to a set of standardized abbreviations in order to make the drawing easier to read and less cluttered. You will find these in a set of notes included in the architectural drawings.
Symbols and notes
Architects also include standardized symbols so that anyone who looks at the drawing can understand that they are looking at a fireplace, window, kitchen table, bathtub. For reference, every set of architectural drawings includes a symbol legend. If you aren't familiar with a symbol, you will be able to find it in the legend.
Floor plan notes give additional context for the building. For instance, the notes can clarify exactly to what point on a wall dimensions should be measured. Every symbol on the legend is drawn to the same scale as the rest of the floor plan. Most plans include symbols that are a combination of appearance (for instance, a bath looks like a bath); conventions (double lines are commonly used to denote walls); and labels (for instance, a thermostat is labeled "T").
MT Copeland offers video-based online classes that give you a foundation in construction fundamentals with real-world applications. Classes include professionally produced videos taught by practicing craftspeople, and supplementary downloads like quizzes, blueprints, and other materials to help you master the skills.