What Is a Frameless Cabinet?
Dec 06, 2021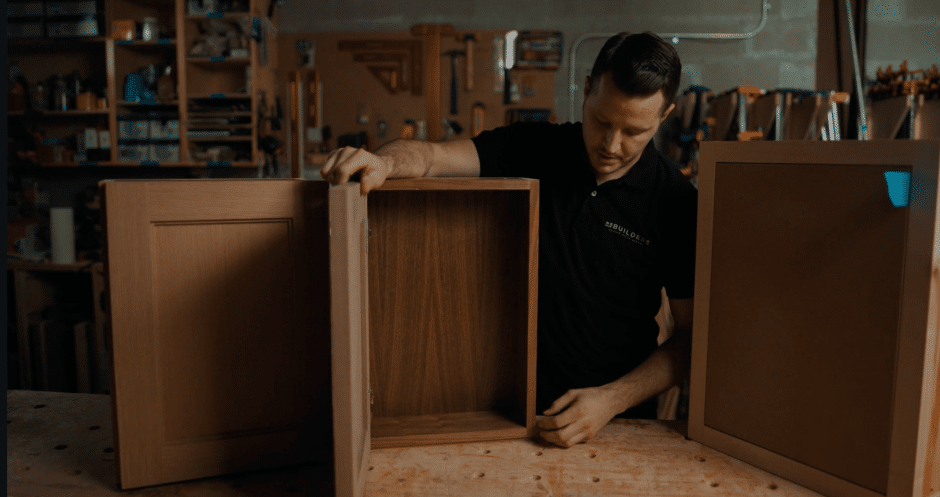 Cabinets are one of the most important elements in a kitchen or bathroom. They often take up most of the wall, provide storage space, and help define a room's aesthetic. There are countless styles and options of cabinetry to choose from, but deciding between the two main cabinet constructions—faceless and face frame—is a solid first step.
What is a frameless cabinet?
Frameless, or "European style" cabinets, lack an outer layer of trim around the front of the cabinet. Instead, the cabinet door hinges are attached directly to the sides of the cabinet box, creating the "frameless" design. Frameless cabinets have a sleek modern look and provide more interior space—no frame overlay or center stile divides the cabinet.
Advantages of frameless cabinets
Frameless cabinets offer several benefits for installation and everyday use.
Ample storage space. Not only do frameless cabinets let you easily slide items in and out, their interiors are larger than face frame cabinets. Frameless cabinets, or "full access" cabinets, can also accommodate large items.
A modern look. Frameless cabinets lend sophistication to spaces. That's not to say they only work with modern styles; their timelessness means they can work in a number of settings.
Ability to customize after installation. Refinishing, repainting, and even changing out frameless cabinet door styles is fairly straightforward. Because they have full overlay doors, you can simply swap out the full cabinet doors with another style. Frameless cabinets are also flexible with drawer size combinations since there's no frame to work around; two small drawers can be swapped for a larger one, and vice versa.
Disadvantages of frameless cabinets
Less versatility with cabinet door styles. Because they lack a face frame, frameless cabinets only work with full overlay doors, which attach to the cabinet box. Inset or half overlay cabinet doors won't work with frameless cabinetry since they must be attached to a frame.
Harder to install on out-of-plumb or uneven walls. When placing cabinets next to each other, make sure they are even and level. Because they're flush, there's less room for mistakes, and if there's a dip or a hump in the wall, frameless cabinets will show it. They can also warp over time if they're installed on an uneven wall.
3 tips for assembling and installing frameless cabinets
Use a level to ensure the wall is in plumb before installation. Installing frameless cabinets on out-of-plumb walls is hard. So if the walls are out-of-plumb, as is common in older houses, you'll need to wedge wood shims between the wall and the cabinet boxes to adjust how the cabinets rest against the surface.
Install upper cabinets first. This avoids the inconvenience of having to lean over lower cabinets in order to reach the upper cabinets, and you'll have more support when installing bulky cabinet boxes. Frameless cabinets tend to be heavier than face frames since they're built with thicker wood.
Attach cabinet doors and drawers after wall installation. Again, frameless cabinetry can be heavy compared to framed cabinetry, so lightening the load will make your job easier.
MT Copeland offers video-based online classes that give you a foundation in construction fundamentals with real-world applications, like building cabinets. Classes include professionally produced videos taught by practicing craftspeople, and supplementary downloads like quizzes, blueprints, and other materials to help you master the skills.