What Is Sealant?
Feb 28, 2022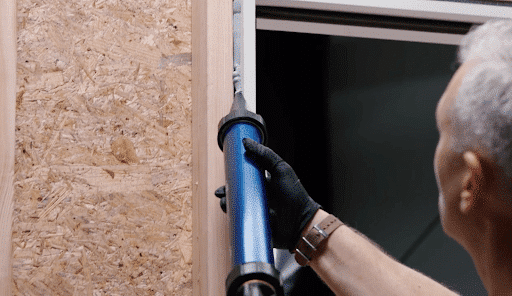 Building a home requires a lot of different materials all fastened to each other. Materials like concrete, wood, metal, glass, fiberglass, and others all have their place and use in a structure. However, the joints at which these different materials might meet are tough to seal, as dissimilar materials don't always form the tightest bonds. Luckily, there is an entire category of building products designed for the job: sealants.
What is a sealant?
Sealants are substances used to seal, block, or close gaps between building materials to prevent fluids, air, and pests from passing through. These materials seal joints where dissimilar materials meet, filling any irregularities that might exist between the two surfaces. Sealants can also fill cracks in surfaces such as concrete, fiberglass, and other rigid building materials.
Sealants typically come in thick liquids or pastes, and they can be squeezed into place with a caulking gun. Users can also apply sealants with a trowel, or apply the liquid to the joint before assembly, allowing the sealant to take the form of the gap naturally under pressure.
Sealants can also simply dress up gaps around window and door trim, or provide flexible adhesion between two surfaces. Since they prevent air and other substances from passing through gaps, they can keep a home more comfortable in various types of weather.
Where to use sealant
It's common to find sealants in a wide variety of applications. Window and door installers will caulk around the rough opening with a sealant, creating an air-tight seal that makes the home feel more comfortable. The joint between framing lumber and concrete foundations might also contain a sealant, though they're typically foam strips in this case.
Other applications for sealants include window glazing, patching cracks in concrete foundation walls and sidewalks, around shower and tub surrounds, and seams around moldings within the home. Anywhere that a small gap exists for water, air, or insects to pass through, a sealant might be up for the job.
6 Common types of sealants
There is a wide variety of sealants available, and each has its pros and cons. Some sealants are ideal for a specific purpose, meaning they'll work for one application but possibly not for another. Other might be more general purpose oriented. For this reason, it's important to choose the best sealant for the particular task at hand.
Water-based sealants
Water-based sealants, also known as latex, are popular in the construction industry for sealing gaps between moldings, doors, and windows. These sealants are easy to apply and clean up, and dry relatively quickly. Water-based sealants are also paintable. However, since the sealant contains so much water, water-based sealants tend to shrink upon drying, so they're not ideal for wet or exterior applications.
Acrylic sealants
Acrylic sealants are paintable like latex, but their sealing properties tend to be more stable and don't shrink as much. This makes these sealants are often paintable, making them useful for outdoor applications that might need color matching, such as concrete cracks, trim around exterior windows and doors, and other easily seen and weather-exposed repairs. However, understand that acrylic sealants aren't as flexible as some other sealants, so movement over time can cause cracking.