What Is Soundproof Drywall?
May 31, 2022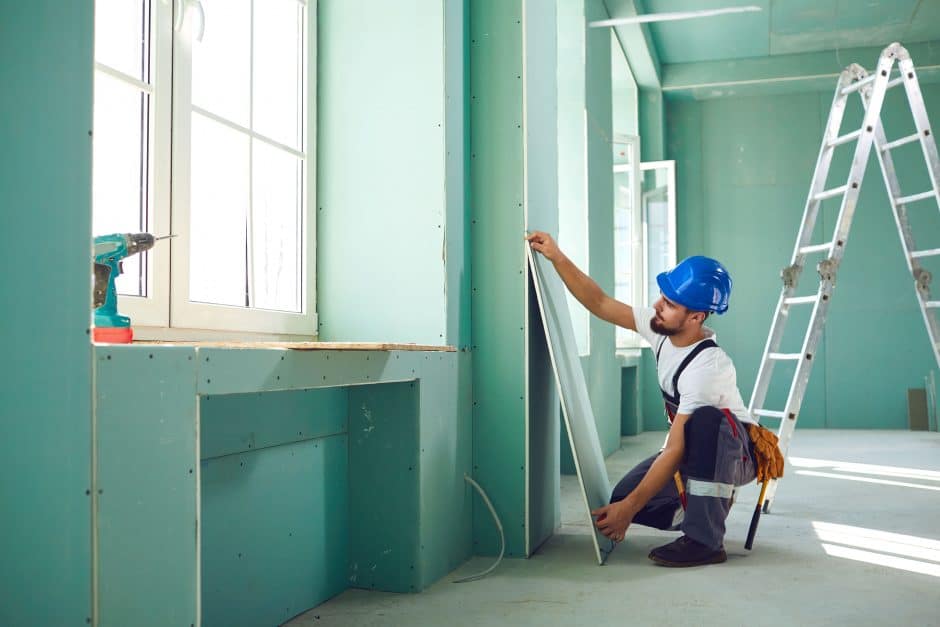 No one likes excessive noise, especially within their home. Whether you have noisy neighbors, or you are a noisy neighbor with a conscience, soundproof drywall can help keep the raucous to a minimum. This building material can prevent sound waves from traveling as effectively as they can through traditional sheetrock.
What is drywall?
Let's start with the basics. Drywall is a building material made up of sheets of rigid gypsum sandwiched between two layers of paper. Installers use it to cover wall framing, hanging it from the sides of wall studs and joists with nails and screws.
The dimensions for drywall can vary. It comes in thicknesses of ¼-, ⅜-, ½-, and ⅝-inch, and even in thicknesses over 1 inch. Although almost all drywall is 4 feet wide, it comes in 8-, 9-, 10-, 12-, 14-, and 16-foot lengths.
Drywall comes in a few varieties as well, including regular, fire-rated, mold-resistant, and soundproof drywall.
Regular drywall is the least expensive, and it's typically found throughout the main living areas within a home.
Fire-rated drywall is thick and heavy, and it's most popular in commercial buildings, residential apartment buildings, and office buildings.
Mold-resistant drywall is better for damp areas like kitchens, bathrooms, and laundry spaces.
Soundproof drywall consists of multiple layers of gypsum, viscoelastic, and ceramic materials.
What is soundproof drywall?
Unlike traditional drywall panels, which consist of a sheet of gypsum between two layers of paper, soundproof drywall is typically multi-layered. It will usually contain two sheets of rigid gypsum with a sound-deadening barrier between them. This layer usually contains a combination of viscoelastic materials (such as a rubbery green glue or membrane), mass-loaded vinyl, and ceramics. These sound absorbing substances between the layers of gypsum are more effective at preventing the transmission of sound than gypsum alone.
Sound waves travel along rigid, hard surfaces rather easily, so soundproof drywall aims to break the rigid gypsum up with gummy, rubbery, or ceramic layers. As the sound waves pass through the drywall, they reach this layer and vibrate. This causes many of the waves to get trapped inside the drywall rather than passing straight through. For that reason, soundproof drywall is ideal for music studios, entertainment spaces, movie rooms, or common walls between apartments.
How does soundproof drywall compare to other drywall types?
Manufacturers rate their products by giving them STC (Sound Transmission Class) rating. Higher STCs point to the product being more effective at soundproofing. The lower the STC rating, the more sound it will allow to transfer through.
Compared to other products, one layer of soundproof drywall is almost twice as effective at muffling noise as typical drywall. Using the Sound Transmission Class (STC) unit for reference, one layer of ½-inch-thick soundproof drywall has a rating of 52, while the same size layer of typical drywall is 34.
On the basis of cost, however, soundproof drywall is much more expensive than typical drywall. Soundproof drywall costs between $40 and $55 per sheet, whereas typical drywall costs between $12 and $20 per sheet. A room will cost anywhere between 3.5 to 5 times more to cover in soundproof drywall than the regular option.