8 Common Types of Siding
Jan 24, 2022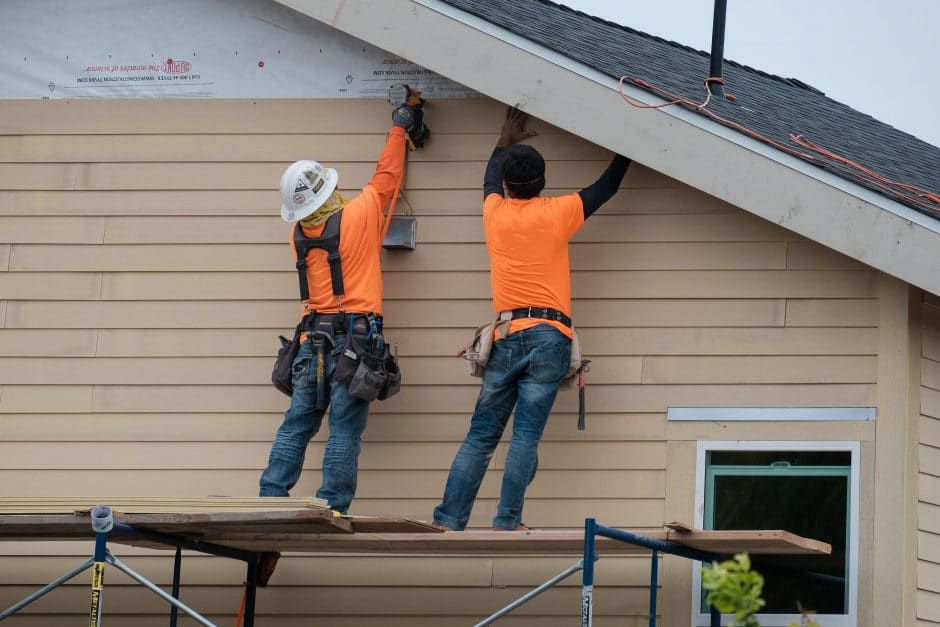 Exterior home design fuses practical function and aesthetics. We all need homes and offices that will withstand the elements and keep us warm (or cool), and it doesn't hurt when those buildings also look appealing.
A key component to exterior home design is siding. In many cases, siding covers the majority of a building's external walls. As such, it must endure for many years while keeping out bad weather and pests. Learn more about the various siding options available to builders and homeowners.
What is siding?
Siding is a type of material used to cover the exterior of residential homes, commercial buildings, barns, and sheds. Well-installed siding will protect a home from harsh weather conditions and lock in both heat and cold. Most siding allows for a variety of colors (either through paint or during the manufacturing process), which in turn can promote curb appeal.
When choosing siding for a home or commercial building, you will want materials that fit your budget, add visual flair, and protect the structure and its inhabitants from nature's harshest elements.
9 Types of siding
Today's market is filled with many options for siding, both for private homes and commercial buildings. Here are nine popular options to consider, along with the pros and cons that come along with each
Vinyl siding. Vinyl siding appeals to many consumers for its affordability, its ability to handle adverse weather conditions, and the variety of colors on offer. Some steer away from it due to its negligible curb appeal and its tendency to be dented by things like hailstones, falling tree branches, or errant footballs and basketballs. Note that you can also guide a homeowner toward buying insulated vinyl siding, which can make your home more energy-efficient (although the upfront costs will be somewhat higher).
Natural wood siding. When it comes to eco-friendly siding with immense curb appeal, it is hard to top natural wood siding. Natural wood adds a classic to the exterior of a home, whether it's wood shingles, a board and batten style (long vertical strips), or the traditional horizontal strips found in lap siding. The downsides to natural wood siding are a steep upfront cost and additional high maintenance costs. Natural wood should be painted and sealed every five to seven years, and it must be checked for insect damage. Yet when properly maintained, wood siding can last a remarkably long time.
Manufactured wood siding. For a cost-effective alternative to natural wood, consider manufactured wood siding. This type of siding does contain real wood pieces compressed with a resin to make it more fire-resistant, durable, and—perhaps most importantly—affordable. Its biggest drawback is that it can harbor mold and mildew when poorly installed.
Cedar shingles and cedar shakes. Compared to other natural wood, cedar has remarkable properties for repelling insects and mold. This is due to natural oils and acids called polyoxyphenols that cedar has in high abundance. Unlike other wood species, cedar does not require paint for a long life. You can leave it unpainted and let it turn to a pleasing gray color. Popular cedar options include cedar shingles, which are smooth and uniform, and cedar shakes, which are more rough-hewn and natural-looking. The drawback to cedar is that its natural oils make it flammable. You can install fire retardant cedar shakes, which is a type of manufactured wood that mixes polyethylene with real cedar fibers.
Fiber cement siding. True to its name, fiber cement siding features a blend of wood fibers and real cement. This material is often associated with the James Hardie company, which sells fiber cement products under names like HardiePlank, HardiePanel, and HardieShingle. Fiber cement is remarkably durable (50-year warranties are common in the industry) and can be painted any color for curb appeal. It requires more upkeep than vinyl and has a higher starting price, but its durability and beauty have won many converts.
Metal siding. Metal siding is a popular choice for commercial buildings, factories, and warehouses due to its affordable cost, fire resistance, pest resistance, and relatively eco-friendly nature thanks to metal's value to recyclers. The main drawback to metal siding is its vulnerability to dents (when using aluminum siding) or rust (when using steel siding). Metal is also a poor insulator, which can lead to higher energy costs.
Brick mixed with siding. Rather than covering the entire home with siding, you might consider covering the exterior in a brick-siding hybrid. Brick literally comes from the earth: it is dried blocks of clay and shale, which makes it immensely durable and fireproof. On the downside, brick has high upfront costs and may need to be repointed with new mortar every few years. By mixing brick with siding, you can showcase different textures and achieve a lower price point than you might with an all-brick facade.
Natural stone mixed with siding. Natural stone boulders is an increasingly popular siding option. You can blend stone and siding much as you could blend brick and siding. Stone comes with the same pros and cons of brick. It is completely natural, fireproof, and can last for literal centuries. On the other hand, it is expensive, hard to transport, and requires expert mortar masonry that must be touched up every few years. By blending siding with natural stone, you can sheathe your home in a variety of textures and colors, which can enhance its curb appeal.
Stucco (a complete siding alternative). For those who wish to avoid siding altogether or if the budget doesn't allow for an all-brick, all-stone, or glass-and-steel design, stucco is an excellent choice. Made from clay and rock, stucco costs less than many other building materials and it can easily adapt to various architectural curves and angles. Stucco repels fire and, with proper upkeep, can last over a century. It varies greatly from home to home; some stucco buildings look elegant, others look cheap. This remains an excellent option for those who have ruled out all types of siding.
MT Copeland offers video-based online classes that give you a foundation in construction fundamentals with real-world applications, like how house framing works. Classes include professionally produced videos taught by practicing craftspeople, and supplementary downloads like quizzes, blueprints, and other materials to help you master the skills.