Whether you're building your own cabinets, or having them built by professional cabinet makers, you'll need to determine what type of cabinet door overlay works best for your home. Overlay is how the cabinet doors lay on the frame of the cabinet when the doors are closed, and it impacts the look and feel of your cabinetry.
The three main types of cabinet door overlays are:
Inset
Full overlay
Partial overlay.
They're all similar in function, so the choice is largely aesthetic. As with choosing your cabinetry hardware, consider the overall style of your home when you're choosing what type of overlay is right for you.
Inset cabinet doors
With inset doors, the cabinet door is flush with and on the same plane as the cabinet frame, and the frame surrounds the entire cabinet door. They are called inset because the door is set into the cabinet frame. They offer a streamlined, high end look that is very popular in modern and European kitchen design.
Inset doors often use completely concealed hinges that are not visible from the outside for a sleek look. Because they do not require a frame to be installed, they offer full access to the interior of the cabinet.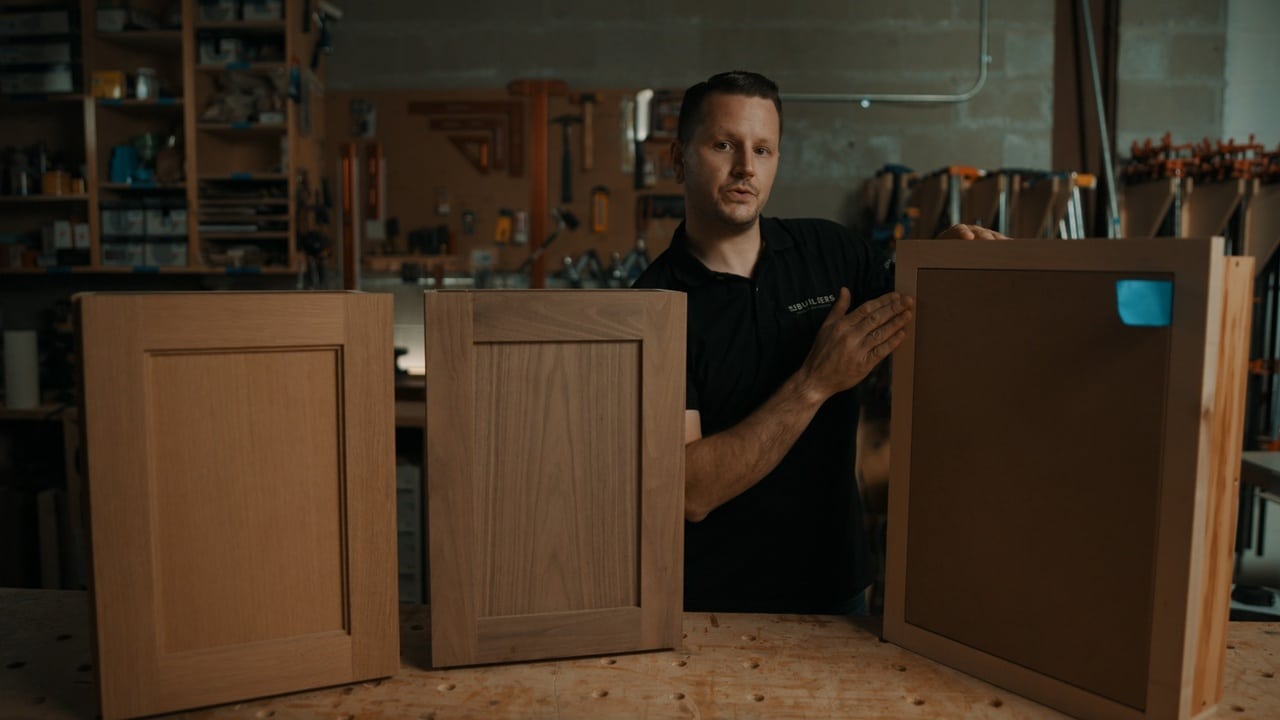 Budget: Most expensive.
Style: Modern, custom look.
Hardware: Knob or pull required.
Storage space: Similar to but slightly less than full overlay storage space. Maximum access.
Note: If you live in an extremely humid area, the door material could expand, so plan accordingly.
Full overlay cabinet doors
Also simply called overlay, a full overlay door covers the entire cabinet opening when closed, and the inside wood edge of the cabinet box is exposed when the door is open. They look similar to inset cabinetry but have a different frame in between the door edges. If the gapping of the inset design bothers you, full overlay is a good (and less expensive) option.
Full overlay doors require hardware like a knob or pull to function unlike partial overlay where you can use the door edge to open and close the door. Full overlay offers the most space inside the cabinet because the door itself does not take up any space.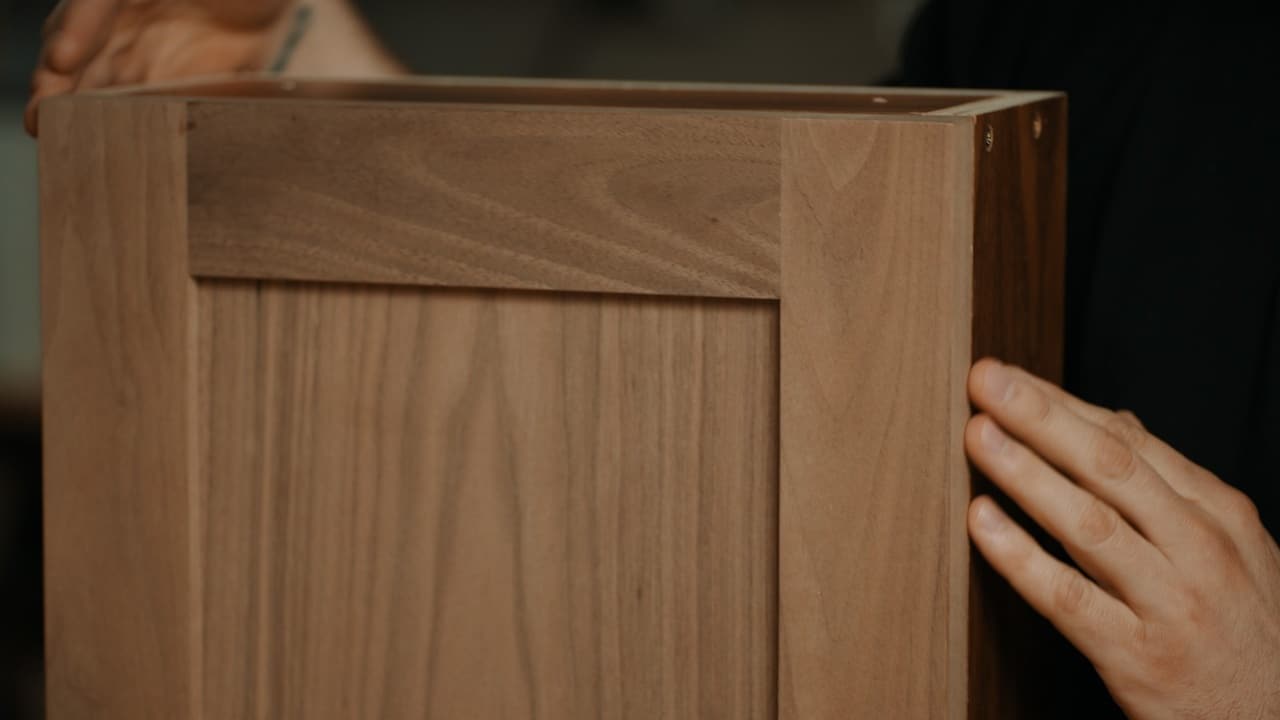 Budget: Less expensive than inset with a similar look.
Style: Traditional or modern.
Hardware: Knob or pull required.
Storage space: Maximum storage space and access.
Partial overlay cabinet doors
With partial overlay, the cabinet door partially covers the cabinet box when the door is closed, and the inside wood edge of the cabinet box is exposed when the door is open. Partial overlay is similar to full overlay in that the door sits on top of the cabinet frame rather than inside the frame like inset doors. They are the most traditional American cabinet style — add exposed hinges for a vintage look.
They are the least expensive option and you can use the cabinet door edge to open and close the door. They offer a similar amount of storage space as a full overlay cabinet but less access. Partial overlay doors do not require a stile on the frame where the door edge rests.

Budget: Least expensive.
Style: Most traditional.
Hardware: Not required.
Storage space: Similar to full overlay storage space but less access.
How to choose the right type of cabinet door
Choosing the right cabinet doors and drawers for a kitchen remodel, home office build, or media wall upgrade is largely based on your budget and style. For example, inset doors require precise measurements to ensure that the door sits correctly inside the cabinet box so they tend to be at a higher cost than overlay. Overlay doors have a little more wiggle room in construction and tend to be less expensive than inset.
Once you've determined what is in your budget, the rest is about style. In general, partial overlay is considered more of a traditional look for kitchen cabinets. Inset cabinet doors were popularized in Europe (think Ikea style) and are generally considered to be a more modern style.
Beyond the door overlay type, you can further choose the style of the cabinet doors and drawer fronts, like shaker, recessed panel, or slab. Collect images of cabinetry that you like to narrow down what door style is right for you.
MT Copeland offers video-based online classes that give you a foundation in construction fundamentals with real-world applications, like building cabinets. Classes include professionally produced videos taught by practicing craftspeople, and supplementary downloads like quizzes, blueprints, and other materials to help you master the skills.