What are Jack and King Studs in Framing?
Jan 05, 2022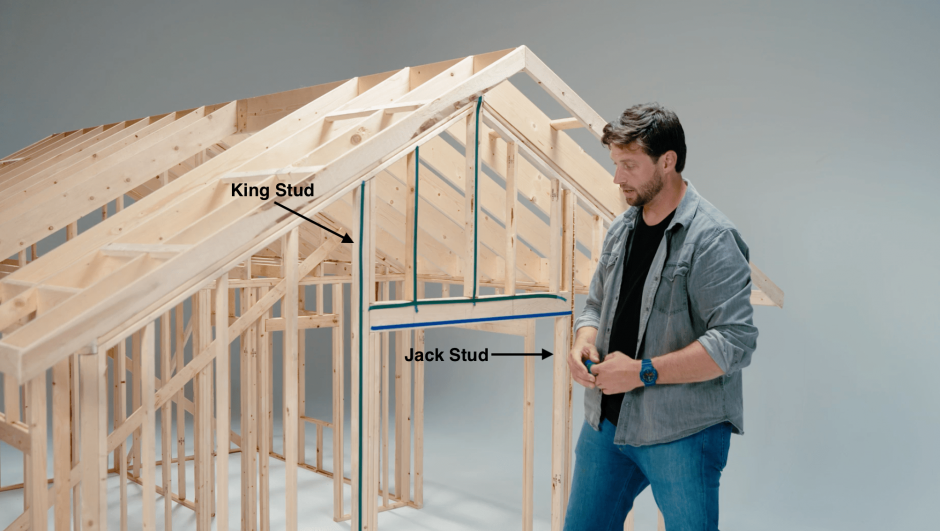 All building construction relies on framing to support the dead load of the materials including windows, doors, roofing, and finishing components—as well as the live load of the building's future occupants. That's why its essential for carpenters to understand the role of each framing member. Some walls are load bearing, while others are not, but every common stud, plate, and header plays an important role in holding up a structure.
What are studs?
Close your eyes and envision a wall of your home without drywall. What you're seeing is your house's frame. Each vertical member running from floor-to-ceiling is called a wall stud. Studs are assembled during construction to be 16-inches or 24-inches apart, depending on local building code, and they're assembled with a top plate along the ceiling, and a bottom plate that sits atop the floor joists and subfloor. Assembled flat and raised to stand upright, a wall with no windows or door openings would look like a simple rectangle with evenly spaced studs sandwiched between the upper and lower plate.
When you frame a window or door into a wall and create an opening in the studs, a header and a framing stud on each side reinforce the opening. Headers and sill boards are used horizontally above and below a window or door to support its weight, but to the left and right of each opening, a jack stud and king stud are installed to support the top header and the ceiling plate.
What are jack studs?
When a wall needs to accommodate an opening, such as for a window opening or a doorway, the framing members need to be adapted to account for the loss of wall studs. That's where jack studs come in.
At the top of the opening, a horizontal board is installed as a header. Both ends of that header need to rest on a weight-bearing, vertical jack stud. A well-supported header transfers the load to the jack stud and guarantees that the framework can properly support the weight of the door or window.
Local building codes require two-or-more jack studs when building an opening larger than five-feet wide. The number of jack studs used in framing is always directly related to the width of the opening, which then correlates to the dimensions and weight of the header. If a header is too small or lightweight, it risks bowing and compromising the window or door opening.