Learn the Different Types of Plumbing Pipe Fittings
Dec 10, 2021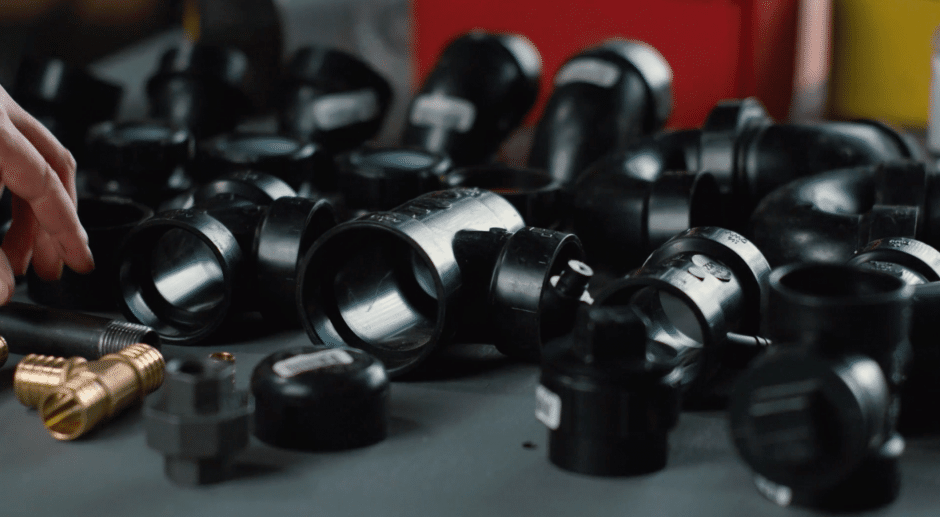 Plumbing fittings are used to connect pipe lengths, change directions, and provide access to pipes or drains. They come in as many materials as there are pipes—including plastic, copper, and iron—and have similar purposes, while others are only used in certain applications. Here are some common types of plumbing fittings to keep in mind for your next project.
Common types of pipe fittings
Plumbing pipes and fittings come in a variety of materials. Fittings join pipe lengths together and offset pipe around obstacles like electrical boxes. There are a wide variety of fittings to choose from, however the best one to use depends on what system you plan to install and the type of pipe you'll be using.
Elbows
Elbows are used to redirect pipe in another direction, often to avoid obstacles such as electrical boxes or switches. These redirections are called offsets. Elbows come in a range of angles, including 90 degrees, 60 degrees, 45 degrees, and 22 ½ degrees, and a reducing elbow changes the size of a pipe.
Elbows are used in all types of plumbing and available in all piping materials.
Cross
A cross-shaped pipe fitting has four openings. Though it isn't used much in regular plumbing, it can be found in irrigation and sprinkler applications.
Bushings
Bushings, or reducer bushings, go in one end of pipe to reduce the size of the opening. They allow for quick transition to a smaller sized pipe and often used in tight spaces. Concentric reducers narrow, or reduce, the size of the pipe in the center. If you look at the reducer head-on, you'll see the smaller section forms in the center of the larger pipe. They are generally used for gas piping and vertical runs.
Eccentric reducers narrow the pipe to the side. If you look at the eccentric reducer head-on, you'll see the smaller section lying against one side of the larger pipe. These are used when the liquid needs to stay on the same level throughout the pipe.
Bushings are used in all types of plumbing and available in all piping materials.
Tees
T-shaped tee fittings are used to create branch lines and connect three pieces of pipe, often in water supply lines. When describing them, plumbers give the line dimension, then the branch dimension. For example, a tee with one line at 2 inches, another at 1½ inches, and a branch line at 1½ inches would be called a 2" x 1½" x 1½" tee.
If both lines are the same size, the name can be shortened. For example, a tee with lines of 1 inch and 1 inch and a branch of ¾ inch would be called a 1" x ¾" tee. If all openings have the same size, it's called a 1" tee.
Tees are used in all types of plumbing and available in all piping materials.
Couplings
Couplings are used to join two pipes together. They slip over the pipes' exterior, and join two pipes with a stopper in the middle that prevents them from going all the way through. They are often used when repairing a section of pipe.
A reducing coupling, or reducer, joins two pipes with different sizes.
Couplings are used in all types of plumbing and available in all piping materials.
Adapters
Adapters allow you to join two different types of pipes such as female iron pipe, male iron pipe, and straight threaded.
Unions
Union fittings are used to connect two pipes and disconnect them easily by tightening or loosening a nut. They cannot be used in concealed areas, such as under a tub or shower or behind a wall, as they can loosen over time.
Traps
Traps are installed under the drain of a plumbing fixture to keep sewer gases out of homes and buildings and help prevent clogs. Some traps have a union allowing access to the drain line in case of a clog. These can only be used in accessible locations, like a sink drain.
Solid traps are used in inaccessible locations such as a shower or tub drain pipe.
Most traps are made of PVC or ABS piping.
Caps
Caps are placed on cleanouts or at the end of a pipe to stop water or gas flow. They go on the pipe's exterior while plugs are inserted into the pipe and usually threaded. Caps and plugs can be permanent or temporary to allow servicing.
Plugs are used in all types of plumbing and are available in all piping materials.
Nipples
Used to connect water supply pipes, nipples are a short section of pipe, generally made of metal, with male fittings on each end. They allow you to connect two female-threaded pipe sections together.
How to connect pipe fittings
There are many ways to connect pipe fittings, however, which one you use will depend on its material.
Push-to-connect
Push-to-connect fittings, also called push-to-fit or click-to-connect, use an O ring and metal teeth for a watertight connection. As their name suggests, all that's required is to push the pipe and fitting together. These connections are used with PEX, PVC, and copper pipes in low-pressure situations, such as a sink.
Flare
Flare fittings are used on plumbing systems with high water pressure and gas lines. A flare nut and a cone-shaped fitting create the connection after the pipe has been flared with a flaring tool.
Compression
Compression fittings have a threaded body, nut, and sleeve called a ferrule. They use compression to squeeze the pipe and fitting together to create a tight joint.
Crimp
To join fittings by crimping, a special tool called a tube crimper squeezes, or crimps, a metal ring around the pipe after inserting the fitting.

MT Copeland offers video-based online classes that give you a foundation in construction fundamentals with real-world applications, like plumbing basics. Classes include professionally produced videos taught by practicing craftspeople, and supplementary downloads like quizzes, blueprints, and other materials to help you master the skills.