What Are Party Walls?
Jan 13, 2022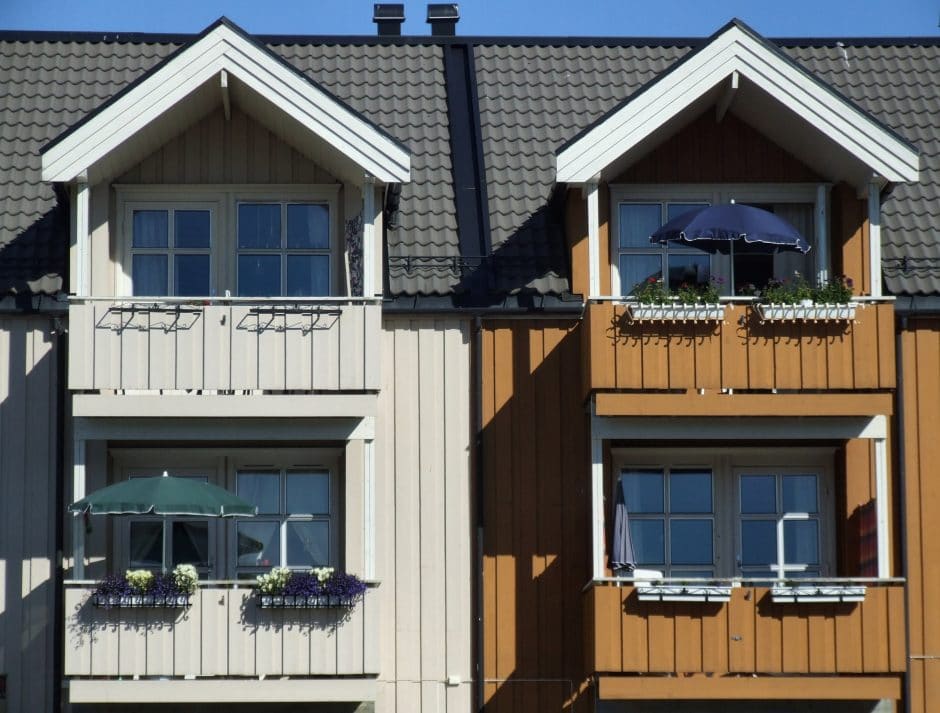 The term "party wall" can be confusing. While it might sound like a fun place to hang out, it's actually a construction term that describes a wall between two separately-owned or rented spaces. For property owners or renters in these spaces, the party wall can complicate plans for building and renovation. For that reason, it's worth understanding what a party wall is, the types of agreements that exist, and their pros and cons.
What is a party wall?
A party wall is a dividing wall that separates two individual spaces or buildings. They are common in spaces such as condos, townhomes, apartments, or other multifamily or commercial properties. The residents or occupants on either side of the party wall own their half and are responsible for their respective upkeep and maintenance.
Sometimes referred to as a firewall or common wall, party structures aren't always vertical surfaces or walls in the typical sense. They also include floors between separately occupied spaces, foundation walls, or even dividing walls in warehouses or retail spaces in a mall. Attics and basements may also contain party walls.
What purpose do party walls serve?
Party walls often serve as structural support for both spaces, particularly in residential construction. They're often load-bearing, supporting the weight of the floor and subsequent walls stacked on top of them throughout the height of the building.
Party walls are also safety barriers for both spaces. Building code in most locations requires the wall to have a fire rating of at least two hours, meaning that in theory, a fire could burn in one space for two hours without breaking through to the adjacent owners' spaces. This is often achieved with two layers of ⅝-inch drywall, but a typical block or concrete wall will also serve the purpose.
What are party wall agreements?
Because two parties typically own and maintain the same wall, party wall agreements exist to ensure everyone's playing fairly. These agreements outline the rules and stipulations around the ownership and maintenance requirements and obligations of the shared wall. Typically a party wall agreement includes the following:
Dispute mitigation. A party wall agreement usually serves to mitigate potential disputes. They state which party is responsible for the maintenance as well as the potential repercussions of allowing the wall to fall into disrepair. The agreement might also dictate noise restrictions.
Maintenance and alterations. Party wall agreements might also contain language that regulates how to handle potential alterations and renovations. This might include obtaining legal consent from the adjacent owner to move forward with a project. In which case, the party agreement might require a set number of days' notice. The agreement (or a building code) might also stipulate how long the applying party must wait to hear back for approval before commencing work.
Even if a party wall agreement doesn't exist, many local building codes require notice and approval before alterations affecting a party wall of any type can begin. Should the adjacent owner choose to dissent approval, the applying party has the right to seek legal arbitration.
Advantages of party walls
While there are some legal issues that pertain to party walls, there are also some distinct advantages.
Since both parties are sharing the maintenance of the wall, there are times when sharing the cost of maintenance makes sense. Should both parties be experiencing a leak or noise, for example, there is potential for sharing the cost of the contractor and materials.
There's a practical architectural advantage in space gained versus the building footprint. Party walls are sometimes divided down the center, meaning that half of the wall's thickness sits in either space. With a typical 2×6 wall covered in two layers of ⅝-inch drywall measuring 6 ¾-inch total, only half (3 ⅜ inches) of that width lands in each space. Over the length of 20 feet, this can add an additional 5 ⅝ square feet to a space that would otherwise bear the entire width of the wall itself.
Disadvantages of party walls
There are some distinct disadvantages to party walls.
Any time that one of the parties has plans to alter the wall, they typically have to get the other party's approval. This is a major disadvantage as it creates another layer to the planning process, and if the opposing party dissents, it could end up leading to expensive arbitration.
Financial circumstances might not allow for one party to share the costs of emergency repairs. When insurance is involved, two separate homeowners' or business insurance policies need to work together, lengthening the amount of time for approval and payout.
Noise is often an issue with party walls. Even with heavy insulation, residents may be able to hear the other resident. In cases where kitchen cabinets or bathrooms are against the party wall, unpleasant noise and even odors can be a possibility (specifically with poorly maintained walls).
Educate yourself on party walls
Ultimately, it's important to understand the benefits and limitations of party walls. They exist to keep people safe, allow for cohabitation on a property, and make the most use of a structure. As long as a proper party wall agreement is in place and everyone plays by the rules, issues with party walls are rare.
MT Copeland offers video-based online classes that give you a foundation in construction fundamentals with real-world applications, like how house framing works. Classes include professionally produced videos taught by practicing craftspeople, and supplementary downloads like quizzes, blueprints, and other materials to help you master the skills.