What Is a Biscuit Joint?
Jan 14, 2022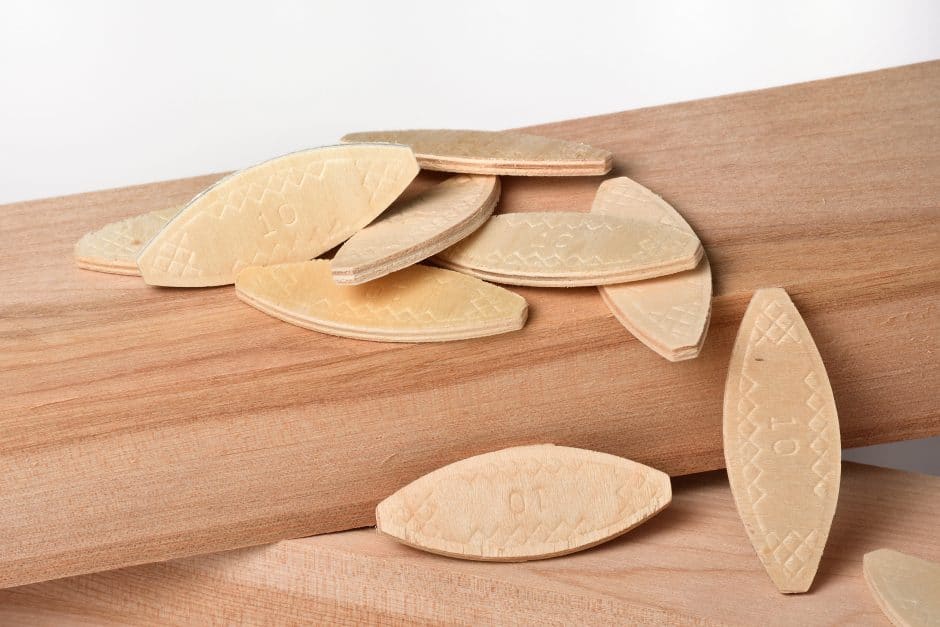 When it comes to woodworking projects and wood construction, there are tons of different methods for joining two pieces of wood. Screws, nails, ages-old techniques with chisels and hand saws, and many more techniques exist, each with its own pros and cons. The biscuit joint is one such method, and it has its fair share of applications.
What is a biscuit joint?
A biscuit joint is a method of joinery that involves inserting a compressed wood chip (the biscuit) in slots cut into two corresponding pieces of wood. The oval-shaped biscuit resembles a football, and when placed into a glue-filled joint, it swells and locks the joint in place.
The slots the biscuits fit in are cut by a power tool called a biscuit joiner (also known as a plate joiner). This woodworking tool has a small circular blade that plunges into a board, leaving behind a half-moon-shaped slot. When carefully aligned, a biscuit joiner allows for perfectly hidden joinery.
Biscuit Joint Sizes and Settings
The biscuits themselves come in a few different sizes, with varying lengths and widths. This allows the user to install a biscuit joint in wood of all types and thicknesses. The general rule of thumb is to use the largest biscuit possible, as larger biscuits allow for more surface area for glue. The most common sizes are:
FF: ½" wide, 1 ⅜" long
0: ⅝" wide, 1 ⅞" long
10: ¾" wide, 2 ⅛" long
20: 15/16" wide, 2 ¼" long
Biscuit joiners also have depth settings to accommodate these biscuit sizes. The user simply twists the knob to the correct depth (which is usually marked on the biscuit jointer), and the machine will automatically limit the blade's travel at the correct depth, which allows for a tight fit and solid joint.
Biscuit jointers have adjustable fences that register against the board and control the height of the slot. By twisting the dial, the user can adjust the height and cut consistent slots against materials of the same thicknesses. This also allows the user to cut double biscuits when extra strength is necessary.
When to use a biscuit joint
Biscuit joints are ideal when ease, speed, and consistency are more important than strength. The tools to make a biscuit join are easy to use and achieve consistent results.
For instance, if someone is building a bookshelf, they could easily layout consistent and parallel shelves using a biscuit joiner. By aligning the side of the cabinet and drawing reference lines across both boards, they can mark the locations for the biscuits. After clamping a straight edge in place, they'll be able to bore the slots in seconds.
For tabletops, biscuit joints between boards are much faster than milling tongue-and-groove joints on a router table. With wood spread along the edges of the boards, the biscuits will align them to make a very flat surface that requires just a bit of sanding.
Common Types of Biscuit Joints
Biscuit joints get a bit of criticism for their strength (or relative lack thereof), but there are quite a few applications where biscuit joints are ideal.
Joining edge grain to edge grain
The most common use for a biscuit joint is mating edge grain to edge grain, like when making a tabletop from several pieces of wood. Since the biscuit jointer cuts the slots at consistent heights, the biscuits themselves help align the boards during glue-up. They also allow a bit of wiggle room laterally, which is something you don't get from tenons or dowels.