16 Types of Concrete
Feb 02, 2022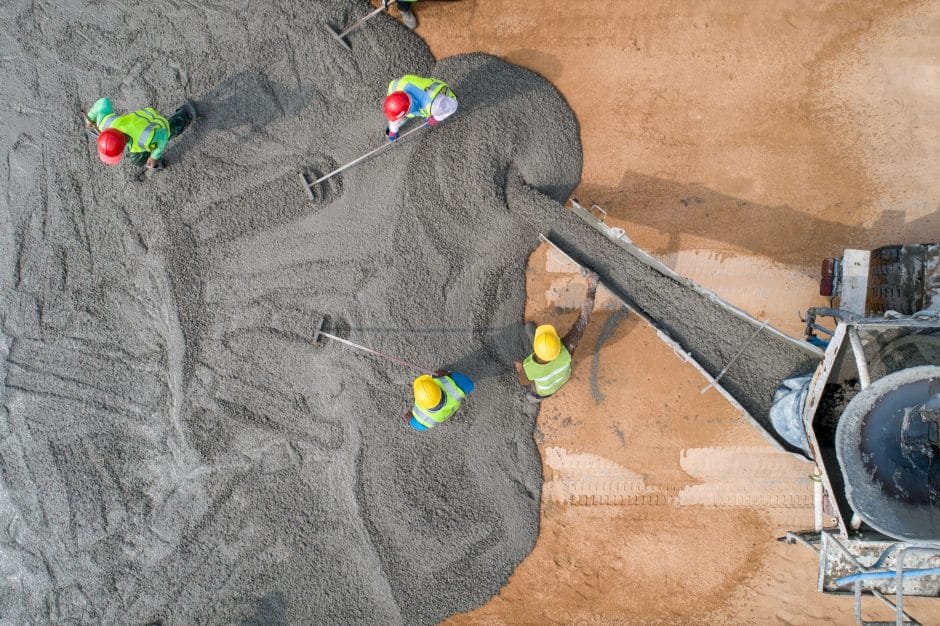 Concrete is the most popular construction material in the world. In fact, it's the second most used material in the world (water reigns supreme at number one). Almost every kind of construction involves concrete in some way, and it's used to build everything from highways to bridges and skyscrapers to parking structures. Concrete is resilient in that it does not rust, rot, or burn. The use of concrete as a building material is essential to buildings due to its durability, strength, and extreme longevity.
What are the basic properties of concrete?
The basic properties of concrete are fine and coarse aggregates (like sand and rocks or pebbles), Portland cement, and water. These three raw materials each play a different chemical role in the formation of concrete, as Portland cement is a hydraulic cement meaning it gets its strength from its chemical reaction with water. When Portland cement and water combine, a chemical reaction called hydration occurs. Through this process, the paste coats the aggregates and bonds them together, gaining strength as it hardens, and concrete is created.
When making concrete, builders use fine aggregate to add volume, while coarse aggregate provides the strength necessary to carry heavy loads. Various chemicals, called admixtures, can also be added to concrete to make different sorts of mixtures.
How is concrete made?
Before concrete is made, the three raw materials must be proportioned correctly to ensure the outcome of a mixture that is strong and sturdy. The components of concrete react differently with each other based on the ratio of how much of each is added, and proportions will differ based on the type of concrete being made. The most common ratio, however, is:
10–15% cement
60–75% aggregate
15–20% water
The concrete mixing process begins with preparing the Portland cement mix. Portland cement is made of a calcareous material (often limestone) that is ground up into a powder, which is then heated and burned in a rotary, turning it into a pebble-like material called "clinker" The clinker is then ground up again until it is a crushed powder, to which gypsum is added.
After the Portland cement is prepared, it is mixed with the aggregates, water, and optional admixtures (the different chemicals or materials that change the consistency and strength of concrete). The ingredients are stirred together well, as to properly coat the aggregates with the cement paste. After combining the materials, the cement is activated by the water, coating the aggregate particles and gaining strength as it hardens in a process called hydration.
16 Common types of concrete
One of the reasons concrete is used to build so many different structures is due to how versatile it is and how it can be molded to any desired shape or design. There are many different types of concrete, however, and they are used for all different sorts of structures. Here are 16 types of concrete and how they are used.
1. Normal strength concrete
Normal strength concrete, or "regular" concrete, is the most common type of concrete with a basic mix of cement, aggregates, and water. Normal concrete has a mixing proportion of 1:2:4 (one part cement, two parts aggregate, four parts water), however, the amount of water used will depend on the humidity of the location and the desired consistency of the concrete. Normal strength concrete is typically used for pavements, home construction projects, and buildings that don't require maximum tensile strength.
2. Plain concrete
Plain concrete is concrete in its simplest form. It is made using the same mixing proportions as normal strength concrete, but will have absolutely no reinforcement in it. It can be used to build structures that do not require intense tensile strength. Pavements and walkways are common uses of plain concrete.
3. Lightweight concrete
This type of concrete has a lower density and a higher water content than normal concrete. Lightweight concrete is made using lightweight aggregates, such as pumice, clay, or perlite. Since the specific aggregates chosen are what determines the density of the concrete, lightweight concrete is low in density, and is defined as any type of concrete with a density level of less than 1920kg/m3. Lightweight concrete is used in areas where the total "dead weight" of a building can be reduced to help prevent collapse, such as walls or flooring.
4. Ready mix concrete
Ready mix concrete is made at a manufacturing plant and delivered to a construction site using a truck with a mixer attached to it. It usually contains admixtures to make it so the cement doesn't harden before arriving at the site, and is ready to pour.
5. Polymer concrete
Polymer concrete is concrete in which the lime and shale-based Portland cement is replaced with a polymer binder that cures and hardens, such as a polyester, epoxy mixtures, vinyl ester, acrylics, or many various types of polymer resins. The objective of polymer concrete depends on the type of resin used. Epoxy binders, for example, will aid in less shrinkage during curing while acrylic binders offer weather resistance and quicker setting times. Polymer plastic is stickier than cement, and therefore, when combined in a concrete mix, leads to a concrete of higher tensile strength than one composed of Portland cement. When mixing together a polymer binder with water and aggregates, a chemical reaction occurs that begins the curing process quicker than regular concrete. Polymer concrete has a good resistance to corrosion which is why it is used in swimming pools, sewer structures, and other structures that come into close contact with liquids and corrosion-causing chemicals.
6. Glass concrete
Concrete is referred to as glass concrete when recycled glass is added as an aggregate, or used in places of both fine and coarse aggregates, depending on the desired outcome. Glass aggregates are almost always made from recycled glass and can range in size from a fine talc-like powder to gravel-side pieces to six-inch glass rocks. Glass can be crushed using a glass crushing machine, or used in chunks when mixed with the cement, depending on the desired look. Glass concrete typically has a shiny or "glowing" look to it, which makes it an aesthetically pleasing and highly polished looking option for countertops, floors, and tiles.
7. Reinforced concrete
Reinforced concrete, also known as reinforced cement concrete, is made with reinforced bars, usually rebar, to improve the tensile strength of the concrete. The compressive strength of the concrete paired with the tensile strength of the reinforcement material improves the concrete's overall durability. Contractors might encounter reinforced concrete in large-scale structures that require an immense amount of tensile strength, such as tall buildings, bridges, dams, or any construction situation that involves a structure needing to carry extremely heavy loads.