6 Best Tiles for Showers
Feb 02, 2022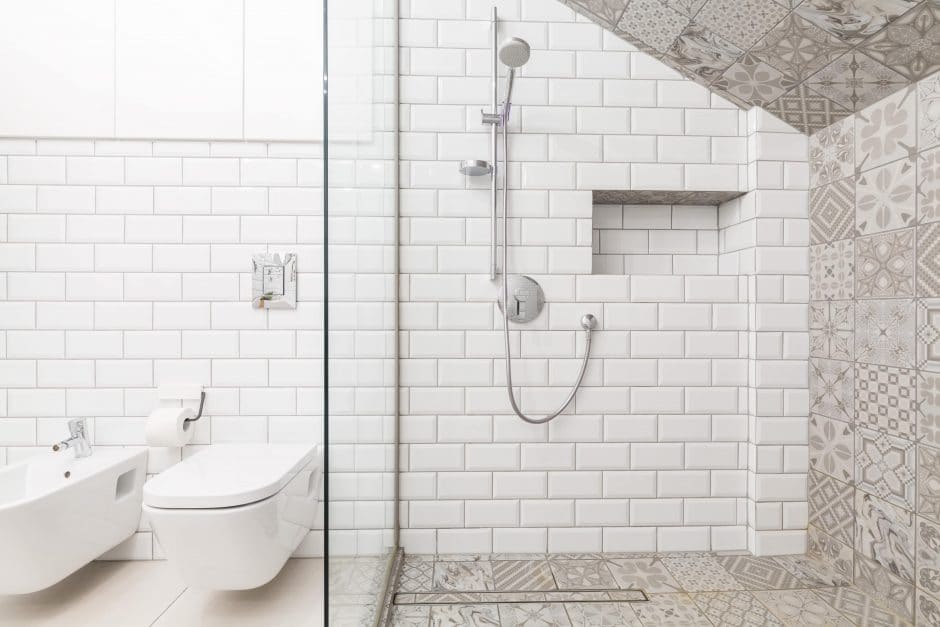 Picking the best tile for a shower is a cornerstone of any bathroom renovation project. You want to give the client the look they want while maintaining the practicalities of choosing something that is waterproof, slip-resistant, and durable. Not all tiles are created equally, however. While your clients may want a specific style, it's your job to make sure their new tile can hold up to daily moisture and wear and tear.
What to consider when choosing shower tile
There are a lot of factors to keep in mind when steering your client toward their tile choice.
Moisture-resistance. A shower needs to hold up to streams of water, day in and day out. But not all tiles have the same water resistance and some are extremely porous if not sealed correctly.
Slip-resistance. You'll also want to consider slip resistance for tile flooring to prevent falls. Texture and size matter when it comes to shower floors, and larger tiles offer less grip because you lose the friction that comes from the spacing and grout between tiles.
Durability. Different types of tile are more resistant to chips and scratches. This may not be as important for bathroom walls, but is something to consider for tiles installed in high-traffic areas, like shower floors.
Level of upkeep. Some tiles with textured surfaces aren't easy to clean as dirt can build up in those small crevices. Other types of tile, such as natural stone, require non-acidic cleaners to help protect the surface.
Stain-resistance. Tiles with soft finishes may be prone to stains, so you'll want glazed or nonporous tiles, or to properly seal shower tiles. For high-use showers, tiles should be resealed every one to two years.
Tile size. The bathroom size (and size of the shower) impact the scale of tile you'll use. A small bathroom isn't well-suited for large tiles since there's not enough space for a pattern. And using smaller tiles in large spaces can look busy. You can use different sizes and designs in various parts of the shower, reserving small tiles for flooring, for instance, then using larger tiles for a feature wall.
Grout type. Epoxy grout is great for showers because it's water-resistant; unlike a cement product, the grout lines don't need to be sealed. Epoxy extends the grout's longevity, reducing long-term upkeep and curtailing unseen water damage.
Aesthetics. The size, color, pattern, and design of different tiles will impact the aesthetic. Large marble slabs have a luxe look while mosaic tiles pack a punch and bright colors are daring. Neutral tones are more soothing.
Types of tile for showers
Here are some popular choices for shower tiles, along with their pros and cons.
Ceramic tiles
Ceramic tiles come in a range of colors, patterns, and price points to meet your client's budget. Though not as strong as porcelain, they are quite durable, especially for showers. Glazed ceramic is nonporous, making it water-resistant. Ceramic also holds up to deep cleans, which can help prevent mold growth and stains.
Porcelain tiles
Porcelain is similar to ceramic except that it's tougher—and more expensive. It's also more water-resistant than ceramic. Use only porcelain tiles for shower floors that are labeled slip-resistant; otherwise, the surface may become dangerously slick when wet. Porcelain tiles are a common choice for showers, so your client should be able to find a variety of styles.
Marble tiles
Using marble in the shower is possible, but will require additional maintenance to look fresh. Water-resistance isn't an issue, but since marble is a natural material, minerals in the veining can become oxidized and change colors with water exposure. It will need to be sealed during installation and resealed later on, typically ever year.
Glass tiles
Glass is extremely water-resistant and easy to clean. It also doesn't require long-term maintenance like sealing. However, glass pieces can easily break so it's not ideal for high-traffic areas or shower floors. Glass tiles are great for shower walls, especially dark showers so that a bit more light can come through.
Stone tiles
Stone tiles help create a serene, natural ambiance, and there are lots of options to choose from, including slate, granite, and pebbles. The downside is that these tiles do need to be sealed and resealed later on. And since the texture is natural (and therefore not uniform), homeowners may find it hard to clean.