6 Tile Backsplash Ideas
Feb 22, 2022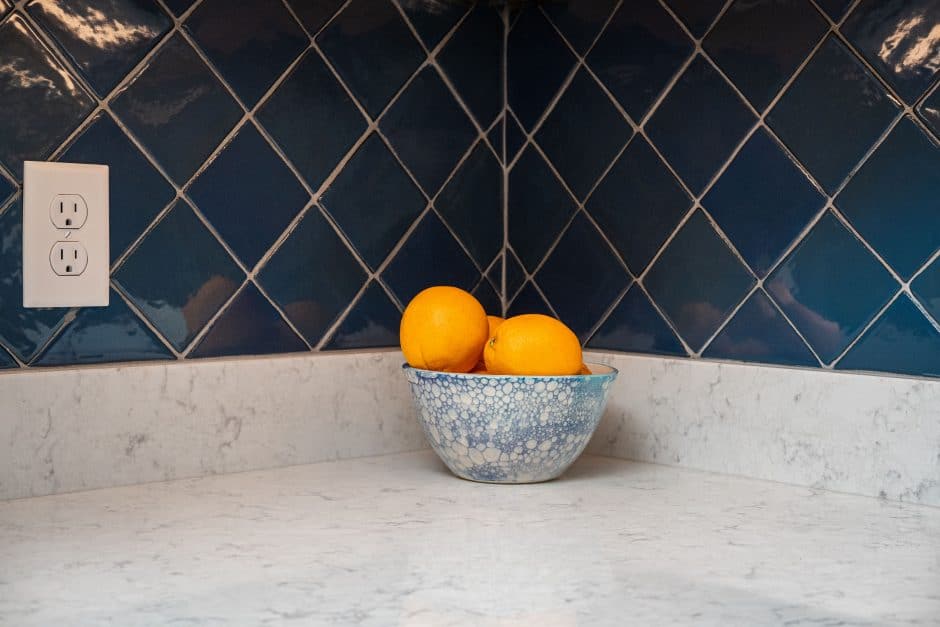 A kitchen backsplash is an important component of any renovation project. Whether your clients want a total overhaul or a budget-conscious refresh, an eye-catching tile backsplash can offer a big bang for their buck. Read on to discover different types of wall tile and patterns you might suggest to your clients looking to tile a kitchen backsplash.
What is kitchen backsplash tile?
A backsplash is the wall behind the sink or stove in the kitchen. The backsplash can get wet (if behind the sink) or dirty (if behind the stove) quite easily, which makes tile a great option for kitchen backsplashes as it is easy to clean. A kitchen backsplash provides form and function: It acts as a focal point while protecting the wall beneath from moisture and oil splatters. Tiles may be placed on the wall behind the stovetop or across the space above the countertops. The scale depends on the client's kitchen design, as well as their budget. The area of the countertop, where the tile meets the base, can also impact what works there.
6 Types of tiles to consider for kitchen backsplashes
These six kitchen backsplash ideas can help you guide your client to select the right tiles for their kitchen backsplash.
1. Ceramic tiles
Ceramic tiles are a budget-friendly choice that hold up to the wear and tear of a backsplash. Cleaning ceramic is easy and the material can withstand high temperatures. It's also stain-resistant, so clients won't have to worry about discoloration.
If placed behind a sink, it's important to make sure the ceramic tiles are glazed. Otherwise the surface may be too porous to repel water, which can lead to moisture damage. Ceramic varies greatly in price, but there are plenty of low-cost options for clients looking to save money on their project.
2. Porcelain tiles
Porcelain and ceramic tiles are similar, but porcelain is fired at a much higher temperature, so it's extremely resilient. If your client is a frequent home chef, porcelain could be a great choice as it is durable and easy to clean. Plus, porcelain is not porous, so it's a safe bet for preventing moisture damage and hidden mold. Note porcelain is more expensive than ceramic.
3. Marble tiles
Marble is a type of natural stone that is extremely heat resistant, making it ideal for kitchen backsplashes behind stoves. The main issue with marble is that it's a porous material. It will soak in moisture and stains, whether from a splash of tomato sauce or a blender gone awry. If using marble for a backsplash, the tile should be sealed, which adds time (and money) to the installation process, and the client will have to maintain the tile on an ongoing basis throughout its lifespan.
4. Natural stone
Other types of natural stone besides marble can be used for a backsplash. Granite, for instance, is heat-resistant and durable, making it a low-maintenance option. As a contractor, it is important to check the width of granite tiles to make sure they're not thicker than the countertops below; otherwise, it will push out beyond the counters. That said, granite can be an attractive and often affordable option.
5. Glass tiles
Glass is a popular choice for kitchen backsplashes because it's extremely easy to clean and heat-resistant. Using glass in other areas doesn't make as much sense because it can be prone to scratching. But there's not much risk of that with a backsplash, which is why so many contractors and interior designers opt for glass. Your clients can choose from a range of installation patterns and tile colors. Eco-conscious clients can use for recycled glass to make their kitchen update more sustainable.
6. Subway tiles
Subway tile, the perennially popular rectangular tile, has been a popular backsplash option for several years. Subway tiles can be made from many types of materials, such as ceramic (which is traditionally what it's made out of), porcelain, glass, or marble. Subway tiles are often staggered horizontally, but it's becoming common to see them stacked in rows or flipped vertically. Some homeowners want to enhance the look of a white backsplash by using black grout rather than white, which is great for a backsplash as darker grouts don't stain as easily.
Tile designs to consider
In addition to selecting the type of tile for a backsplash, your clients also have the flexibility to choose the pattern, which impacts installation.