10 Ideas for Shower Tile Patterns
Feb 22, 2022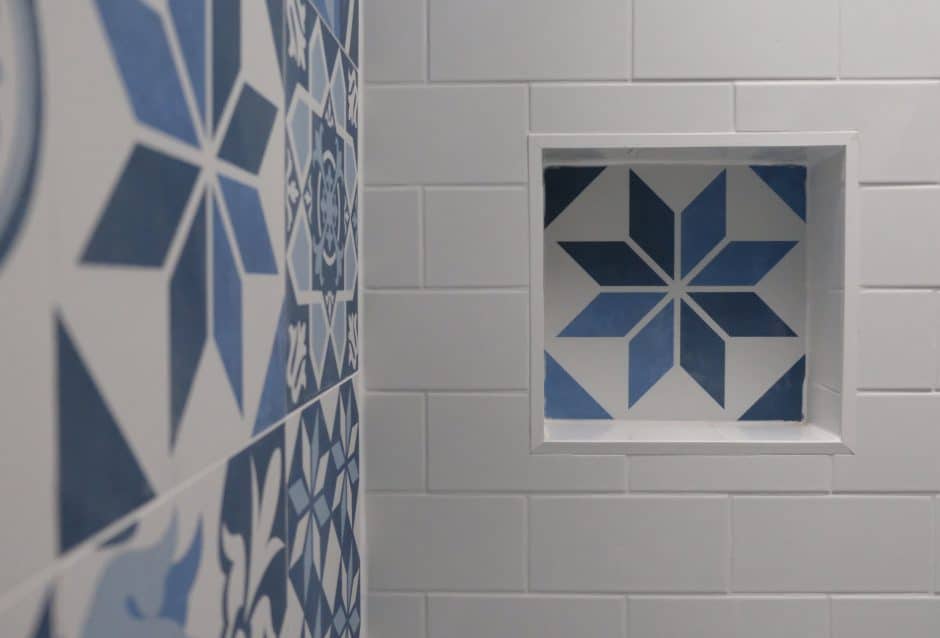 There are many tile patterns for showers your clients can choose for their bathroom remodel. But which tile is best? As you walk them through the decision-making process—and help them understand what tiles work best for each pattern—here are some things to consider.
Things to consider when choosing a shower tile pattern
Your clients are likely most concerned about the aesthetics of their shower tile. But it's also important to explain factors surrounding function and installation. Here are three things to consider when helping your client select shower tile patterns:
Aesthetics. Tile patterns can range in aesthetics, from in-your-face to ultra-soothing. Subway tile, for instance, is timeless, whereas brightly patterned tiles may have a shorter trend lifespan and should be reserved for clients who want to push the design envelope.
Function. Not all tiles are made to withstand regular moisture. Some are more porous than others and need to be sealed after installation and resealed later on. Work with your client to determine what kind of maintenance they're comfortable with so you can recommend tiles that match their desired level of upkeep.
Installation. Every tile takes time and effort to install. The area's size also plays a role, so it's best to avoid quoting labor until you know what the client wants. A more intricate pattern, for instance, will take longer to install than sheets of connected tile.
10 ideas for shower tile patterns
These classic tile patterns are a great starting point to present to clients when discussing tiling projects.
1. Accent wall
An accent wall is an eye-catching wall of tiles surrounded by more neutral tiles. Your client could opt for an intricate design or a burst of color, like a swath of blue tile framed with white or gray tiles. This is a great choice for homeowners who don't want to commit to a specific pattern or color in the whole bathroom.
2. Mosaic
Installing a mosaic tile pattern in a shower is good for form and function. Clients can pick a pattern that matches their personal style, and the smaller tiles add traction and slip resistance. Mosaics are useful workarounds for small and hard-to-tile areas, like a curved wall or shower seat.
3. Subway tile
White subway tile is one of those trends that shows no sign of stopping. The pattern consists of rectangular tiles placed horizontally in an alternating stack. Minimal cuts are needed, with the exception of corners and potentially edges. Subway tile is ideal for wall tiles rather than shower flooring. For a client who wants to make a big impact, consider suggesting contrasting grout, which will make the tile pattern stand out.
4. Marble slabs
Marble tiles can be used in a number of ways, such as in large-scale slabs, which work best in large walk-in showers. The natural veining in the marble becomes the focal point, rather than the intricate pattern of several small tiles. Be sure to use caution (and have abundant help) when handling these large pieces of marble during the installation, as they can break.
5. Chevron
Chevron is a popular tile pattern for showers because it adds texture and a bit of scale. This arrow-like pattern is created from a series of Vs stacked on top of each other. Chevron can be used on all types of shower walls, whether as an accent wall or the floor and helps make small bathrooms seem taller. When installing chevron tile, you can either cut individual tiles to fit the pattern or use mosaic tiles with a chevron pattern attached.
6. Herringbone
Herringbone looks similar to chevron but features staggered pairs for an interlocked look. It can be used as wall or floor tiles (or both) and, like chevron, works in any size shower. Herringbone tiles are also available in sheets. Since it's a popular pattern, you can find a variety of colors and materials like porcelain and ceramic tiles.
7. Floor and wall contrast
Using contrasting tiles for the floor and walls allows for more creativity and can simplify the installation process. People commonly use large tiles on walls and small tiles on the floor for slip resistance and visual interest.