8 Types of Bathroom Tile to Consider
Jan 24, 2022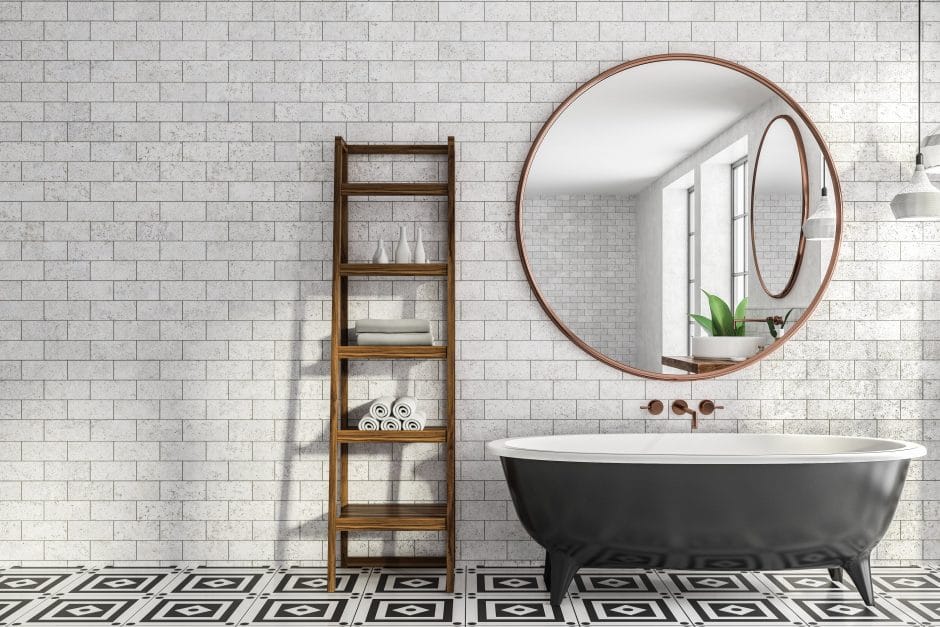 Between Instagram, Pinterest, and HGTV, there's no shortage of bathroom makeover inspiration. But when walking your clients through the renovation process, it's important to focus on the types of bathroom tiles for the floor and wall that will prevent moisture damage while standing up to wear and tear. Explore eight types of bathroom tiles to find the best match for your client's aesthetic and budget.
Why is bathroom tile important?
The tile your client picks for their bathroom has a huge impact on the room's aesthetic and its performance over time. It must prevent moisture from seeping through and causing damage to the walls or subflooring, which can lead to hidden mold growth. Different types of tile also react differently to everyday use and may chip or start to look dingy after a while. This is especially true of high-traffic bathrooms.
What to consider when choosing bathroom tile
Here's what to look for recommending tiles to your client:
Water-resistance. Focus on tiles that don't absorb moisture. Bathroom tiles should typically be glazed so they're impervious to water.
Slip-resistance. Consider the tile's texture when wet, as anything too slick could pose a falling hazard. The tile should have some sort of friction to prevent injury to your client.
Maintenance and upkeep. The biggest responsibility with bathroom tile is maintaining the grout. When it starts to crack, it should be scraped and regrouted to protect the tiles.
Aesthetics. The tile's shape, color, and installation pattern impact the overall look of the space. Talk to your client about their design scheme to help inform your suggestions.
Types of tiles for bathrooms
Granite tiles
Granite is a type of stone tile that comes in a variety of colorful options and boasts a natural look. One major benefit of granite is that it's extremely durable, making it a solid option for bathroom floors that get a lot of foot traffic. The downside is that your client will need to be careful with the type of cleaner they use, as discoloration can occur. Granite is also one of the more expensive types of bathroom tile.
Ceramic tiles
Ceramic tiles are extremely popular for bathrooms and can be cost-effective. And because ceramic tiles are so widely used, your client can find tons of different colors and styles to fit their aesthetic. However, this option isn't as waterproof as others on this list. Opt for glazed ceramic tiles to maximize their moisture resistance. Ceramic is quite durable, so your client will get a lot of use out of their new bathroom.
Porcelain tiles
Porcelain tiles are a type of ceramic tile that is fired at a much higher temperature. That makes the final product extremely hard and durable. Not only can porcelain withstand frequent use, it's extremely moisture-resistant. There are also many colors and designs for your client to choose from. Since extra time and effort are put into the manufacturing process, porcelain is generally more expensive than standard ceramic.
Cement tiles
Cement might not sound like an obvious choice for the bathroom, but there are actually a number of reasons to choose this type of tile. For starters, it's highly durable, and unlike most other tiles, your client likely won't see chips and scratches on cement tiles. Plus, you can find just as many on-trend shapes, colors, and styles in cement as any other material. The downside? Cement is porous, so the tiles must be sealed to be waterproof.
Marble tiles
Marble is a type of limestone tile, a natural material with unique veining patterns since no two tiles are alike. However, marble does have some downsides. The surface is easily scratched and stained, so it must be sealed for protection. Additionally, homeowners must be careful to use gentle cleaners when maintaining a marble bathroom. Finally, marble is typically expensive, so clients will need a sizable budget if they want to use it in their renovation project.
Vinyl tiles
Vinyl tiles are extremely budget-friendly for two reasons: First, vinyl tiles are one of the cheapest options out there. Second, installation is a lot easier compared to other tiles, so your client may be able to save on labor costs. Vinyl can also withstand a lot of wear and tear without losing its luster. Plus, it's easy to maintain—no sealing or special cleaners are required. With lots of new products being released, you can help your clients achieve a high-end look at a fraction of the price.