A Guide to Groutless Tile
Jan 21, 2022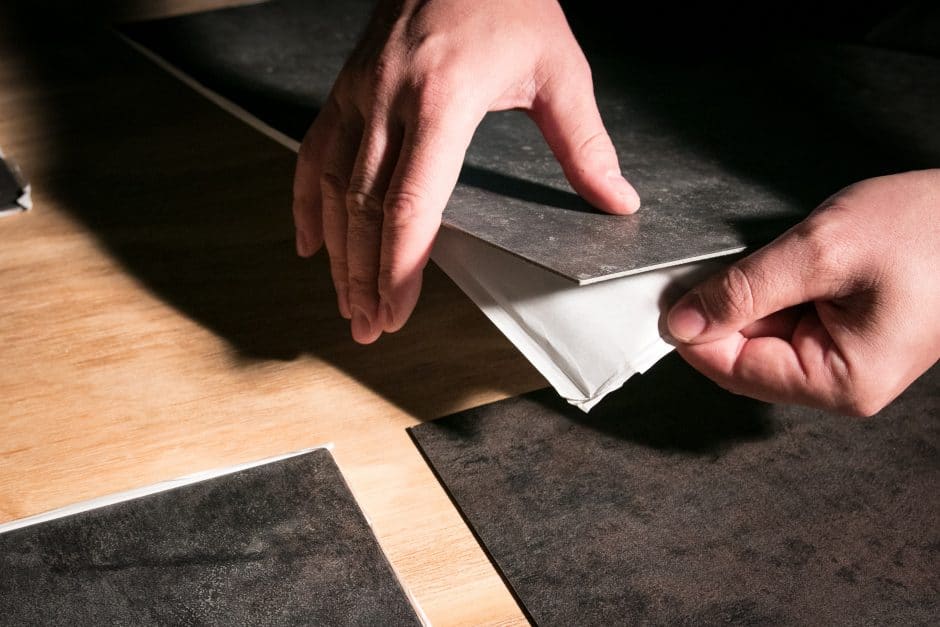 If you've ever had to clean grout, you know it's a pain. By the same token, dirty grout can be a major eyesore in your home. One possible solution to this dilemma is to go groutless. There are several ways to apply tile bypassing grout entirely, depending on your surface conditions. Find out more about your tile choices and when groutless may be the way to go.
Types of tile
Picking a tile for your home improvement project can be a daunting task, especially given the wide range of prices, materials, and designs. Here's a rundown of the most common tile types as well as their strengths and weaknesses:
Ceramic: Ceramic tiles are classic because they're both durable and affordable, though it's worth noting that they're also quite porous.
Porcelain: Often confused with ceramic, porcelain tile is actually the more durable, less porous, and consistently sized of the two, though it also tends to be more expensive.
Glass: A solid option for a shower wall, glass tile is easy to clean since it's resistant to water damage and staining. Glass tile also has an aesthetic that's hard to replicate with other kinds of tile. It's also worth noting, however, that it chips relatively easily.
Cement: Cement tiles have made a comeback in recent years due largely to their potential for vibrant colors and designs. On the flipside, they can be heavy and expensive, and to stay in pristine condition need to be sealed monthly, so they're not particularly easy to maintain.
Marble: It's hard to beat marble tile when it comes to sheer elegance. But that elegance comes at a price since marble can be both expensive and difficult to clean.
Granite: Granite is generally cheaper than marble, and its subtle variations can lend a similarly natural feel to the surface.
Limestone: Another entry in the "natural tones" category, limestone looks great but is very porous, so it may not be your best bet for tile flooring.
Travertine: Of the natural stone tiles, travertine is known both for its earthy tones as well as the way it weathers over time, which may or may not be to your taste.
Quarry: Quarry tile is a mineral composite that's sturdy enough to hold up to foot traffic but stains easily.
Metal: In the case of metal tile, you get a super modern look, but scratches are more or less inevitable, so you should consider whether that's part of your aesthetic.
What is groutless tile?
Grout is a common feature of tile installation, and with good reason: Grout keeps moisture from slipping between the tiles to the surface underneath and prevents tiles from moving around. Shifting tiles can result in damage and chipping.
If the area in which you'd like to install tiles isn't heavily trafficked and is relatively dry—or if you just really hate grout lines—it is possible to install tile without grout by laying the tiles directly next to each other with no space between.
How do you install groutless tile?
Since groutless tiles are not traditional tiles, they don't follow the traditional installation process of using mortar and grout. Instead, the process of laying tile will depend on the specific material:
Peel and stick tile. Peel and stick tile is the most easily installed since it largely just depends on measuring and cleaning the space and then applying the tile, cutting the tiles around the edges as needed.
Floating tile. Floating tile doesn't require any kind of adhesion to the surface. Instead, the tile pieces simply slot or snap together. This is particularly common as patio flooring.
Other groutless tile options. If your tile of choice isn't manufactured with its own installation method, you'll most likely have to clean the surface you want to tile and spread adhesive over it before applying the tile, starting from the center and moving out to ensure symmetry.
The pros and cons of groutless tile
Groutless tile has some clear benefits. Grout can be unsightly and is a pain to work with and clean once installed. Nobody wants to have moldy grout in their home, but cleaning it with an old toothbrush isn't necessarily appealing either. Plus, groutless tile can have a cleaner appearance than grouted tile, and if the area in question doesn't get much moisture or foot traffic, it could be worth it for your project.
On the other hand, grout exists for a reason. Unless the surface beneath the tile has been thoroughly waterproofed, without grout, you run the risk of having moisture seep into the wall or floor underneath. Plus, grout insulates tiles from one another, preventing damage. Lastly, groutless tile requires extreme precision to create a seamless edge-to-edge appearance, whereas grout gives you some latitude for mistakes or improper measurements when you install your tile.