What Are Rafters?
Dec 22, 2021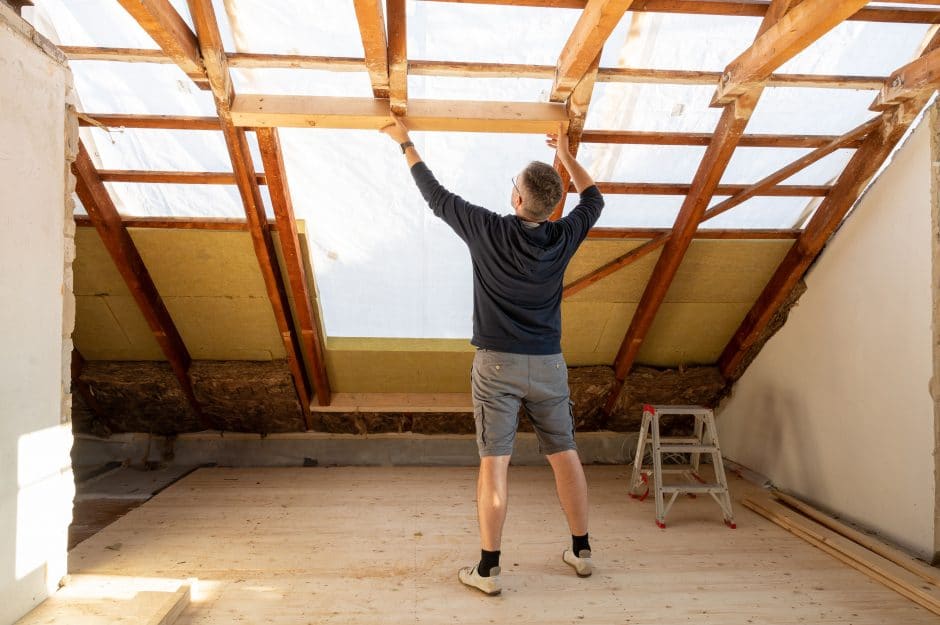 When working in roof construction, it's important to understand the structure of the building and how each component provides support. Rafters are a key part of roof framing and require precise measurements and cuts in order to properly distribute weight and keep the building safe.
In addition to rafters, some roof designs opt for a truss system, which uses compression to bear more weight. However, the interior ceiling design becomes more limited. Find out the key differences between rafters and trusses, plus the pros and cons of each.
What is a rafter?
A rafter is a structural component of a roof on a building. Traditional rafters frame out the roof and connect to the exterior walls. This system is also called stick framing. Typically built on site, rafters are cut to 2 x 10 pieces and land on a ridge board, which runs across the length of the building. Ceiling joists are then used to connect the rafters and exterior walls. The result is a vaulted ceiling that can be filled with insulation and drywall to finish the space. Alternatively, it can be left as open space in an attic.
Types of rafters
When building a rafter roof, you'll typically find two common types used: principal and common rafters. The principal rafters are the largest pieces used on each side of the roof structure. Common rafters are smaller and placed in between the principal rafters. Together, they provide enough structural support to serve as the frame of the roof.
There are also some lesser-used rafters including:
Auxiliary rafters. These are sometimes used to support a principal rafter.
Hip rafters. These span from the building's outside corners to the ridge board at a 45-degree angle.
Valley rafters. These rafters are located at the building's inside corners at a 45-degree angle.
Compass rafters. These are curved at the top (and sometimes the bottom) and are usually used for ornamentation.
Even if you don't regularly use each of these types of rafters in your projects, it's helpful to be familiar with them on the rare occasion they're needed.
Rafters vs. trusses: What's the difference?
An alternative method for building a roof is using a truss system. Rather than laying rafter boards in the shape of an A-frame, a truss roof design looks like a web of support beams that criss-cross to better distribute the weight of the wood. The bottom of the rafters are connected by beams spanning the length of the room.
Trusses use compression and tension to provide strength and stability. Additionally, they're built off-site in a factory and then delivered to the job site. The delivery adds to the overall project cost, but trusses are usually less expensive than rafters since they're made in bulk. One downside is that any errors at the factory can slow the project since you're not in control of making cuts on-site. Trusses also take multiple people to install, often requiring a forklift to do the heavy lifting.
Another possible downside of trusses is that they create no room for vaulted ceilings since a bottom piece must provide structural support, meaning the home needs flat ceilings. It's also impossible to include a spacious attic, which can limit storage potential for the homeowner.
Advantages of rafters
There are several pros to using rafters instead of a truss roof.
More space. Using rafters allows for attic space or cathedral ceilings because there's open space to develop as the homeowner sees fit. The upper area could even be converted into additional living space.
Allows for insulation. Insulation, which can be left as-is or covered with drywall, can be rolled in between the rafter beams for better energy efficiency.
Built on-site. Rafters are cut on-site, which means they can be cut to size and adjusted as needed.
Less lead time. Because rafters are cut to size at the job site, you don't have to rely on third-party factories to cut and deliver the materials. This can also save costs on heavy load deliveries.
Overall, rafters are a time-tested solution that provide flexibility in the design process.
Disadvantages of rafters
There are a few drawbacks to using rafters:
More expensive. Ultimately, rafters are more expensive than trusses because they're crafted on-site by tradespeople rather than off-site in a factory.
Lengthens construction time. Contributing to the cost factor is the amount of time it takes for rafters to be cut to the right size on-site, compared to trusses, which are manufactured in bulk.
Requires a professional. It takes skill to do the carpentry work involved with cutting rafters. With trusses, you'll simply have your pre-cut materials delivered to the job site.
Weaker than trusses. While rafters are structurally sound, trusses are stronger. Not only can trusses bear more weight, they can handle a greater distance between each one.
All of these factors should be considered when choosing between rafters or trusses for a building project. Trusses typically win when price is a deciding factor. But there is a lot more design flexibility with rafters since there's room for attic storage or cathedral ceilings.
MT Copeland offers video-based online classes that give you a foundation in construction fundamentals with real-world applications, like how house framing works. Classes include professionally produced videos taught by practicing craftspeople, and supplementary downloads like quizzes, blueprints, and other materials to help you master the skills.