What Does a Jointer Do?
Oct 04, 2021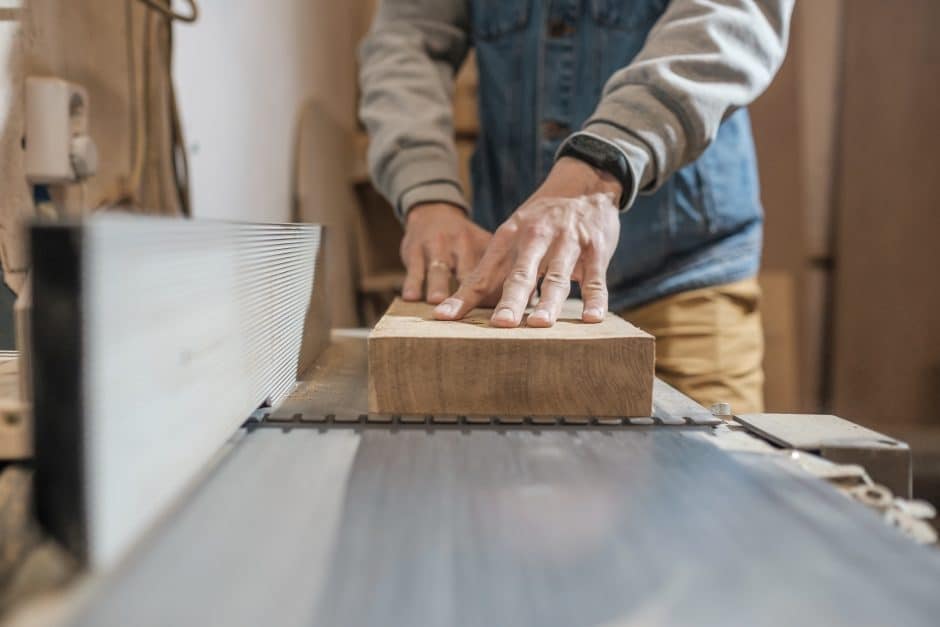 The jointer is considered one of the three essential stock-dressing machines in woodworking, along with the table saw and planer. But what exactly does a jointer do and how does it work? And when do professional woodworkers need to use one?
What is a jointer?
A jointer is a woodworking machine used to flatten, smooth, and square the edges of a lumber board. It corrects material defects, like warping or cupping, and in cabinetry or furniture projects, prepares board edges for gluing and fastening.
Most woodworking operations can be performed mechanically or manually. A jointer is the mechanical version of a hand tool called a jointer plane.
How does it work?
A jointer has four main components; an infeed table, an outfeed table, a fence, and a cutter head.
The infeed table and outfeed table sit coplanar, meaning they're on the same plane and perfectly flat. The infeed table supports the board as it approaches the cutter head; the outfeed table supports the milled portion of the board.
The height of the infeed table is set according to the thickness of the layer being removed from the board; the surface of the outfeed table is fixed and flush with the height of the cutter head. The jointer fence runs perpendicularly along the edge of both tables.
Lowering the infeed table with the handle adjusts the depth of cut, or amount of material removed. The board is fed along the fence and across the cutter head, creating a flat surface. Several passes may be necessary to remove material defects or flatten a board.
The average depth of cut for most projects is around 1/16 to 1/8 inch, which explains why jointers come in various sizes. A 6-inch jointer is the most common, meaning the cutter head is 6 inches long, making this the maximum board width the machine can handle. The length of the infeed and outfeed tables, known as the bed, also varies; the longer the bed, the larger the reference area, and the longer the boards the jointer can process. As a general rule, a jointer can handle boards up to twice the length of its bed.
What can you do with a jointer?
You can take on several projects with a jointer, such as flattening defective boards or squaring stock.
Correct material defects: Wood is naturally imperfect; it warps, cups, and twists unpredictably, especially as it dries. Once your stock adjusts to the relative humidity of your shop, you can straighten and flatten defective boards using a jointer.
Dress boards: The most affordable way to purchase lumber is to buy it rough, meaning you'll have to mill, or dress, the lumber yourself. A jointer can help bring your boards to dimension by surfacing one or two sides, preparing pieces for a planer. A jointer can also reveal grain direction by unveiling what's beneath the rough outer layer.
Square stock: Most woodworking, especially cabinetry and furniture making, requires boards with perfectly square faces and edges. A jointer can deliver a perfect 90-degree angle along the edge of a board, ensuring proper fastening later on. A jointer can also help with other operations including tapering, chamfering, rabbeting, and beveling.
Do you need a jointer for your woodworking project?
Your need for a jointer depends on your type of work. If you buy dressed lumber, or if you're just getting into woodworking, you probably don't need a jointer at this point. On the other hand, if you want to save money by purchasing rough lumber, or if your cabinets or furniture projects call for precise dimensions and angles or advanced joinery, a jointer can help make your milling process easier and more accurate.
That being said, a jointer usually isn't the first piece of machinery you should get for your shop, especially if you can only afford one or two pieces of equipment to start. A table saw or a planer might be a better option.
A jointer is the power tool equivalent of a jointer planer, a type of hand plane. You can always prep and bring lumber to dimension with hand tools, but this approach might be less accurate, and may be more time-intensive and demanding than you'd like.