What Is Construction Scheduling?
Jan 05, 2022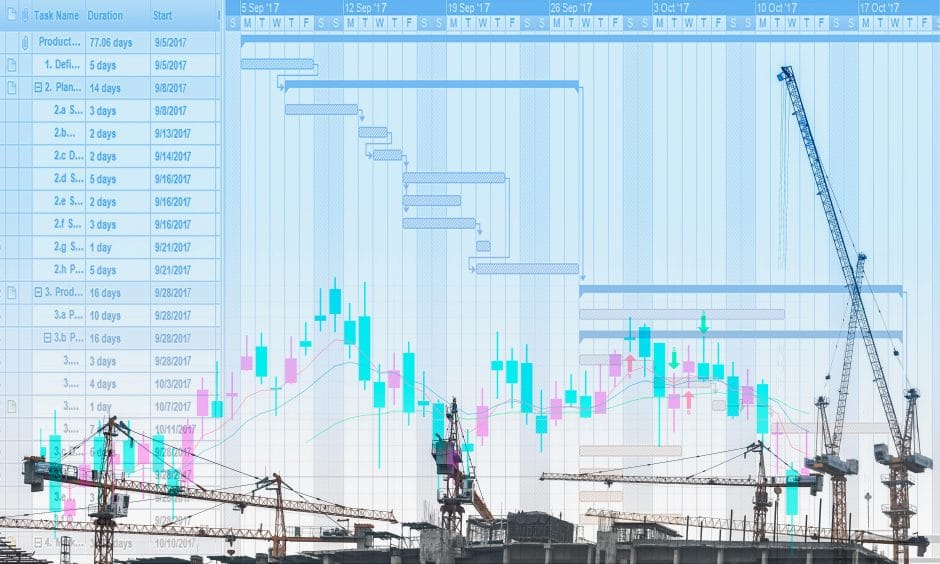 Everyone knows the importance of schedules—in many ways, they run our lives. They also run construction projects. Schedulers are essential members of construction project management teams.
"Schedulers are responsible for coming up with the activities that will be a part of a project and putting them into a particular sequence and a particular order, so that you can understand what the critical path may be for that project," explains Dr. Kenneth Sands, experienced construction management professional and Assistant Professor in the Construction Management Program at Florida Gulf Coast University. "Schedulers provide insight about which activities will be done at which particular time throughout that given project."
What does a construction scheduler do?
A construction scheduler is part of the project management team. Overall, a scheduler's job description is really about the planning of the project. They provide the foundation for the planning of the project and when things need to get done. They have to be detail-oriented and they also have to understand how a project is built from the ground up.
At the beginning of the project, the scheduler submits a baseline schedule with the expectation of what activities would be associated with the project. It's submitted to either the general contractor or the owner for approval.
As the project progresses, the scheduler checks in with the team to determine what's been completed and what needs to be done in order to finish the project in a timely manner. For complex projects, the team typically uses scheduling software rather than manually creating documents to track progress.
A scheduler may also provide a work breakdown structure within the schedule, to organize the various activities associated with different trades. They may also phase out the project so that dependencies are clear.
Components of a basic construction schedule
A construction schedule is a project management tool that organizes and sequences all of the activities required for a project. It contains the following components.
Project deliverables. The first component of a basic construction schedule is a list of the project deliverables. Clearly defining what success looks like is a key part of project control and helps to prevent scope creep. All of the supporting tasks should create a critical path to those goals.
Resource management. A schedule outlines exactly what is needed to complete the project. This may involve talking to subcontractors to get an idea of what materials are required and how many team members should be available to get the job done.
Asset allocations. A construction project is rarely a linear process. The scheduler must determine the most efficient way to use labor and materials to complete the project. Oftentimes, some stages of the project may overlap in order to save time and money.
Tasks required to finish construction. The schedule serves as an important construction management tool. At any given moment, the entire team should be able to see where the project stands and what the next steps are to move forward.
Deadlines. The schedule breaks down projects into milestones to help stay on track with the overall deadline. Each task should have an estimated duration which gives a realistic timeline for project completion.
Budget. Tracking the budget is a huge part of project control. The schedule lets the team track the project costs versus actual costs, giving transparency at each stage.
Common types of construction schedules
There are a number of ways you can create and track construction schedules. Here are some of the most popular.
Line of balance
A line of balance approach helps to create an accurate schedule for repetitive projects. It creates a graph that charts the time on the x-axis and each project phase on the y-axis. The goal is to gauge how much time, resources, and labor each phase takes since the work should be similar.
Pros:
Good schedule for forecasting
Cons:
May not reveal the reason behind a slowdown
Not suited for complex construction projects
Gantt charts
A Gantt chart is one of the most common construction schedules. It's a bar chart depicting what activities are being done during a period of time. Construction schedulers like this approach because it lists out each activity that needs to be done, as well as the overlap between multiple steps of the project.
Pros:
Tracks overlapping activities
Easy for all team members to understand
Included in most scheduling software
Cons:
Better suited for tracking time rather than resources
Complex projects could have hundreds of tasks, making it unwieldy to use
Critical path method (CPM scheduling)
Another popular project scheduling approach is the critical path method. The goal is to identify key priorities in a construction project, followed by the supporting milestones it takes to get there. The activities are mapped out on a diagram to easily visualize the project flow. Not only does CPM scheduling help schedulers manage the sequence of events, it makes it easy to identify both the timing and the resources needed.
Pros:
Creates priorities for construction project schedule
Easier to identify causes of a project slowdown
Commonly uses throughout the industry
Cons:
Leaves room to overlook all of the small tasks involved with the overall project
Doesn't track resources
Quantitative scheduling
Quantitative schedules focus on the costs associated with each task required for the project. Bar charts are used for each task to show when it needs to occur, what materials are needed, and where. It's helpful to track when to order materials to have them delivered on time as well as the budget for each task.
Pros:
Visualizes costs as well as activities and timing
Works for both repetitive or unique processes
Cons:
In-depth schedule that requires a lot of coordinating
Any type of construction project can benefit from an in-depth schedule. It is an intricate process, but one that is well worth the effort when working to meet the team's project goals.
MT Copeland offers video-based online classes that give you a foundation in construction fundamentals with real-world applications, like the basics of construction project management. Classes include professionally produced videos taught by practicing craftspeople, and supplementary downloads like quizzes, blueprints, and other materials to help you master the skills.