5 Types of Kitchen Cabinets Styles To Know
Jan 11, 2022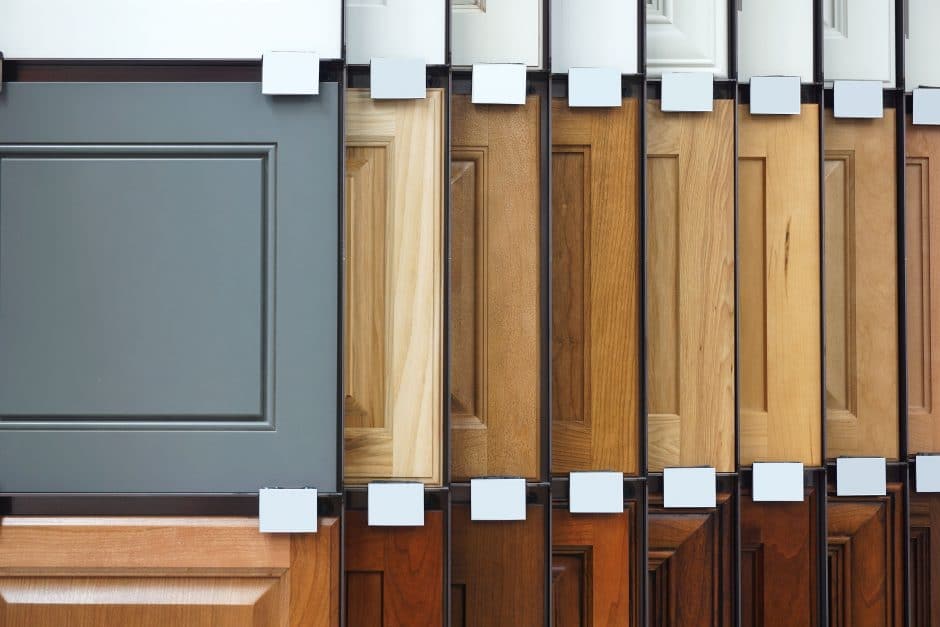 Kitchen cabinets can play a huge role in a client's home renovation project as they likely take up a large chunk of the budget. In fact, depending on the type of kitchen cabinets being installed, costs can run anywhere from $100 to $1,200 per linear foot. It's important for contractors to have a strong knowledge of different kitchen cabinet styles, as well as all the variations that come in terms of quality and shape.
There are a lot of variables that impact the type of kitchen cabinets used in a client's project. It's important to understand both their style and their budget to help them through the decision-making process.
4 Categories of cabinets
The shape and size of a kitchen will dictate what categories of cabinets are needed to complete the space.
Wall cabinets
Wall cabinets are the upper cabinets mounted to the wall. They may either be flush to the ceiling or float above the countertops. Drawers are never included in wall cabinets, but the insides can be customized with shelves at different levels to accommodate the client's needs. The primary components required for installation include a hanging rail, the box frame, and the cabinet doors.
Base cabinets
Base cabinets are the lower cabinets that rest on the floor. They provide foundational support for the countertops, cooktop, and kitchen sink. In addition to providing a larger amount of space to store pots, pans, and small appliances, base cabinets can also have drawers above the cabinet doors. The design of the drawer fronts typically match that of the doors.
Tall or pantry cabinets
Tall or pantry cabinets are much larger than wall and base cabinets, ranging between 84 and 96 inches in height. There are a variety of cabinet styles to choose from in this category, such as pull-out pantries with lots of space for spices and baking goods or cabinets to hold a microwave and wall oven combination.
Specialty cabinets
Rectangular cabinets won't outfit an entire kitchen, and you might need to include some specialty cabinets to complete the project. Corner cabinets, for instance, are designed to provide a seamless transition where the walls meet. They are the same height and depth as the base cabinets. The inside can be designed in a number of ways, such as a lazy Susan for maximized storage. Other specialized requests you may receive include bottle racks or hutches for plates.
3 Grades of kitchen cabinets
Not all kitchen cabinets are created equally. There are three grades to choose from, which impact both quality and price.
Stock
Stock cabinets are the least expensive option. There is no room for customization and the client will have just a few cabinet door styles to choose from. However, in addition to being budget-friendly, stock cabinets are delivered quickly. As the name implies, stores usually have them in stock and you don't have to wait for them to be designed and built. They're a great option for clients who want their project completed quickly.
Semi-custom
Semi-custom cabinets offer a balance between being able to choose some of the finishing details without having to wait too long for them to be built and delivered. Semi-custom cabinets can take up to two months to complete. And there are usually more kitchen design options for clients to choose from. It's also possible to pick the stain or paint color, as well as the configuration of the shelving inside the cabinets.
Custom
Custom cabinetry is the most expensive option and also takes the longest to complete. The benefit is that the client can choose their exact specifications, including uncommon heights and depths, as well as any kind of finish and cabinet door style. An experienced carpenter can craft a completely unique look. Because each piece is made to order, custom cabinets can take up to four months to create.
5 Common kitchen cabinet styles
The cabinet design depends largely on the client's preferred kitchen style. Some options look more traditional, while others are more modern.
Shaker style. Shaker cabinets are among the most popular types of kitchen cabinet doors. They have clean lines with recessed panels and offer a lot of flexibility in terms of style, working with both traditional and modern aesthetics. Because of the popularity of this style, it's easy to find stock cabinets with a shaker design.
Flat panel. A flat panel cabinet design may also be called a slab cabinet and provides a sleek look in the kitchen. Rather than having a frame, each cabinet door is a single, smooth panel. One benefit is that any box can be used, since only the panel shows from the front of the cabinet.
Inset door style. With an inset design, the door is flush within the cabinet rather than hinged outside of the frame. The building process is extremely intricate to make sure each door fits perfectly within the box frame.
Raised panels. Rather than having a flat front, a raised panel has the center panel of the door is raised to give the door a three-dimensional look. Your client has the option of sticking with a monochromatic finish or opting for a two-tone effect between the frame and the center panel.
Glass-front panels. Glass cabinets let you see through the cabinet door to display whatever is inside. Glass-front panels are usually reserved for wall cabinets to show off a client's china set, barware collection, or other prized pieces.
MT Copeland offers video-based online classes that give you a foundation in construction fundamentals with real-world applications, like introduction to cabinetry. Classes include professionally produced videos taught by practicing craftspeople, and supplementary downloads like quizzes, blueprints, and other materials to help you master the skills.