What Are European Hinges in Cabinetry?
Jan 11, 2022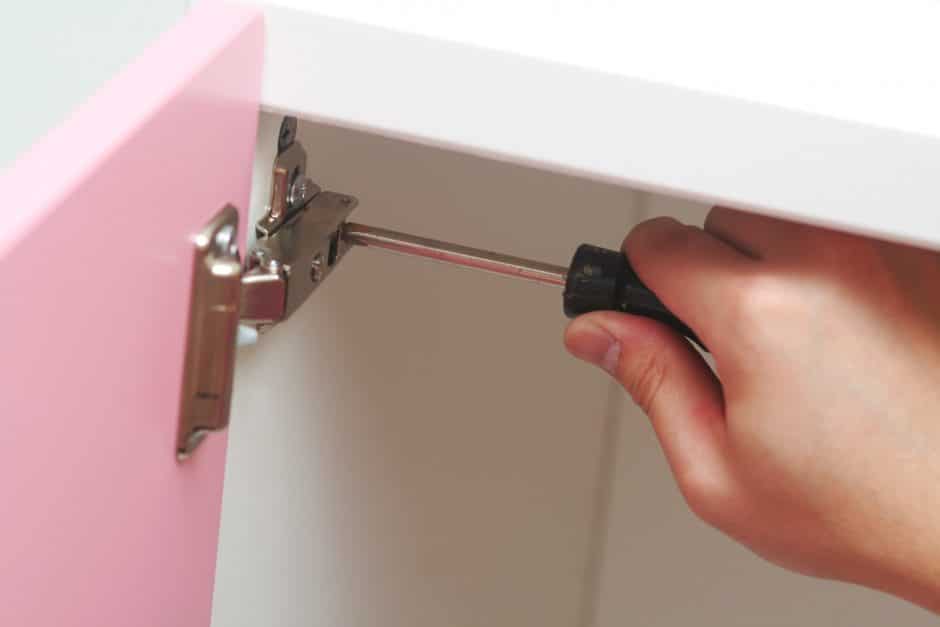 As your walk clients through a kitchen or bathroom renovation, it's worth discussing what types of hinges they want on their cabinets. European hinges are a popular option that provide homeowners with a clean look. They also add some benefits for contractors during the installation process—assuming you have the right tools on hand for the job. Explore how European hinges work and what to consider before installing them. 
What are European hinges?
European hinges are a type of concealed hinge that give cabinets a more simplified, streamlined look. European hinges use a three-way adjustment system, so once everything is in place, it's easy to make the door fit. That means the screws can be adjusted to move up and down, in and out, and left to right. Many European hinges also allow for soft closing, so the doors don't slam shut—a major selling point for homeowners.
Each unit includes a hinge and mounting plate. You need to bore a cup hole in the back of the door at the right spot to install the hinge system. The process is made much easier by using a hinge boring system with pre-made templates.
Advantages of using European hinges
Both contractors and homeowners can enjoy multiple benefits with this type of door hinge.
Concealed Cabinet hinges
All of the parts of the hinge system are completely concealed behind the cabinet door. Not only does that make a cleaner aesthetic, it also helps with not having to match every finish in the room. The homeowner can easily change knobs and drawer pulls later on without having to replace the hinges as well. It's a great service to promote anytime you're working on a kitchen or bathroom renovation project.
Door snaps on and off
One of the simpler parts of the installation process is how the door attaches to the cabinet frame. The hinge attaches to the inside of the cabinet door, then it simply snaps into the mounting plate that has been attached to the frame interior. There's no awkwardness of trying to balance the door upright while screwing in the other side of a traditional hinge. The two components of a European hinge are separate, so you can comfortably install them, then pop the door in place and adjust it to fit.
Multiple adjustment options
Not everything about installing European cabinets is easy, but the adjustment process definitely is a perk for contractors. Once you attach the hinge system with screws, you can use that three-way adjustment to get the door to fit properly. Properly hanging a cabinet door often requires a lot of back and forth adjustments and drilling can take a lot of time and patience. Opting for European hinges lets you drill once and adjust little by little for a smooth experience.
Disadvantages of using European hinges
There are a few drawbacks that you need to be prepared for when installing European hinges.
Need specific tools for prepping the cabinets
Overall, installing European hinges is easier and less time-consuming than for other types of hinges. But this is only true if you have the proper tools to quickly drill the cup hole needed for the European hinge. A hinge boring system makes quick work of this project but typically costs more than $300. It may be a worthwhile investment if you're frequently working on kitchen cabinets. But if it's a one-time project, that purchase could eat up a big chunk of your profit margins. You can definitely take measurements manually, but it takes away some of the ease and convenience that's supposed to come with European hinges.
Incorrect measurements cause a poor fit
Homeowners like European hinges because of the sleek look. And while the three-way adjustment mechanism makes hanging the door easier, there is little room for error when actually drilling the holes and placing the hinges. An incorrect fit can cause the door to not sit flush with the cabinet. And because the cup hole is much larger than a standard screw hole that a normal hinge would use, it's difficult to go back and fix.
Degree of opening varies based on installation location
Most European hinges have an opening angle of either 110 degrees or 120 degrees. But cabinets in certain locations may require different angles. For instance, a cabinet that butts up against a wall may need a narrower degree of opening to avoid slamming into the wall.
Kitchen cabinets with special interiors also require alterations. If the homeowner wants a lazy Susan installed in a corner cabinet, for instance, the hinge might need an entirely different hinge kit. And if the cabinet has pull-out drawers inside, you'll need to use hinges that prevent the door from protruding in front of the drawers when they're pulled out.
How to choose the right Euro hinge
There are a number of choices to make depending on the configuration of cabinets and other considerations.
Face frame cabinet vs. frameless cabinet. European hinge kits can be designed either for face frame or frameless cabinets. Check the cabinet base before you purchase the kit for your project. 
Inset vs. overlay. This option refers to how the door sits in relation to the frame when it's open. An inset door lays flat against the frame. An overlay, as the name implies, overlaps with the outside of the frame.
Compact hinge or long arm hinge. Compact hinges are cheaper and leave more space inside the cabinet. Long arm hinges, on the other hand, allow you to easily clip on the door once the hinge is installed. You'll also notice that the door sits closer to the frame with a long arm hinge.
MT Copeland offers video-based online classes that give you a foundation in construction fundamentals with real-world applications, like introduction to cabinetry. Classes include professionally produced videos taught by practicing craftspeople, and supplementary downloads like quizzes, blueprints, and other materials to help you master the skills.